Map of the World by Juan Vespucci and Pigafetta's Journal (Collection)
Description
Map of the World by Juan Vespucci and Pigafetta's Journal (Collection)
Coming from one of the most famous families of cartographers in history, Juan Vespucci was the pilot major to the Spanish Crown in the early 16th century. His splendid world map, believed to be the most elaborate Spanish map today, is paired with another fascinating artifact from the Age of Exploration – the journal of Antonio Pigafetta. He was one of the few crew members to survive the arduous three-year-long circumnavigation of the globe, which even claimed the life of its famous leader, Ferdinand Magellan. Together, these documents give a precious inside look into some of the first voyages undertaken by European explorers.
Map of the World by Juan Vespucci and Pigafetta's Journal (Collection)
Amerigo Vespucci (1454–1512), famous for lending his name to the Americas, was appointed Spain's first piloto mayor de India or pilot major in 1508. After his death, Juan Vespucci (ca. 1460 – ca. 1524), who was either Amerigo's brother or nephew, took his place. He created "The Royal Register", an official map of Spain's colonial empire. It is likely the largest and most elaborately colored Spanish map in existence, and displays Portuguese artistic influences. It is presented here together with the personal journal of Antonio Pigafetta (ca. 1491 – ca. 1531), a companion of Ferdinand Magellan (1480–1521) during his famous circumnavigation of the globe. He was one of only 18 men to return to Spain out of the ca. 240 who set out three years earlier. His journal is the primary source of material for information about the famous voyage. He was one of three men who were presented to the King to give an account of the harrowing expedition as described in his diary. Illustrations of several islands and coastlines accompany the text. His estimations of distances and routes were surprisingly accurate and valuable to cartographers. The narrative includes details of the terrible suffering of the crew during times at sea when supplies ran low and the men were dying of starvation and disease. For his valiant efforts, Pigafetta was named a Knight of Rhodes.
Codicology
Alternative Titles

Weltkarte von Juan Vespucci und das Journal des Pigafetta




Diario de Pigafetta y Portolano de Vespucci

Type

Origin

Date

1526

Epochs

Style
---
Available facsimile editions: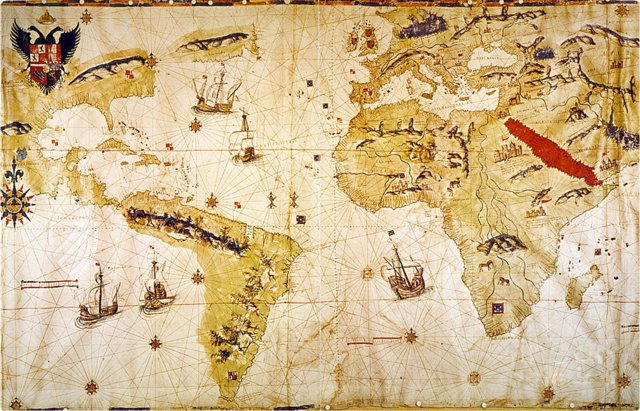 Ediciones Grial
– Valencia, 1998
Limited Edition:
921 copies
Facsimile Editions
#1

Diario de Pigafetta y Portolano de Vespucci

Limited Edition:

921 copies

1 volume: Exact reproduction of the original document (extent, color and size)

Reproduction of the entire original document as detailed as possible (scope, format, colors). The binding may not correspond to the original or current document binding.
You might also be interested in: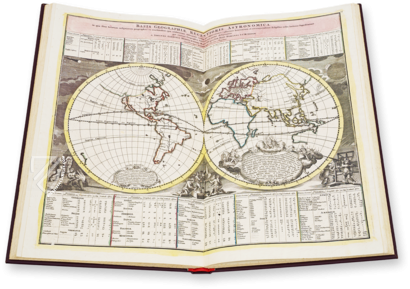 Atlas Novus Coelestis
Nuremberg (Germany) – 1742–1748
The knowledge of Ptolemy, Copernicus, or Kepler: the collected and richly illustrated works of the greatest astronomers of antiquity and the early modern era united in a splendid large-format volume
Experience More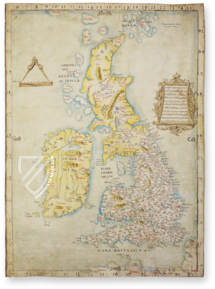 King Henry's Map of the British Isles
England (United Kingdom) – 1536–1537
A magnificent map of his emerging island kingdom from southern England to Wales to Ireland and Scotland: the gift to King Henry VIII of England was valuable as it was practical
Experience More
Blog articles worth reading