The Golden Nautical Atlas
Description
The Golden Nautical Atlas
The Golden Nautical Atlas represents a considerable combination of two cartographic schools existing at the end of the 16th century. The cartographer of King Philip II of Spain (1527–1598) united the older Majorcan school with the younger Dutch school. Among the 19 maps by Martines altogether, one finds eleven regional maps, six sea charts, and two world maps. All of them boast a precious, finely nuanced color scheme and is additionally decorated with gold and silver. Most of them were adorned with a large compass rose with 16 or 32 directions. The small ships that sail across the seas in some maps are an enchanting addition.
Der Goldene Atlas der Nautik
King Philip II of Spain (1527–1598) commissioned an especially tasteful atlas from his cartographer Joan Martines. The work, dated 1587, is a fascinating combination of the cartographic schools of Mallorca and the Netherlands. Comprised of 19 maps altogether, almost all of them are furnished with a considerable compass rose which points in 16 or 32 directions.
Two Cartographic Schools
There were two cartographic schools at the end of the 16th century: the elder was the Majorcan school, which specialized above all else in decorative portolan charts. These maps with the names of harbors were already obsolete at this time with respect to the geographic information they conveyed. On the contrary, the younger Dutch school applied the principles of the Renaissance in order to produce maps, which held more information than the traditional portolan charts with nautical information such as landmarks, lighthouses, tides, and harbor conditions.
Splendid Double-Page Maps
The 19 maps altogether are divided into six sea charts, eleven regional charts, as well as two world maps. They each fill two pages respectively, which the drawings almost completely occupy. These are bordered by variously colored frames. Almost every one of them is adorned with an artful compass rose, which points in 16 or 32 directions. The respective location names are written in Gothic script with red or black ink. Particularly charming elements include small ships that sail over the seas or the lovingly designed architectures above the city names. These fine details correspond to an altogether brilliant color scheme, which is further reinforced by the application of gold and silver.
Royal Cartographer
We do not know much more about the cartographer Joan Martines, who made more than 30 maps and atlases between 1550 and 1591. Having said this, it is known that he worked in the Sicilian city of Messina until at least 1587 and he was summoned to Naples by King Philip II in 1591. This made him the royal cartographer, replacing the deceased Domenico Vigliarolo.
Codicology
Alternative Titles

Der goldene Atlas der Nautik

Type

Origin

Date

1587

Epochs

Style

Genre

Language

Illustrations

5 big double charts
---
Available facsimile editions:
Facsimile Editions
#1

The Golden Nautical Atlas

Publisher:

PIAF

– Madrid, 2019

Limited Edition:

999 copies

Commentary:

1 volume
Language: German

1 volume: Exact reproduction of the original document (extent, color and size)

Reproduction of the entire original document as detailed as possible (scope, format, colors). The binding may not correspond to the original or current document binding.
You might also be interested in: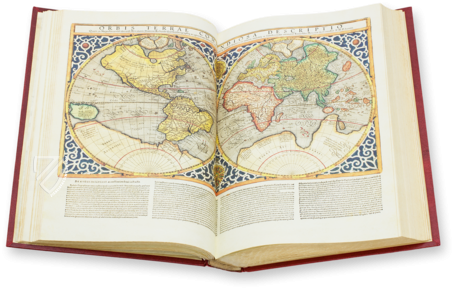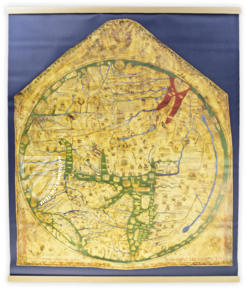 Hereford World Map: Mappa Mundi
Lincoln or Hereford (United Kingdom) – 1285–1295
A mixture of geography and biblical/world history with a diameter of 132 cm: the largest completely preserved medieval world map and now a UNESCO World Heritage Site
Experience More
Blog articles worth reading