Turin World Map
Description
In the year 1523, the nephew of one of the greatest explorers of all time – Amerigo Vespucci – created a map that is counted among the most beautiful and realistic cartographic works of the Renaissance. The so-called Geocarta Nautica Universale is a map that was made strictly according to Amerigo Vespucci's exploratory findings. The masterpiece gleams in seven colors and is furnished with decorative elements of precious gold leaf.
Turin World Map
Amerigo Vespucci was a merchant, seafarer, navigator, and one of the most important explorers to have ever lived. He explored the distant regions of the east coast of South America during his voyages. The dual continents of America owe their name to him. The map at hand is a planisphere from Turin, which was made in 1523 according to the great explorer's findings. The masterpiece is recorded in seven different colors and boasts precious gold leaf ornamentation.
What is a Planisphere?
The central projection of the celestial sphere on a single plane is called a planisphere, so it is actually a star map. The Greek astronomer Hipparchus of Nicaea discovered that a conformal mapping of the heavens was possible with stereographic projection, which would, however, exhibit ever great spatial errors with increasing distance from the pole. Consequently, an idea of a planisphere already existed in antiquity. The correct construction of a planisphere was described in a work by Ptolemy. In the Middle Ages, however, also world maps were designated with this title, which did not record any constellations, but represented the geography of the globe two-dimensionally.
Precious Materials
The Geocarta Nautica Universale was manufactured in Turin by Giovanni Vespucci – Amerigo's nephew – and his colleague Juan Diaz de Solis. Both artists strictly adhered to Amerigo's notes in their preparation of the masterpiece. They used parchment and painted the various regions of the Earth, bodies of water and mountain ranges in distinctly high-quality colors. When closed, the map takes the form of a scroll. Its precious gold leaf adornment lends the work an especially noble touch. The planisphere is a uniquely magnificent masterpiece of Renaissance cartography.
Codicology
Alternative Titles

Il planisfero di Torino




Planisphäre aus Turin von Amerigo Vespucci




Vespucci. Geocarta Nautica Universale




Geocarta Nautica Universale di Vespucci




Geocarta Nautica Universale by Giovanni Vespucci




Geocarta nautica universale

Type

Size / Format

6 maps / 261.5 × 112.2 cm

Origin

Date

1523

Epochs

Style

Genre

Language

Content

An artful and accurate map of the world created by either Giovanni Vespucci or Nuño García de Toreno

Artist / School

Giovanni Vespucci (ca. 1460 – after 1524)
Juan Diaz de Solis (1470–1516)
---
Available facsimile editions: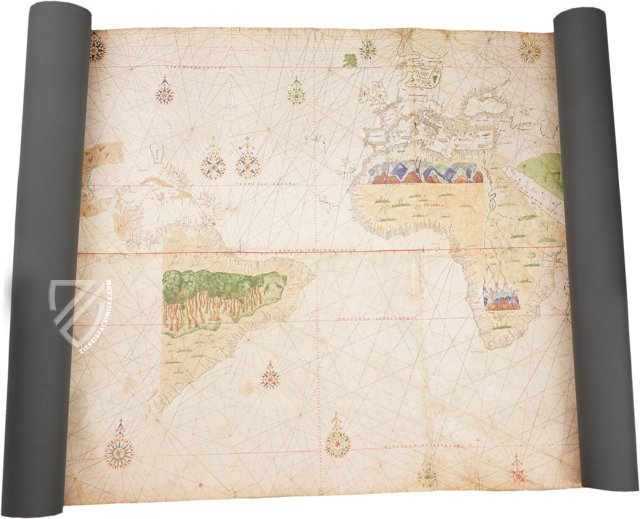 Priuli & Verlucca, editori
– Scarmagno, 2010
Limited Edition:
749 copies
Facsimile Editions
#1

1523 - Vespucci. Geocarta Nautica Universale

Limited Edition:

749 copies

Binding:

Rolled map on gray canvas in handmade box

Commentary:

1 volume by Corradino Astengo
Languages: English, Italian

1 volume: Exact reproduction of the original document (extent, color and size)

Reproduction of the entire original document as detailed as possible (scope, format, colors). The binding may not correspond to the original or current document binding.
You might also be interested in: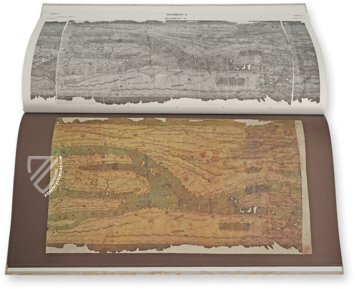 Tabula Peutingeriana
Monastery of Reichenau (Germany) – 12th/13th century
Almost like a modern travel guide: the only surviving copy of an ancient map of the Roman road network, peppered with practical information on places and accommodations in the vast Imperium Romanum
Experience More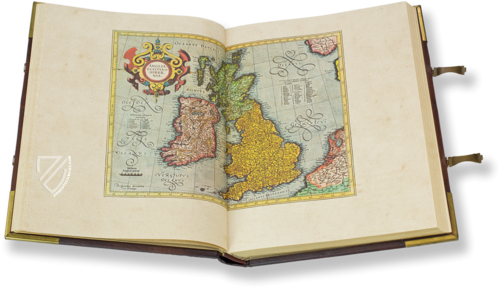 Mercator Atlas of 1595
Germany – First part: 1585;Second part: 1589; Third part: 1595
A milestone of cartography and the template for all later atlases: Gerardus Mercator's posthumously published pictorial atlas from 1595 contributed to a completely new perspective on the world
Experience More
Blog articles worth reading