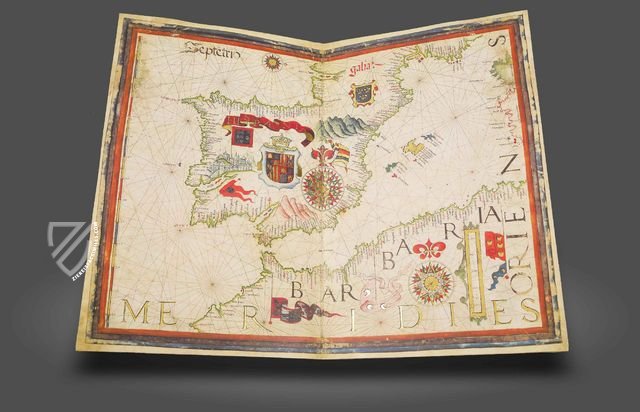 Diego Homen's Atlas 1561
Venice (Italy) — 1561
Diego Homem (1521–76), one of the most talented cartographers of all time, created a true masterpiece of cartography

It not only recorded known sea routes, seas, and oceans, but also all regions of the mainland

The Atlas of 1561 is an outstanding example of the scientific achievements of the European Renaissance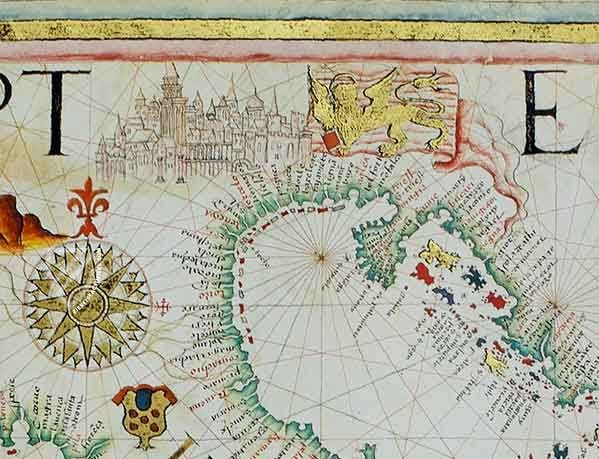 Diego Homen's Atlas 1561
Alternative Titles:
Atlas de Diego Homen
Atlas del Mediterraneo de Diego Homen
Atlas des Diego Homen von 1561
Diogo Homem Atlas
Short Description
The 16th century witnessed the science of cartography advance by leaps and bounds. The Portuguese cartographer Diogo Homem was second to none among his contemporaries and produced works that were both highly accurate and gorgeously designed. Homem's 1561 Atlas includes some of the greatest achievements of his distinguished career.
Diogo Homem's Atlas 1561
When one thinks of the origins of the fantastic works of cartography that were produced during the Renaissance, murder does not usually come to mind. Diogo Homem (1521–76), also spelled Homen, was exiled from Portugal because of his complicity in a murder, what his exact role was in unclear, but he fled first to England and later to Venice. While living in the "City of Water", which is really a series of islands connected by bridges and canals, Homem created some of the finest works of 16th century cartography. His portolan charts, nautical maps with a windrose network designating a series of sailing directions between ports, were both revolutionary in their accuracy and masterful in their artistry. The lands depicted have elegantly colored coastlines, contain local flags and escutcheons, cityscapes and mountains, as well as intricate compass roses. The quality of his work is widely recognized and exhibited in museums and collections in Italy, Austria, Great Britain, France, the United States, and in his native Portugal. Homem's 34-page atlas published in 1561 is a collection of some of his best works and offers a wonderful inside glimpse into the fine art and science of Renaissance cartography.
Codicology
Alternative Titles

Atlas de Diego Homen




Atlas del Mediterraneo de Diego Homen




Atlas des Diego Homen von 1561




Diogo Homem Atlas

Type

Size / Format

24 pages + 8 maps / 46.5 × 30.0 cm

Origin

Date

1561

Epochs

Style

Genre

Language

Script

Gothic Quadrata

Content

7 maps and a cosmographic chart, all richly colored double-pages with gold leaf

Artist / School

Diogo Homem (1521–1576)
1 available facsimile edition(s) of "Diego Homen's Atlas 1561"
Atlas del Mediterraneo de Diego Homen
Atlas del Mediterraneo de Diego Homen
1 volume: Exact reproduction of the original document (extent, color and size)
Publisher

AyN Ediciones – Madrid, 1975

Limited Edition

1500 copies

Binding

Full Leather

Commentary

1 volume by Julio F. Guillén y Tato and José Luis Morales Hernández
Language: Spanish

More Information

Reproduction of the entire original document as detailed as possible (scope, format, colors). The binding may not correspond to the original or current document binding.
Matching Works
Atlas Coelestis
Ptolemy, Copernicus, Kepler: the richly illustrated collected works of the greatest astronomers from antiquity to the Early Modern Period
Experience More
Matching Background Articles
Geography / Maps

Most of what you know about world and how you perceive geography is based on maps you have seen. Medieval maps likewise...

Experience more

Renaissance

What does the word "Renaissance" bring to mind for you? Art, science, and culture of course! It was a "rebirth" and...

Experience more

16th Century

When did the Middle Ages end and the Early Modern Period begin? Most agree it was sometime in the course of the 16th...

Experience more