Diego Homen's Atlas 1561
Description
The 16th century witnessed the science of cartography advance by leaps and bounds. The Portuguese cartographer Diogo Homem was second to none among his contemporaries and produced works that were both highly accurate and gorgeously designed. Homem's 1561 Atlas includes some of the greatest achievements of his distinguished career.
Diogo Homem's Atlas 1561
When one thinks of the origins of the fantastic works of cartography that were produced during the Renaissance, murder does not usually come to mind. Diogo Homem (1521–76), also spelled Homen, was exiled from Portugal because of his complicity in a murder, what his exact role was in unclear, but he fled first to England and later to Venice. While living in the "City of Water", which is really a series of islands connected by bridges and canals, Homem created some of the finest works of 16th century cartography. His portolan charts, nautical maps with a windrose network designating a series of sailing directions between ports, were both revolutionary in their accuracy and masterful in their artistry. The lands depicted have elegantly colored coastlines, contain local flags and escutcheons, cityscapes and mountains, as well as intricate compass roses. The quality of his work is widely recognized and exhibited in museums and collections in Italy, Austria, Great Britain, France, the United States, and in his native Portugal. Homem's 34-page atlas published in 1561 is a collection of some of his best works and offers a wonderful inside glimpse into the fine art and science of Renaissance cartography.
Codicology
Alternative Titles

Atlas de Diego Homen




Atlas del Mediterraneo de Diego Homen




Atlas des Diego Homen von 1561




Diogo Homem Atlas




Diogo Homem's Atlas 1561

Type

Size / Format

24 pages + 8 maps / 46.5 × 30.0 cm

Origin

Date

1561

Epochs

Style

Genre

Language

Script

Gothic Textura Quadrata

Content

7 maps and a cosmographic chart, all richly colored double-pages with gold leaf

Artist / School

Diogo Homem (1521–1576)
---
Available facsimile editions:
Detail Picture
Diogo Homem's Atlas 1561
Venice and its Vicinities
Diogo Homem was forced to flee his homeland of Portugal after he was suspected of being involved in a murder and eventually made his way to the Republic of Venice at a time when La Serenissima was perhaps the most splendid city in the world. Towering over the rest of the skyline, St. Mark's Campanile makes the cityscape of Venice immediately identifiable. Venice's symbol, the winged lion, is shown flying on the Banner of St. Mark next to it as is a splendid compass rose, both in gold leaf.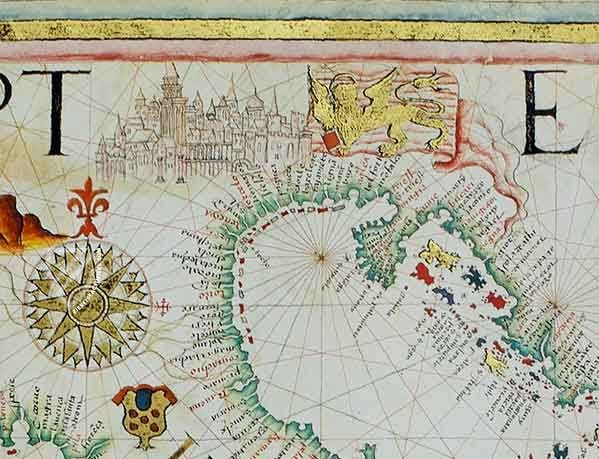 Single Page
Diego Homen's Atlas 1561
Iberian Peninsula
As a Portuguese cartographer, Diogo Homem had a particularly acute knowledge of the geography of the Iberian Peninsula. It is thus presented here with a remarkable degree of accuracy and artistic refinement that simultaneously make this a masterpiece of both cartography and Renaissance art – a splendid image of the Western Mediterranean in the 16th century.
Only the highest quality pigments and precious gold leaf were used in the creation of this splendid atlas. Here we see the name HISPANIA presented in a red banderole with gold lettering, compass roses created with incredible precision and artistry, and other details like mountain ranges, cities, and the royal coats of arms of the kingdoms of Spain, France, and the various rulers of the Barbary Coast.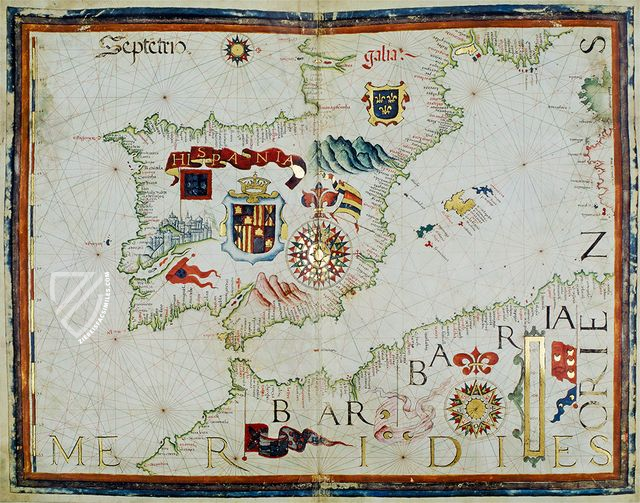 Facsimile Editions
#1

Atlas del Mediterraneo de Diego Homen

Limited Edition:

995 copies

Commentary:

1 volume by Julio F. Guillén y Tato and José Luis Morales Hernández
Language: Spanish

1 volume: Exact reproduction of the original document (extent, color and size)

Reproduction of the entire original document as detailed as possible (scope, format, colors). The binding may not correspond to the original or current document binding.