The Codex of Astronomy and Astrology of King Wenceslas
Description
The Codex of Astronomy and Astrology of King Wenceslas
The Astronomical-Astrological Codex of King Wenceslas is considered a gem of Gothic illumination and was created at the magnificent court of King Wenceslas IV of Bohemia (1361–1419), the uncrowned emperor of the Holy Roman Empire. This extraordinary manuscript was written by Wenceslas' court astronomer Terzysko, who incorporated ancient Jewish and Islamic texts into it. 55 miniatures, 7 astrological figures, 3 gold initials, 114 opaque initials and 19 historiated initials describe the workings of the stars and impress with their extremely fine execution, their refined coloring, and the rich use of gold leaf and brush gold. Thus, the large-format manuscript, made for the king's personal use, testifies to the rich artistic culture that Wenceslas cultivated at his court in Prague and that attracted many outstanding artists of his time.
The Codex of Astronomy and Astrology of King Wenceslaus
As the fortunes of the Kingdom of Bohemia rose within the Holy Roman Empire, the court at Prague became one of the most magnificent in Europe and the city itself became an important center of art and learning, which attracted artists and intellectuals from across the world. The masterpiece of Gothic illumination at hand originated shortly after the year 1400 at the behest of Wenceslaus IV (1361–1419), King of Bohemia and uncrowned Holy Roman Emperor, for his own personal use. It was created by a team of artists in the so-called Wenceslaus workshops under the direction of his court astronomer Terzysko. One of the finest specimens of the International Gothic style is presented in masterful detail, right down to the backgrounds – some splendidly patterned, others glimmering with gold leaf. Although his rule was contentious and uncertain, Wenceslaus was a learned man who patronized many splendid manuscripts including the famous Wenceslas Bible. He created an artistic haven at his court that attracted some of the best artists from across the Holy Roman Empire and Europe as a whole.
A Bohemian Masterpiece
Although considerably more secular in nature, The Codex of Astronomy and Astrology of King Wenceslaus is also a masterpiece of Gothic illumination with incredibly lifelike human and animal figures including bathing maidens, an artistic motif closely associated with the King that also appears in his famous Bible. The 106-page manuscript is an outstanding testimony of the golden age of illumination in Prague ca. 1400 and measures an impress 450 x 320 mm. The academic text is a Latin translation of Arabic and Hebrew texts adorned by 55 miniatures, 7 astrological figures, 3 gold initials, 114 opaque initials, and 19 historicized initials altogether – illumination truly worthy of a king. The famous miniatures are a fine contribution to the tradition established by Al-Sufi (903–986) in his Book of Fixed Stars and carried on by numerous other splendid illustrations. This Bohemian manuscript is a fascinating compendium of astronomical-astrological knowledge, complete with various depictions and interpretations of the stars from the most famous astronomers and astrologers of antiquity and the Middle Ages.
Codicology
Alternative Titles

The Astronomical-Astrological Codex of King Wenceslas




Der astronomisch-astrologische Codex König Wenzels IV. von Böhmen




Astronomisch-astrologischer Codex Königs Wenzels




Astrologische Handschrift für König Wenzel IV. von Böhmen

Size / Format

106 pages / 45.0 × 32.0 cm

Origin

Date

1400

Epochs

Style

Genre

Language

Illustrations

55 miniatures, 7 astrological figures, 3 gold initials, 114 opaque initials, 19 historicized initials

Content

Representation of the astronomical-astrological knowledge of his time with star interpretations of the best known astronomers and astrologers up to 1400. The Codex also contains a catalog of fixed stars according to Al-Sufi.

Previous Owners

King Wencelslaus IV of Bohemia
---
Available facsimile editions: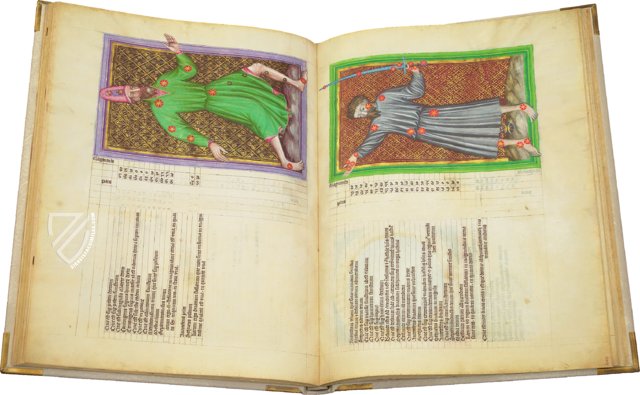 Belser Verlag
– Stuttgart, 2018
Limited Edition:
999 copies
Detail Picture
The Codex of Astronomy and Astrology of King Wenceslas
Patron Portrait
This magnificent historiated initial shows King Wenceslas in his study seated before a desk and writing on a blackboard placed upon an open book – he may be doing arithmetic. The King is depicted as an older, balding man with a long white beard and is dressed in a flowing red robe with an ermine collar. An architectural element in the background creates a sense of spatiality in the scene and sticks out against the blue sky filled with gold stars, even protruding from the frame itself.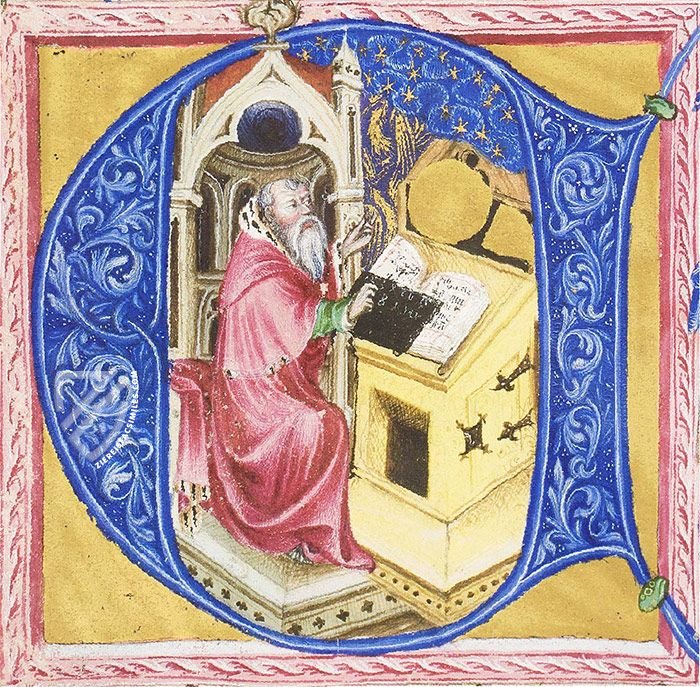 Single Page
The Codex of Astronomy and Astrology of King Wenceslas
Planetary Aspects and Houses
At the top of the page, four columns detail the aspects, effects, and strengths of the seven planets, which are shown with their symbols in blue ink, and clarify which planets "get along" with each other and which do not. The elaborate circular table below presents the twelve signs of the zodiac in artful, detailed miniatures with gold leaf backgrounds.
The Sun is presented in the center with golden rays and eight pointing fingers as part of a moveable volvella and is surrounded by geometric shapes. It is surrounded by two concentric circles with information concerning the planets and their relation to each astrological house. Created with silver leaf, each Moon and some stars have tarnished and turned black with time.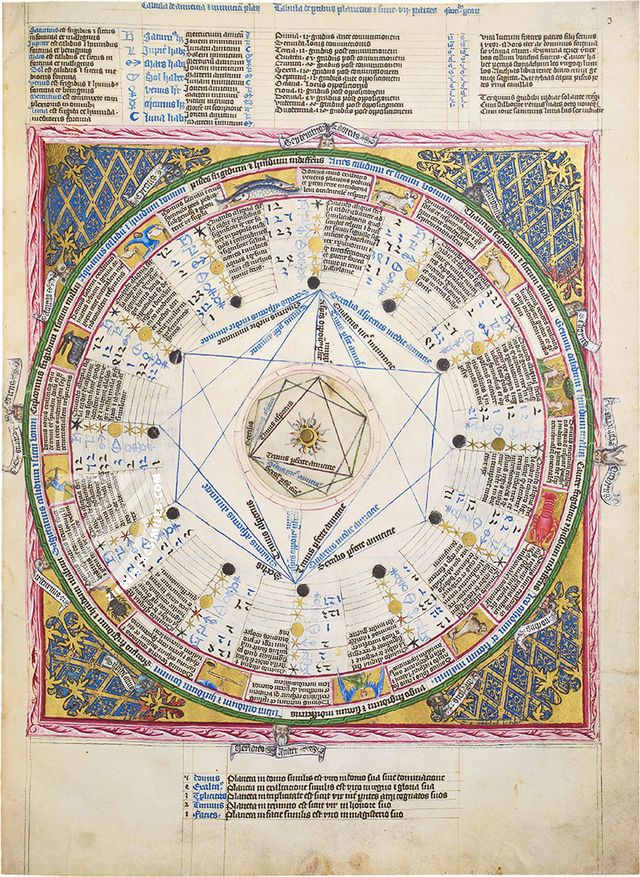 Facsimile Editions
#1

Der astronomisch-astrologische Codex König Wenzels

Limited Edition:

999 copies

Binding:

Blindfolded white leather cover with 8 corner fittings. Green Box.

Commentary:

1 volume (128 pages) by Maria Theisen
Language: German

1 volume: Exact reproduction of the original document (extent, color and size)

Reproduction of the entire original document as detailed as possible (scope, format, colors). The binding may not correspond to the original or current document binding.
You might also be interested in: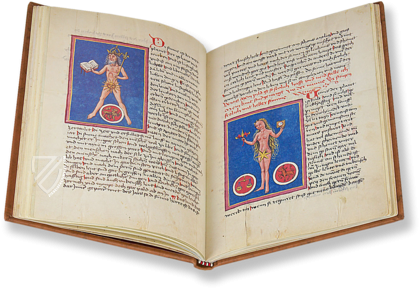 Codex Schürstab
Nuremberg (Germany) – Ca. 1472
The influence of the stars on the weal and woe of each individual: health tips and astrological advice for the layman in the splendidly illuminated Nuremberg housebook of the Schürstab family
Experience More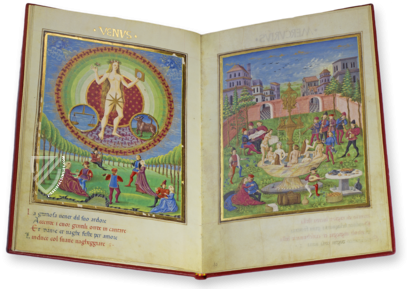 De Sphaera
Milan (Italy) – Ca. 1470
Renaissance everyday life and astrology in beautiful paintings by Cristoforo de Predis, the painter of the Sforza and Visconti: one of the most beautiful astrological works of all time, created for a member of the Sforza court
Experience More
Blog articles worth reading