The Magic Flute K. 620
Description
The Magic Flute is the last and most popular of the seven great operas by Wolfgang Amadeus Mozart. The premiere, which occurred only two months before the composer's death, was personally conducted by Mozart. It is a work of fantasy that serves as an allegory for the quest for knowledge, which is fully in the spirit of the Enlightenment.
The Magic Flute K. 620
Mozart's seven great operas, his brilliant contribution to musical theater and world culture, are unequalled in their depth of human characterization and musical expression. Here we have the original score of one of the seven great operas by Wolfgang Amadeus Mozart (1756–1791): Die Zauberflöte. It remains Mozart's most popular opera worldwide to this day. The libretto was written by Emanuel Schikaneder (1 September 1751 – 21 September 1812). Conducted by Mozart, the opera premiered on September 30th, 1791 in the Freihaustheater (which happened to be built by Schikaneder) just two months before the untimely death of the Austrian genius. The Freihaustheater auf der Wieden was a theatre in the suburbs of Vienna. It was a kind of people's theatre with a corresponding repertoire and its attraction for the public was due not least to the use of spectacular stage effects. The concept 'machine-comedy' refers to the theatrical genre to which "The Magic Flute" owes its origins, and to which the work originally belonged. The opera is a work of fantasy presenting the typical story of a hero and a damsel in distress, but is actually an allegory for the quest for wisdom and enlightenment as presented through symbols of Freemasonry – both Mozart and Schikander were Freemasons. Thankfully, the original score is complete and well-preserved.
Codicology
Alternative Titles

Il Flauto Magico




Zauberflöte K. 620

Type

Date

1791

Epochs

Style

Genre

Language
Facsimile Editions
#1

The Magic Flute K. 620

Commentary:

1 volume by Dietrich Berke, Ulrich Konrad, and David Packard


1 volume: This facsimile is not complete.

Reproduction of the entire original document as detailed as possible (scope, format, colors). The pages are presented on a larger white background. The binding may not correspond to the original or current document binding.
You might also be interested in: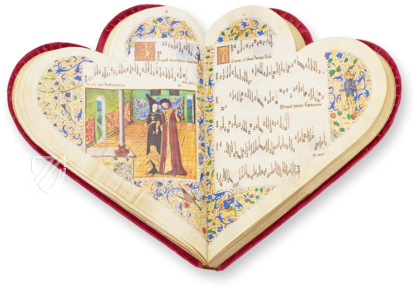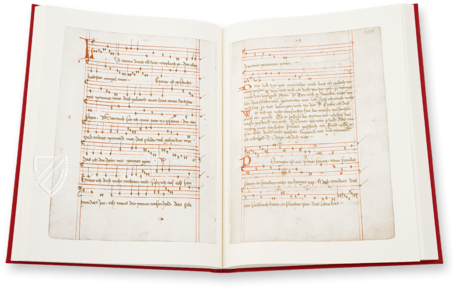 Mondsee-Vienna Music Manuscript
First half of the 15th century
One of the most important sources of the German-language music history of the 15th century: 100 polyphonic songs of famous composers like Hermann von Salzburg or Heinrich von Mügeln
Experience More
Blog articles worth reading