The Most Beautiful Drawings from the Uffizi
Description
The Most Beautiful Drawings from the Uffizi
This collection of 48 leaves made between the mid-15th and mid-18th centuries, by artists of various Italian schools and famous foreign masters is dedicated to the Department of Prints and Drawings of the Uffizi, the most prestigious museum institution in the city of Florence. Its collections include over one hundred and fifty thousand sheets of drawings, engravings, miniatures, and photographs from the 14th century to the present day. The Department of Prints and Drawings of the Uffizi was founded in the mid-17th century but is continuously evolving, its holdings constantly increased by bequests and purchases, making it a living and dynamic institution. The artists represented here include Italians like Botticelli, Ghirlandaio, Pontormo, Leonardo, Michelangelo, Raphael, Mantegna, Titian, and Tintoretto, as well as representatives of the Northern Renaissance like Van Dyck, Rubens, and Rembrandt.
Codicology
Alternative Titles

Die schönsten Zeichnungen aus den Uffizien




I Disegni più Belli degli Uffizi

Type

Origin

Date

Mid 15th century – mid 18th century

Epochs

Style

Genre

Content

The selected works comprise 48 leafs, which were created between the 15th and 18th century

Artist / School

Botticelli
Ghirlandaio
Pontormo
Leonardo da Vinci
Michelangelo
Raffael
Mantegna
Titian
Tintoretto
Anthony Van Dyck
Pieter Paul Rubens
Rembrandt

---
Available facsimile editions:
Facsimile Editions
#1

I Disegni più Belli degli Uffizi

Limited Edition:

199 copies

Commentary:

1 volume by Cristina Casoli


1 volume: 48 leaves: Exact reproduction of the original document (extent, color and size)

The edition contains a selection of 48 leaves under passe-partouts in the format 32 × 46 cm. Reproduction of the entire original document as detailed as possible (scope, format, colors). The binding may not correspond to the original or current document binding.
You might also be interested in: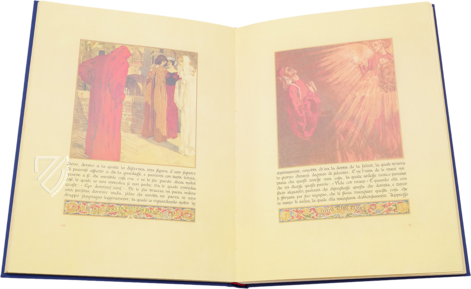 La Vita Nuova - Dante Alighieri
Bergamo (Italy) – 1921
Calligraphy and watercolors commemorating one of the most famous literary figures of the Middle Ages: a rare juvenile work by Dante Alighieri in an extraordinarily artfully illuminated 20th century manuscript
Experience More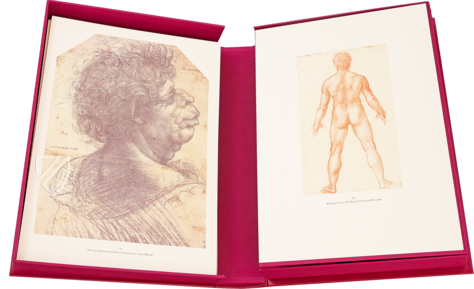 Blog articles worth reading