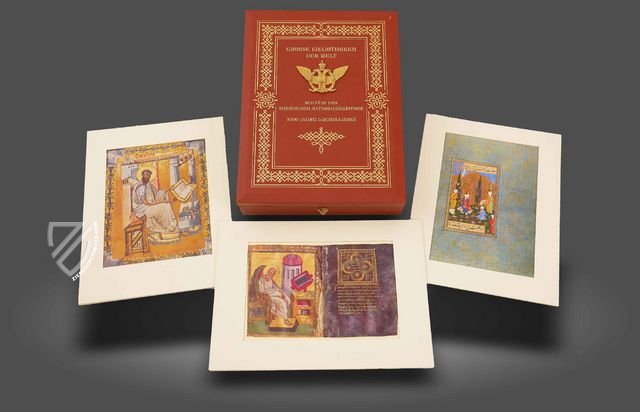 Treasures from the National Library of Russia
Paris (France); Istanbul (Turkey) and others — 9th–19th cemtury
The National Library of Russia in St. Petersburg was established by Catherine the Great (1729–96) in 1795

It survived the Russian Revolution and remained defiantly open during the grueling Siege of Leningrad

This rich library is represented here by ten of the finest specimens of medieval illumination that are housed in its collections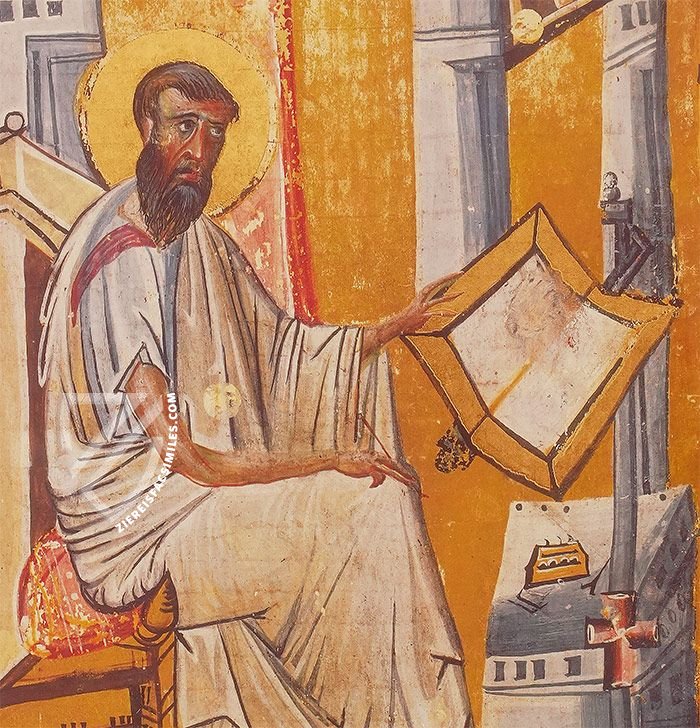 Treasures from the National Library of Russia
Alternative Titles:
Kassette Schätze der Russischen Nationalbibliothek
Short Description
Established in 1795 as the Imperial Public Library, the National Library of Russia in St. Petersburg has undergone numerous transformations and has endured hardships alongside the Russian people. After fifteen years of construction, its official opening was delayed by the invasion of Napoleon in 1812, during which the more valuable collections had to be evacuated. It managed to survive the Russian Revolution, albeit with diminished status, and remained defiantly open during the grueling Siege of Leningrad. Today, it is one of the world's greatest research libraries and houses an impressive collection of medieval manuscripts, including many of Byzantine origin.
Treasures from the National Library of Russia
The National Library of Russia in St. Petersburg is both the oldest public library in Russia and its first national library. The library was established by Catherine the Great (1729–96) in the year 1795, and was built upon the collections of the Załuski Library, the first public library in Poland, which were seized and brought to St. Petersburg by the Russian Army in the wake of the Partitions of Poland, aside from many manuscripts that were looted and sold by Russian soldiers for their own profit. Most of the collection was returned by the Soviet Union in 1921, but much of this was destroyed in World War II. The library's extensive manuscript collections were primarily added during the 19th century, either acquired by the library or donated to it, and today it houses Russia's largest collection of medieval illuminated manuscripts, including some of the earliest specimens of the Old and New Testaments, as well as the Quran. In addition to its aim of creating a comprehensive collection of Russia's printed output, it also has a premiere collection of manuscripts. Some of these pictures are made available to the Western public for the first time in this collection, e.g. a depiction of the Solovetsky Monastery, the title page from a manuscript of Russian hymns.
This rich library is represented here by ten of the finest specimens of medieval illumination that are housed in its collections:
1. John the Evangelist / Beginning of the Gospel of John
Purple Evangeliary, Gr. 53, fol. 329v/330r
Byzantium, 9th, 13th–14th, 17th centuries
Format: 30 x 19.8 cm (Landscape)
Christ's Birth
Book of Hours, Rasn. Q. v. I. 8, fol. 57v/58r
France, Paris, early–15th century
Format: 31 x 21.7 cm (Landscape)

Mark the Evangelist
Gospel Lectionary of Saint Petersburg, Gr. 21, fol. 5v
Byzantium, 9th and 10th centuries
Format: 25.5 x 33 cm

Initial Page "B"
Psalter, Lat. Q. v. I. 67, fol. 7r
France, Paris, 1218–1242
Format: 15.3 x 21.7 cm

Crucifixion and Descent from the Cross
Missale Remense, Lat. Q. v. I. 78, fol. 26r
France, Reims, 1285–1297
Format: 16.2 x 23.3 cm

Luke the Evangelist
Book of Hours of Mary Stuart, Lat. Q. v. I. 112, fol. 13r
France, Paris, 2nd half of the 15th century
Format: 17.7 x 25 cm

Prowess and Nobility
Letters between Anne of Brittany and Louis XII, Fr. F. v. XIV. 8, Bl. 20v
France, early 16th century
Format: 18.9 x 29.4 cm

Shah Listens to the Teachings of a Sufi
Gami, Lawaih, Dorn 256, fol. 10v
Persia, ca. 1570
Format: 21.8 x 33.3 cm

The Solovetsky Monastery
Life and Works of Saints Sossima and Sawwati
Solov. 175/175, fol. 16v
Moscow, Trinity Sergiev Monastery, 1623
Format: 19 x 30.5 cm

Title Page
Old Russian Church Hymns
Hirmologion, NSRK F. 607, fol. 1v
Russia, 19th century
Format: 22 x 34.4 cm
Codicology
Alternative Titles

Kassette Schätze der Russischen Nationalbibliothek

Date

9th–19th cemtury

Genre

Illustrations

10 miniatures

Content

Ten leaves from important manuscripts from the National Library of Russia
1 available facsimile edition(s) of "Treasures from the National Library of Russia"
Kassette Schätze der Russischen Nationalbibliothek Facsimile
Kassette Schätze der Russischen Nationalbibliothek Facsimile
1 volume: 10 leaves under passe-partouts: Exact reproduction of the original document (extent, color and size)
Publisher

Coron Verlag – Gütersloh, 2007

Limited Edition

1995 copies

Binding

Box

Commentary

1 volume
Language: German

More Information

Reproduction of the entire original document as detailed as possible (scope, format, colors). The binding may not correspond to the original or current document binding.
Matching Background Articles