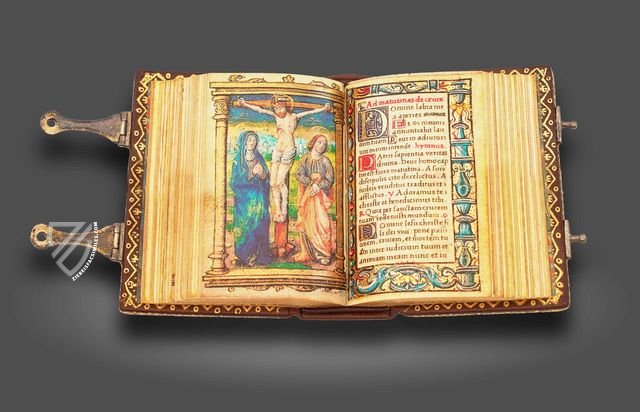 Book of Hours of Mary Stuart
Tours (France) — First quarter of the 16th century
This royal devotional manuscript is considered to be the smallest book of hours in the history of illumination

King François I of France (1494–1547) commissioned the exceptional manuscript, which measures only 4.8 x 3.2 cm

Mary Stuart (1542–1587) received the tiny masterpiece as a wedding present from her husband King François II (1544–1560)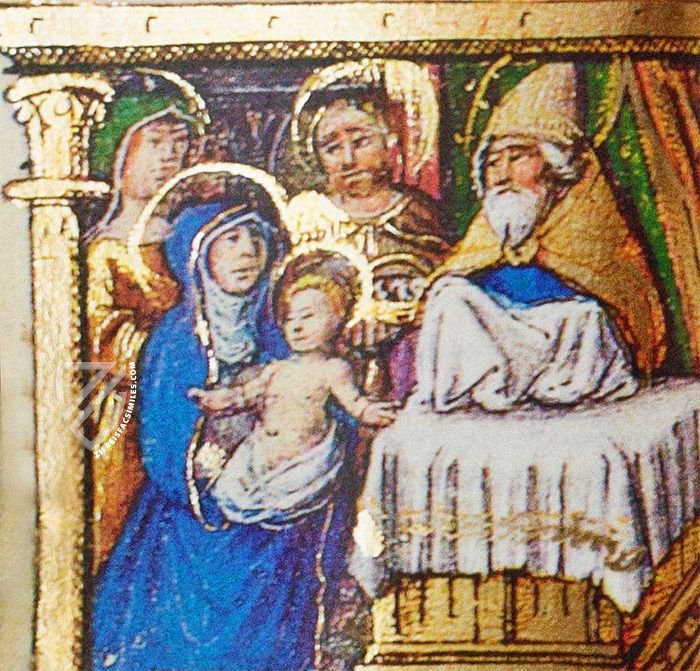 Book of Hours of Mary Stuart
Alternative Titles:
Das Stundenbuch der Maria Stuart
Livre d'Heures de Marie Stuart
Short Description
A truly fascinating jewel of 16th century illumination: the so-called Book of Hours of Mary Stuart is considered to be the smallest book of hours in the entire history of illumination. Nonetheless, the Scottish Queen's small devotional book impresses not only because of this superlative, but is also noteworthy for its content and history: a truly royal provenance and an outstanding, precious, and masterfully artistic design!
Book of Hours of Mary Stuart
Although the book of hours certainly bears the name of Mary Stuart, actually King François I (1497–1547) is considered to be the patron of the exceptional manuscript. It came into the possession of his wife **Claude de France as a royal present from François. The Scottish Queen Mary Stuart (1542–1587), whose tragic and exciting life fascinates to this day, eventually married the grandson of Claude de France, the French King Francois II, and it was in this way that the treasure of illumination came into her possession.
A Very Special Prayer Book
Books of hours – small, precious books for private devotion – were always small and easy to handle so that their owners could simply carry them on their person as a constant companion. This characteristic of personal prayer books was taken to the extreme here. The Book of Hours of Mary Stuart is a truly unique item: measuring only 4.8 x 3.2 cm, it is the smallest book of hours in art history!
The Shimmer of Gold
In spite of this tiny format the manuscript from the late period of illumination impresses with its outstanding design. An image overload is presented with 300 pages of miniatures and text, bordures and ornamentation, initials and gold everywhere. 14 miniature pages adorn the religious texts with appropriate pictures, scenes of the Life of Christ from birth to Passion. Nevertheless, these miniatures are not merely simple illustrations, but rather true masterpieces in the smallest of formats. Exquisitely prepared, the figurative scenes are presented in highly-detailed interior spaces or atmospheric landscapes, thus yielding a precious image of the great art of illumination during the Renaissance north of the Alps
A French Masterpiece
This treasure originated from the beginning of the 16th century – ca. 1510–15 – in French Tours. The manuscript is thereby an impressive testimony to the Rouen school. After being in the hands of kings and queens for centuries, it came to Germany in 1837 via Marie d'Orleans, the daughter of the French King Louis-Philippe I, on the occasion of her marriage to Duke Alexander von Württemberg, where it is housed to this day in the collection of the House of Württemberg.
Codicology
Alternative Titles

Das Stundenbuch der Maria Stuart




Livre d'Heures de Marie Stuart

Size / Format

308 pages / 4.8 × 3.2 cm

Origin

Date

First quarter of the 16th century

Epochs

Style

Genre

Language

Script

Littera Humanistica Gothic Textualis Rotunda

Illustrations

14 full-page miniatures

Artist / School

School of Rouen

Previous Owners

Francis I and Claude of Brittany
Francis II and Mary Stuart
Marie d'Orléans and Alexander, Duke of Württemberg
1 available facsimile edition(s) of "Book of Hours of Mary Stuart"
Livre d'heures Maria Stuart Facsimile
Livre d'heures Maria Stuart Facsimile
1 volume: Exact reproduction of the original document (extent, color and size)
Publisher

Facsimilia Art & Edition Ebert KG – Darmstadt, 1988

Limited Edition

980 copies

Commentary

1 volume by Hansmartin Decker-Hauff, Eberhard König, Myra Dickmann Orth and Johannes Rathofer
Languages: German, English, Frensh

More Information

Reproduction of the entire original document as detailed as possible (scope, format, colors). The binding may not correspond to the original or current document binding.
Matching Background Articles
Books of Hours

What is a book of hours? A prayer book for personal use based upon the "offices" or official prayers that were to be said...

Experience more

Prayer Books

Interested in a personal glimpse into the personality of a famous medieval figure? Prayer books were small codices...

Experience more