Trial Against the Templars
Description
Trial Against the Templars
The Poor Fellow-Soldiers of Christ and of the Temple of Solomon, commonly known as the Knights Templar, were a monastic military order that rose from humble beginnings in the early 12th century to becoming one of the most powerful organizations in the Western world in the 13th century. In the early–14th century, the Templars suddenly collapsed in one of the most mysterious and infamous episodes of medieval history, apparently the victims of a wide-reaching conspiracy against them.
Trial against the Templars
The Vatican Secret Archive is a centuries-old guardian of the world's largest documentary heritage, which comprises 35,000+ volumes dating back to the 8th century. Its name is somewhat inaccurate: Archivum Secretum Vaticanum more accurately translates as the "Private Vatican Library" – is private in the sense that it is the personal, private possession of the Pope, although contemporary records are kept classified. These are primarily diplomatic documents, ranging from state papers and official documents, to correspondence and account books. A series of documents stored under the shelf marks ASV A.A. Arm. 208, 209, 210 and 217 deal with one of the most infamous and mysterious events in history: the trial of the Knights Templar, which began in 1307 and lasted until 1314.
Medieval Court Records
The first three documents (208, 209, 210) are the surviving specimens of an original corpus of 5 parchment rolls, including the confessions of seventy-two knights questioned by Pope Clement V (ca. 1264–1314) between June 28th and July 2nd, 1308. The fourth parchment (217) records the final acquittal granted to Grand Master Jacques de Molay (ca. 1243–1314) and to other high dignitaries of the Order, even if it did not save them from being burnt at the stake by King Philip IV of France (1268–1314), who had instigated the conspiracy against the Templars in order to wipe his extensive debts to them clean while seizing much of their property. A final document is included, listed in the Reg. Aven. 48 of Pope Benedict XII (1285–1342), which recorded the personal observations of representatives of the Holy See summarizing the depositions of various Templars.
The facsimile edition features:
Three fragments of originally five documents recording the confessions of 72 Knights Templar who were interrogated by Pope Clement V in Poitiers from June 28 to July 2, 1308. (ASV A.A. Arm. 208, 209, 210)
Notes of Clement V regarding the confessions.
A fragment of the Chinon Parchment containing the acquittals of Jaques de Molay and other Templar leaders. (ASV A.A. Arm. 217)
Codicology
Alternative Titles

Processus contra Templarios




Prozess gegen die Templer

Size / Format

Various documents and pages / 69-77 × 53-64 cm

Origin

Date

1307–1312

Epochs

Style

Language

Content

Documentation of the papal inquisition against the order of Templars, which took place in France between 1307 and 1314.
---
Available facsimile editions:
Facsimile Editions
#1

Processus Contra Templarios

Limited Edition:

799 copies

Commentary:

2 volumes by Marco Maiorino, Pier Paolo Piergentili, S.E. Mons. Sergio Pagano, Barbara Frale, and Luca Becchetti
Languages: English, Italian

1 volume: Exact reproduction of the original document (extent, color and size)

Reproduction of the entire original document as detailed as possible (scope, format, colors). The binding may not correspond to the original or current document binding. The facsimile edition features: Three fragments of originally five documents recording the confessions of 72 Knights Templar who were interrogated by Pope Clement V in Poitiers from June 28 to July 2, 1308. (ASV A.A. Arm. 208, 209, 210) Notes of Clement V regarding the confessions. A fragment of the *Chinon Parchment* containing the acquittals of Jaques de Molay and other Templar leaders. (ASV A.A. Arm. 217)
You might also be interested in: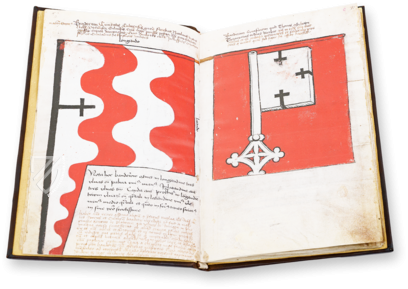 Banderia Prutenorum
Cracow (Poland) – 1448
From Germany and Poland, from Prussia and the Teutonic Order: the story of Tannenberg in 1410, the greatest battle of the Middle Ages
Experience More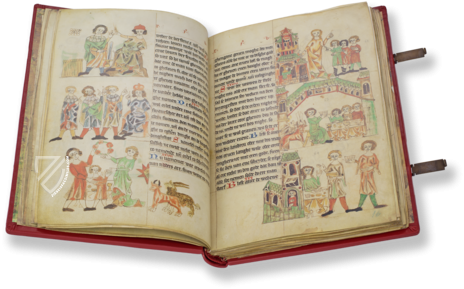 Oldenburg Mirror of Saxony
Monastery of Rastede (Germany) – 1336
A treasure of art and legal history: one of only four illuminated manuscripts of the first legal text in the history in the German language
Experience More
Blog articles worth reading