Wolfram von Eschenbach - Parzival
Description
Wolfram von Eschenbach - Parzival
This precious manuscript contains a very early transcript of the Middle High German tale in verse of Parzival. This famous magnum opus by the poet Wolfram von Eschenbach is a unique testimonial to German literature ca. 1200. What make the manuscript additionally special is the four miniature pages with 12 illustrating scenes from the text altogether. A golden opportunity to discover and explore this important chapter of literary and linguistic history first hand!
Parzival
Feasts at long tables, armored knights on noble steeds in battle or riding before a city, and crowned heads at the court of King Arthur – these motifs make up the subject matter that is encompassed in the magnificent miniatures of the Munich Parzival manuscript. In doing so, they illustrate the Middle High German poem by the famous Wolfram von Eschenbach in a wonderful way. With the Parzival, he wrote an epic poem about the Arthurian legends between 1200 and 1210 divided into 16 books. Alongside the Willehalm, this 25,000 verse story is the famous poet's primary work.
An Outstanding Evidential Text
This noteworthy manuscript already originated in the years between 1228 and 1236 in Strasbourg shortly after the completion of the text by Wolfram von Eschenbach. Aside from the Parzival, it additionally contains the Titurel fragments and two rare aubades. Among the altogether 84 surviving manuscripts and fragments of the Parzival, one has assumed a pre-eminent positon and is considered among researchers to be the authoritative reference manuscript. Six scribes worked on the manuscript, whose popularity and frequent use can be attested to by its numerous signs of wear.
Four Special Image Pages
The manuscript with the shelf mark Cgm 19 in the Bayerische Staatsbibliothek in Munich boasts an additional special feature with its four-page miniature sheet (49r, 49v, 50r, and 50v). These miniature pages present 12 pictures altogether in blocks of three image strips on top of one another respectively. Brightly colored scenes set against blue, green, and gold backgrounds stretch out in an ochre yellow frame. The primary characters are identified with banderoles. Parzival and his half-brother Feirefiz are in battle amidst other figures, at a feast, or depicted during baptism. As a result, these miniatures give an overview of a few passages of the tale in verse and make the manuscript an art-historically significant 13th century artifact!
Codicology
Alternative Titles

Parzival, Titurel, Tagelieder




Wolfram von Eschenbach - Parzival Titurel Tagelieder




Parzival

Size / Format

75 folios / 30.0 × 21.0 cm

Origin

Date

Around 1240

Epochs

Style

Genre

Language

Illustrations

Four miniature pages, each with three illustrative image strips, as well as numerous colorful initials throughout

Content

Wolfram von Eschenbach's verse novel 'Parzival', Titurel fragments, and two of his aubades

Artist / School

Wolfram von Eschenbach (author)
---
Available facsimile editions:
Detail Picture
Wolfram von Eschenbach - Parzival
The Baptism of Feirefiz
This register of the miniature page on fol. 50v combines two related scenes: On the left, Feirefiz, Parzival's pagan half-brother, is baptized in an angular font by a priest in a long white robe. To his left stands his future bride, the guardian of the Grail, Repanse de Schoye, holding in her hands, covered by a purple cloth, the golden Grail, which is now visible to Feirefiz after his baptism. On the right, Feirefiz smashes a golden statue, which is probably meant to be a reference to the paganism he has renounced. Repanse again holds the Grail triumphantly aloft.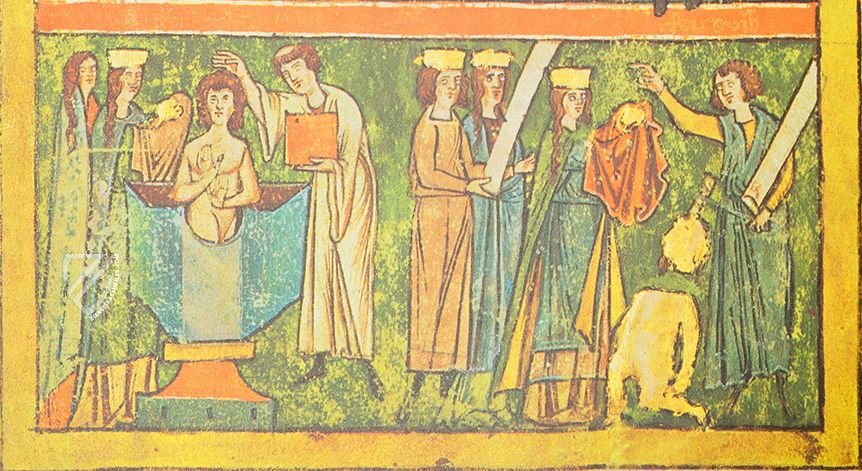 Single Page
Wolfram von Eschenbach - Parzival
Fol. 49v
In the upper register of this magnificent page, King Gramoflanz and Itonie celebrate a wedding after the groom has reconciled with the knights of the Round Table. This peace is visualized by the handshake of Gramoflanz and Parzival. The bride Itonie sits between the two men, while the host King Arthur and his wife Ginover sit to the right of Gramoflanz, also distinguished by crowns.
Below, we see the fierce battle of Parzival and his pagan half-brother Feirefiz. The decisive moment of the duel is depicted, in which Parzival's sword bursts with a violent strike. Through this interruption, the two brothers finally recognize each other before one dies. And so, in the lower register, with helmets removed and weapons laid down, they sit relieved on two tree stumps in a forest.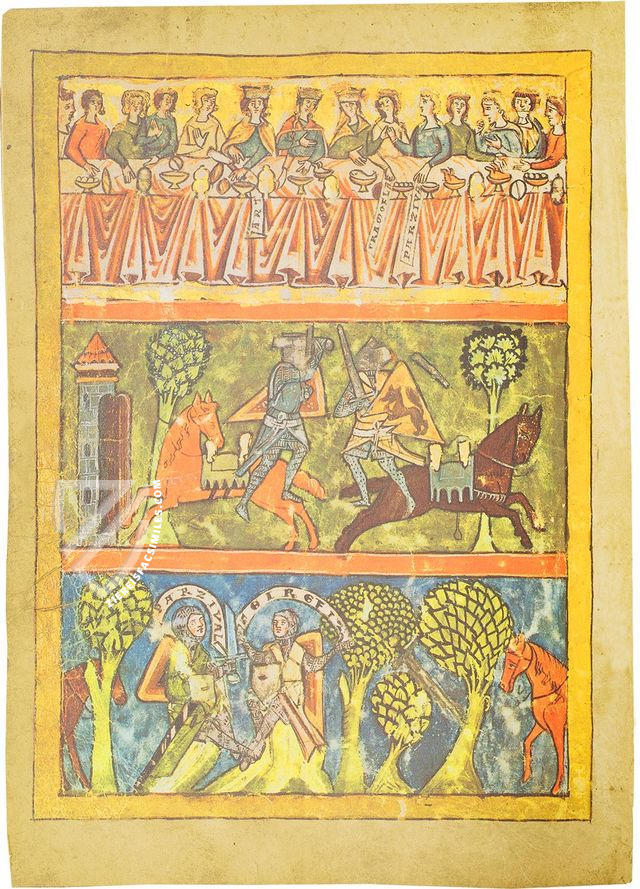 Facsimile Editions
#1

Parzival, Titurel, Tagelieder

Limited Edition:

850 copies

Commentary:

1 volume by Gerhard Augst, Otfried Ehrismann, Heinz Engels and Fridolin Dreßler
Language: German

1 volume: Exact reproduction of the original document (extent, color and size)

Reproduction of the entire original document as detailed as possible (scope, format, colors). The binding may not correspond to the original or current document binding.