Benedictional of St. Aethelwold
Description
Benedictional of St. Aethelwold
The Benedictional of Saint Æthelwold is a true highlight of Anglo-Saxon art that was completed in the Old Minster of Winchester in the year 980 at the behest of Saint Æthelwold himself. As the Bishop of Winchester, Æthelwold was one of the leading figures of the monastic-reform movement in Anglo-Saxon England that revived religious life in the kingdom. This manuscript features 28 full-page miniatures set within gorgeous floral borders that are exemplary of the Winchester style as well as 19 framed pages of text, two large historiated initials, and gold and red lettering throughout.
Benedictional of St. Æthelwold
After withstanding more than a century of Viking raids and outright invasions, Anglo-Saxon England was reunited and pacified under the reign of King Eadred (923-955). As a result, Anglo-Saxon art enjoyed a Renaissance in the second half of the 10th century, and one of the finest examples of this is the Benedictional of Saint Æthelwold. The manuscript was produced in the Old Minster, Winchester where it remained until the Reformation. Its history falls into darkness for the next few centuries until it resurfaces in the possession of Henry Compton (d. 1713). It then passed to William Cavendish, 2nd Duke of Devonshire, where it remained until it was acquired by the British Museum in 1957.
The Education of Æthelwold
Æthelwold (904/9 – 984), the Bishop of Winchester, was one of the leading figures of the monastic-reform movement in Anglo-Saxon England. After generations of Viking attacks, monastic life significantly deteriorated, but a revival of learning and the arts was made possible through the efforts of Æthelwold inter alia. He served in the royal court of King Athelstan (ca. 894-939) and was educated in grammar, metrics, and patristics at Glastonbury Abbey, where he rose to the rank of dean. During the reign of King Eadred, Æthelwold wished to travel to Europe to learn more about the monastic life, but Eadred refused permission, and instead appointed him abbot of the former monastic site of Abingdon, Oxfordshire, which was then served by secular priests.
The Bishop of Winchester
Æthelwold was consecrated Bishop of Winchester on 29 November, 963 and the following year, with the connivance of King Edgar and the support of an armed force led by a royal official, he had the clerics of Winchester's Old and New Minsters expelled and replaced by monks from Abingdon. He refounded monasteries and aggressively reclaimed lands that were once owned by those religious communities, creating false charters if necessary. Enjoying the strong support of King Edgar (ca. 943-975), he established various Benedictine monasteries.
Benedictine Revival
The Benedictines were greatly superior to the secular clergy in their learning and their schools. Æthelwold personally taught the older pupils at Winchester, and their works show that they regarded him with great respect and affection. His surviving works in both Latin and Old English show that he was a great scholar, and his vernacular writings are believed to have played an important role in the development of Standard Old English. Some of the wealth he accumulated was used to rebuild churches, and he was also a major patron of ecclesiastical art, although unfortunately none of his works survive, and only written accounts remain. The artistic workshops he established continued to be influential after his death, both at home and abroad.
Æthelwold's Work
A century later, Æthelwold acquired a great reputation as a goldsmith and was credited with the production of a range of metal objects at Abingdon, including many figures and objects in precious metal, bells, and even a pipe organ. Wulfstan's contemporary Life of Æthelwold mentions him undertaking other forms of manual work, in the gardens and in building, but nothing about metalwork, suggesting this legend was a later elaboration, though one that shows the high status of goldsmithing at the time. Æthelwold was certainly bishop during the period when the Winchester school of manuscript illumination reached its peak, and the most important surviving manuscript of the school, the Benedictional of Saint Æthelwold was commissioned by him. He also rebuilt the Old Minster at Winchester, completed in 980. After Æthelwold's death in 984, there were claims of divinity cast at his grave, one said they were cured of blindness by visiting his tomb, others were cured by their proximity to his holiness, which included an 11th century episode in which a monk shows his devotion by plunging his hand into a pot of boiling stew.
On the Cutting Edge
The 10th century witnessed a revival of Anglo-Saxon and Latin literature in conjunction with a flowering of Anglo-Saxon art that produced many fine manuscripts, of which the Benedictional of St. Aethelwold is the finest. The monumental work is a wonderful hybrid of Carolingian and Insular art that reflects the wish of English monastic scriptoria to take their place among the leading centers of art in 10th century Europe and to realign their liturgical practices with those of the Carolingian Empire. This text is the product of a talented scribe working in various scripts: Godeman. Carolingian miniature was used for the majority of the text in addition to rustic Roman capitals. 28 full-page miniatures are set within gorgeous floral borders that are exemplary of the Winchester style and there are 19 framed pages of text, two large historiated initials, and gold and red lettering throughout that makes this one of the finest specimens of Anglo-Saxon manuscript art. As many as 15 miniatures may be missing, likely separated from the rest of the manuscript when the luxury binding was removed.
Codicology
Alternative Titles

Benediktionale von St. Aethelwold




The Benedictional of Aethelwold

Size / Format

238 pages / 29.2 × 22.5 cm

Origin

Date

970–984

Epochs

Style

Genre

Language

Script

Carolingian minuscule Roman rustic capitals

Illustrations

28 full-page miniatures; 2 historiated initials; 19 text pages with ornamental frames; red and gold letters throughout the manuscript

Content

Benedictions

Patron

Æthelwold of Winchester

Artist / School

Godeman (scribe)

Previous Owners

Æthelwold of Winchester
Henry Compton
Hatton Compton
William Cavendish
---
Available facsimile editions: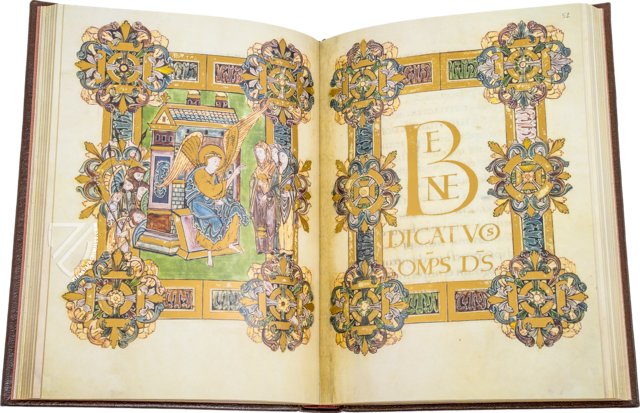 British Library
– London, 2002
---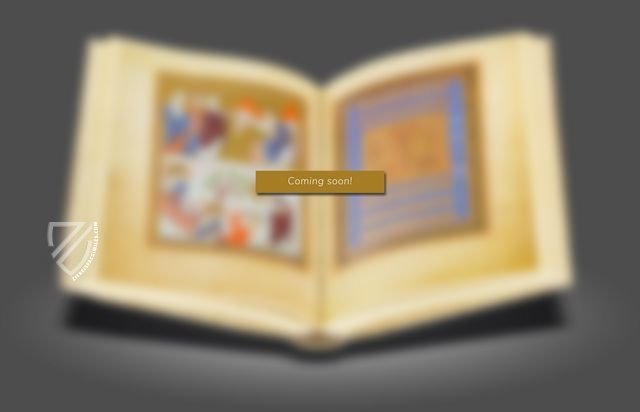 Princeton University Press
– Princeton, 1995
Limited Edition:
Not limited
---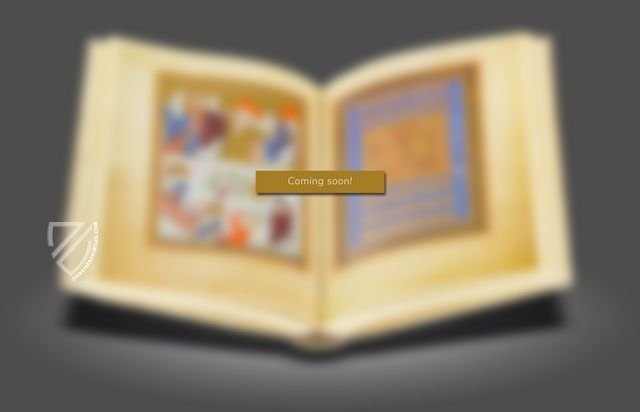 Roxburghe Club
– Oxford, 1910
Detail Picture
Benedictional of St. Aethelwold
Baptism of Jesus
This is an exceptional and unusual depiction of the famous scene of Jesus and John the Baptist in the River Jordan, which is being poured out of an amphora by Moses, who is depicted as an old, bearded man with horns. This is due to a mistranslation from Hebrew into the Latin Vulgate Bible and would continue to appear in art until the Renaissance. Six angels flank the scene with towels to dry off Jesus, who is crowned with a cross-halo by the holy spirit in the form of a golden dove.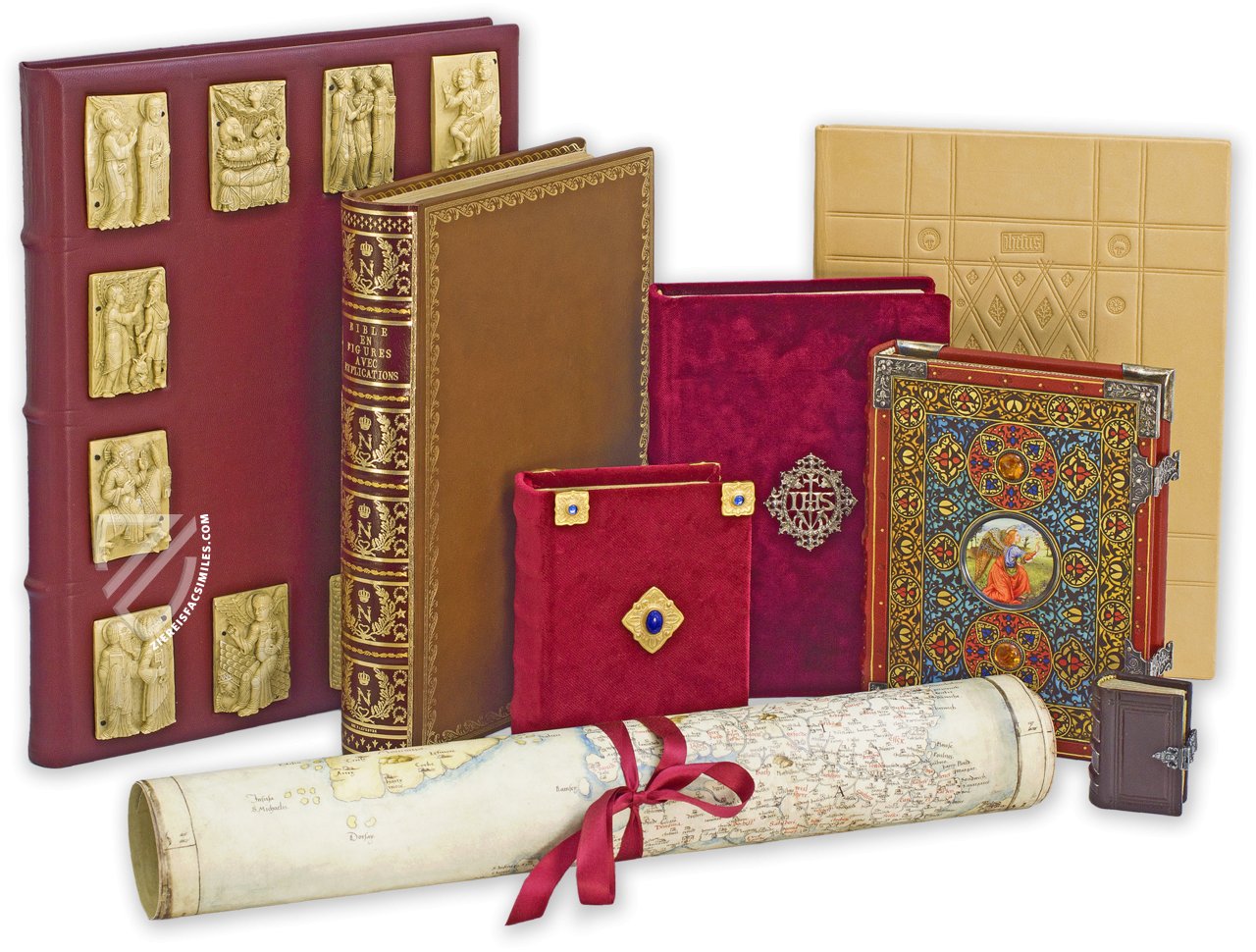 Single Page
Benedictional of St. Aethelwold
The Second Coming of Christ
Surrounded by a swirl of color and accompanied by a host of angels carrying the Book of Life and the instruments of the Passion, Christ appears in a shining red and gold mandorla wielding a cross-staff and a book as though he were flying through the air. The scene is presented in a wonderful golden frame with acanthus leaf patterns and four intricately interlaced rosettes.
The inscription written in gold on his mantle reads Rex Regum et Do[mi]n[u]s dominatiu[m] or "King of Kings and Lord of Dominion". It is a reference to Revelation 19:16, when Christ appears on a white horse to lead the heavenly host to victory over the Beast and his armies: "And He has on His robe and on His thigh a name written: KING OF KINGS AND LORD OF LORDS."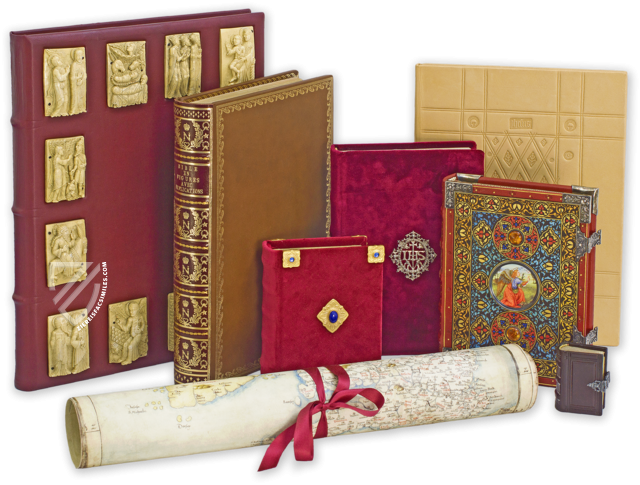 Facsimile Editions
#1

The benedictional of St Æthelwold

Commentary:

1 volume by Andrew Prescott
Language: English

1 volume: Exact reproduction of the original document (extent, color and size)

Reproduction of the entire original document as detailed as possible (scope, format, colors). The binding may not correspond to the original or current document binding.

Facsimile Copy Available!

Price Category: €
(under 1,000€)
---
#2

The benedictional of Æthelwold

Limited Edition:

Not limited

Commentary:

1 volume by Robert Deshman
Language: English

1 volume: This facsimile is not complete.

Reproduction of folios 1r-118v of the original document as detailed as possible (scope, format, colors). The pages are trimmed at the expense of some marginal features of the original. The binding may not correspond to the original or current document binding.

Facsimile Copy Available!

Price Category: €
(under 1,000€)
---
#3

The benedictional of Saint Æthelwold, Bishop of Winchester, 963-984

Commentary:

1 volume by George F. Warner and Henry A. Wilson
Language: English

1 volume: This facsimile is not complete.

Black and white reproduction of the entire original document as detailed as possible (scope, format). The binding may not correspond to the original or current document binding.

Facsimile Copy Available!

Price Category: €
(under 1,000€)
You might also be interested in: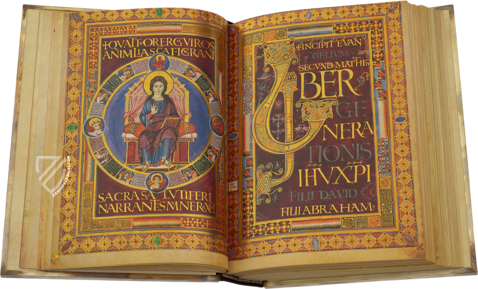 Lorsch Gospels
Aachen (Germany) – Ca. 810
Held in the hands of Emperor Charlemagne, adorned with a masterful ivory cover and still "in use" today in the Vatican: a world famous highlight of Carolingian book art of the court school, written entirely in gold
Experience More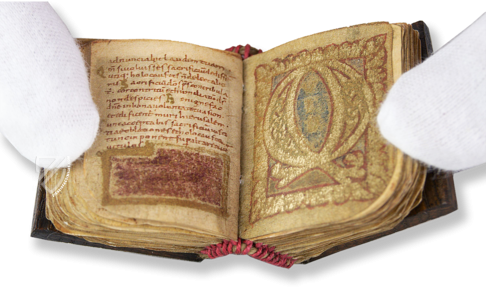 Psalterium Sancti Ruperti
North-East France – 3rd quarter of the 9th century
No larger than a matchbox, yet perfectly legible and illuminated: an incredibly tiny Psalter with a remarkable late-Carolingian binding
Experience More
Blog articles worth reading