Cancionero de diversas obras de nuevo trobadas
Description
Cancionero de diversas obras de nuevo trobadas
The so-called Cancionero de diversas obras de nuevo trobadas is a unique mix of texts and songs for prayer and stories in prose. The work was given to the printer in 1508 and was a true bestseller at the end of the Middle Ages. Its author, the Franciscan monk Ambrosio Montesino, attained worldwide fame for his unbelievable literary achievement and is considered by literary historians to be the best prose-writer of his time.
Cancionero de diversas obras de nuevo trobadas
The famous author and translator Ambrosio Montesino composed one of the most beautiful and high-quality books of his entire career in the year 1508. It is the Songbook of Various Works by the New Troubadours, or so the title translates into English. The precious book represents a mix of song texts for prayer and meditation and is nonetheless furnished with fascinating stories in prose. A few high-quality printed graphic depictions, e.g. the fantastic title page of the codex, lends the early-modern document its very exceptional charm.
The Monk Ambrosio
The Spaniard Ambrosio Montesino was a cleric, poet, and translator of the Castilian Renaissance. He lived sometime between 1444 and 1514 and was already affiliated in his youth with the Order of Friars Minor – better known as the Franciscan Order - in Toledo. His love of the literature of his time induced him to write poetic texts and stories in prose himself. The well-read Isabella I of Castile was among his greatest patrons, she read all of Monk Ambrosio's texts and encouraged his talent through her good advice. He finally achieved his breakthrough when he published his Cancionero in 1508. The unbelievably beloved work was continuously reproduced throughout the 16th century, it was a true best seller at the end of the Middle Ages. Ambrosio was identified by the famous Spanish literary historian Marcelino Menéndez y Pelayo as the best author of prose during his lifetime.
Spiritual Songs and Worldly Stories
The enchanting small book was completely written by Ambrosio Montesoni and translated into several languages. This work was commissioned by Cardinal Francisco Jiménez de Cisneros, the Archbishop of Toledo. In the edition of the work before us, every verse begins with an initial "for King Ferdinand Our Lord". The author himself, who pipes us throughout the entire text, explains the document in the following way: "Our excellence asked me to compile all the studies of the mysteries of our faith, and I decided to unite devotional hymns and tales from the past and present and now, since I have had a break from my activities as a priest, I have made this work according to his wishes. I have written down everything therein and given it over to the printer, which helps to serve you and our God…"
Codicology
Size / Format

156 pages / 20.8 × 14.5 cm

Origin

Date

June 16th, 1508

Epochs

Style

Genre

Language

Script

Gothic script

Illustrations

Xylographic archbishop shield, illustrating the imposition of the chasuble to Saint Ildefonso, by the Virgin Mary. On the shield, inside a xylographic frame, an illustration of the representation of the stigmatization of Saint Francis; at the end a royal shield. Engraved initials

Content

Unique collection of prayer texts as well as religious songs and prose narratives

Artist / School

Ambrosio Montesino O.F.M. (author)
Sucessor of Pedro Hahembach (printer)
---
Available facsimile editions: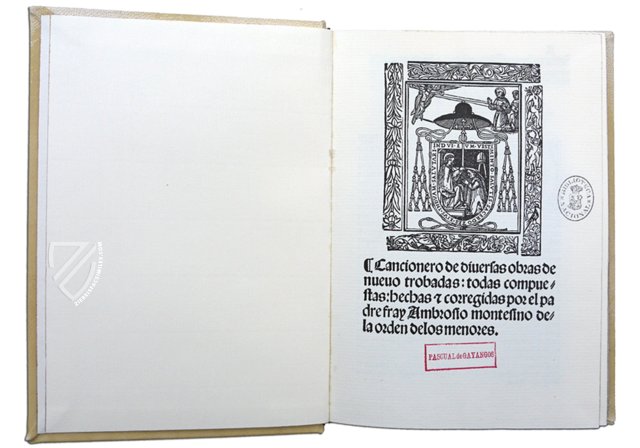 Vicent Garcia Editores
– Valencia, 2002
Limited Edition:
3160 copies
Facsimile Editions
#1

Cancionero de diversas obras de nuevo trobadas

Limited Edition:

3160 copies

Binding:

Parchment on wooden board. Presentation dust jacket cloth lined with gold engraved leather spine containing facsimile.

Commentary:

1 volume
Language: Spanish

1 volume: Exact reproduction of the original document (extent, color and size)

Numbered by notary and signed by the printer-publisher. Specially made laid paper. All folios are cut according to the original.

Facsimile Copy Available!

Price Category: €€
(1,000€ - 3,000€)
You might also be interested in:
Blog articles worth reading