Codex Rustici
Description
The Codex Rustici, made by and named after the Florentine goldsmith Marco di Bartolomeo Rustici (ca. 1393–1457), is the account of a pilgrimage to the Holy Land enriched with numerous illustrative watercolor and ink drawings. Of particular importance are the many detailed illustrations of religious and public buildings in Florence, especially the churches, and the bird's-eye view of the city. The drawings are of inestimable value for the reconstruction of the historical appearance of the city of Florence and, apart from that, are an aesthetic feast for the eyes.
Codex Rustici
Originally titled Dimostrazione dell'andata del Santo Sepolcro or "Demonstration of the Progress of the Holy Sepulcher", this codex is also named after its author, the Florentine goldsmith Marco di Bartolomeo Rustici (ca. 1393–1457). Rustici is recorded as having produced some wonderful commissions like goblets, crosses, candlesticks, figures, and other devotional objects for various monastic institutions. Although principally a description of a pilgrimage to the Holy Land, the manuscript is most famous for its watercolors of Florence's churches, monasteries, hospitals, etc. Precise information about both the author and the manuscript have proved to be elusive, but the pilgrimage and subsequent text are dated to somewhere between 1425 and 1450. The work is divided into three books, the first describes Florence and the surrounding territory, the second traces his journey down the Italian Peninsula, along the Grecian coast, and across the Aegean Sea to Cyprus, and the third then covers the journey to Africa, Egypt, Mount Sinai, Jerusalem, Beirut, Damascus, Samaria, and Galilee. Rustic not only wrote but illustrated the original codex, which provides a wonderfully detailed glimpse of Italy and the Eastern Mediterranean world in the 15th century.
Codicology
Alternative Titles

Codice Rustici: dimostrazione dell'andata o viaggio al Santo Sepolcro e al Monte Sinai di Marco di Bartolomeo Rustici

Size / Format

568 pages / 41.8 × 28.6 cm

Origin

Date

Ca. 1444

Epochs

Style

Language

Script

Mercantesca

Illustrations

More then 100 colored pen and ink drawings

Content

Description of a pilgrimage to the Holy Land

Artist / School

Marco di Bartolomeo Rustici
Facsimile Editions
#1

Codice Rustici

Binding:

Brown leather with gold stamping.

Commentary:

1 volume by Elena Gurrieri, Kathleen Olive and Nerida Newbigin
Language: Italian


1 volume: This facsimile is not complete.

Reproduction of the entire original document as detailed as possible (scope, format, colors). The binding may not correspond to the original or current document binding.
You might also be interested in: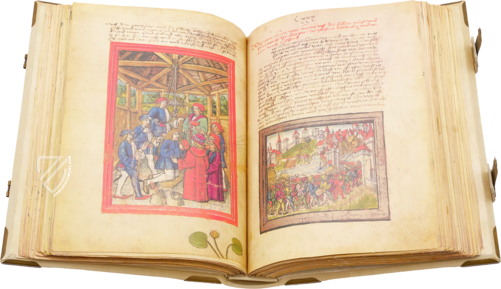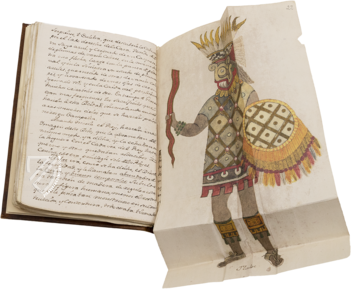 Codex Veitia
Mexico City – 1755
The calendars, counting methods, and festivals of a past culture: a rare and wonderfully illuminated testimonial to the disappearing culture of the Aztecs
Experience More
Blog articles worth reading