Historia en Español de las Indias del Nuovo Mondo
Description
Historia en Español de las Indias del Nuovo Mondo
The Historia en Español de las Indias del Nuovo Mondo or "History in Spanish of the Indies of the New World" is a travelogue by the Spanish explorer Álvar Núñez Cabeza de Vaca and reflects his journeys in the Gulf of Mexico and modern Texas. Dated 1537, it is believed to be the earliest manuscript of his Relación y comentarios, which would be first published in 1542 and again in 1555. It stands as one of the most important early geographical and anthropological works concerning the region.
Historia en Español de las Indias del Nuovo Mondo
Unlike most of the famous explorers and conquistadors, the story of Cabeza de Vaca is not one of conquest but one of survival. He was one of only four survivors from the 1527 Narváez Expedition and survived a harrowing trip that went from Florida across the Gulf Coast to the southwestern United States and northern Mexico. The incredible travelogue he wrote after his return, the Relación y comentarios, is considered to be a proto-anthropological work because of the incredibly detailed accounts of the various Native American peoples that he encountered during his eight-year Odyssey. This manuscript dated 1537 is considered to be the original and authoritative version of de Vaca's historic account.
The Narváez Expedition
Beginning in 1527, an expedition consisting of ca. 600 soldiers and colonists from Spain, Portugal, Greece, and Italy including some married women and Moorish slaves set out for the New World with the objective of establishing settlements and garrisons in Mexico and Florida but met with disaster almost immediately when it was battered by a hurricane after leaving Cuba in 1528. Two ships and hundreds of lives were lost and Narváez ordered that the expedition be split sending 300 men overland while 100 men and ten women departed aboard the remaining ships. The overland expedition suffered from disease, starvation, and indigenous attacks and was eventually reduced to 80 survivors who were enslaved by locals in what is modern day Galveston, Texas. Only four of the original 600 survived their wanderings through the American Southwest before finally reaching Mexico City in 1536, during which times Cabeza de Vaca sometimes served as a folk healer.
Creating the Historic Travelogue
La relación de Álvar Núñez Cabeza de Vaca relates the experiences of Cabeza de Vaca beginning with the shipwreck on Galveston Island in November of 1528 and relates their journey along the coast of Texas as prisoners of the Han and Capoque peoplesfor two years. During this time, he and his companions adopted the customs of their captors and the account records the daily life of numerous peoples as well as the author's respect for them. It is this compassionate perspective that distinguished Cabeza de Vaca's travelogue from contemporary accounts and the cultural details include wedding rites, the upbringing of children, and descriptions of their diets. This is the only account of many of the peoples described in the text, possibly because of diseases introduced by the stranded party of Europeans. Nonetheless, this manuscript represents a priceless resource on the peoples and cultures of the New World.
The Life of an Explorer
Born into the minor Castilian nobility ca. 1490, Álvar Núñez Cabeza de Vaca grew up hearing about the exploits of his grandfather Pedro de Vera, a skilled soldier and sailor who led raids against the Moors in North Africa and was a key figure in the conquest of the Canary Islands, specifically Grand Canaria in 1483. He was left with a modest estate to split with his six siblings after the death of his mother in 1509 and as such entered the service of the Duke of Medina Sidonia to pursue his fortunes in Spain's growing overseas empire. He fought in the Italian Wars between 1511 and 1513 before returning to Spain, where he helped defeat the Revolt of the Comuneros in 1520 and fought against the French invasion of Navarre in the next year.
He finally received an appointment in 1527 to serve as royal treasurer for an expedition led by the conquistador Pánfilo de Narváez. After his harrowing journey, Cabeza de Vaca returned to Spain in 1537, where he wrote his chronicle and attempted to recreate the route of his travels from memory. He once again served the Spanish Crown in what is modern day Argentina, Paraguay, and Uruguay during the years 1540 and 1545. During this time, his humanitarian attitude toward the native population lost him support among Spanish elites who wanted to exploit them for labor and was tried for poor administration but was eventually exonerated before dying in Seville in 1560.
Codicology
Alternative Titles

Codex Vindobonensis 5620

Type

Size / Format

116 pages / 29.5 × 20.0 cm

Date

1537

Epochs

Style

Language

Artist / School

Álvar Núñez Cabeza de Vaca (ca. 1490–1559) (author)
---
Available facsimile editions:
Facsimile Editions
#1

Historia en Español de las Indias del Nuovo Mondo

Commentary:

1 volume by Alvar Nunez Cabeza de Vaca and Miguel Nieto Nuno
Language: Spanish


1 volume: Exact reproduction of the original document (extent, color and size)

Reproduction of the entire original document as detailed as possible (scope, format, colors). The binding may not correspond to the original or current document binding.
You might also be interested in: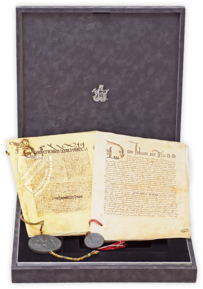 Tordesillas Treaties
Tordesillas (Spain) – 1494
It still separates Portuguese-speaking Brazil from Spanish-speaking South America: the treaty between the world powers of Spain and Portugal to divide the world into two hemispheres, negotiated by the Borgia Pope
Experience More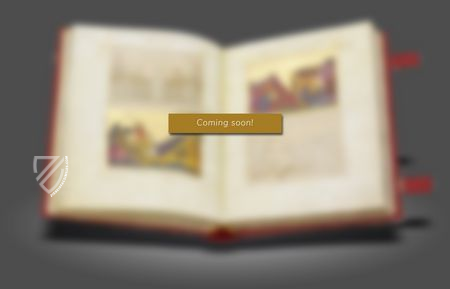 Blog articles worth reading