Jahrhundert von Bruder (Joseph) Baurnjöpel im O(rient) in Wien
Description
Jahrhundert von Bruder (Joseph) Baurnjöpel im O(rient) in Wien
This is a splendidly illustrated source on the history of Freemasonry in Austria during the 18th century, when the secret order was at its zenith. Joseph Baurnjöpel (1739–95) wrote the introduction of the work explaining the origins of the order, the "Harmony of Creation", and "The Doctrine of Nature". Four sections follow explaining the rituals and symbols of Freemasonry, along with the admittance of apprentices, their promotion to "journeyman" status, and finally the ritual for obtaining the dignity of a master's rank. The ceremonial dress and other teachings are also detailed. The contents are illustrated by 24 full-page miniatures and numerous other illustrations.
Codicology
Type

Size / Format

338 pages / 21.0 × 17.3 cm

Origin

Date

18th century

Epochs

Style

Language

Illustrations

Numerous illustrations including 24 full-page miniatures

Artist / School

Joseph Baurnjöpel (1739–95) (author)
---
Available facsimile editions: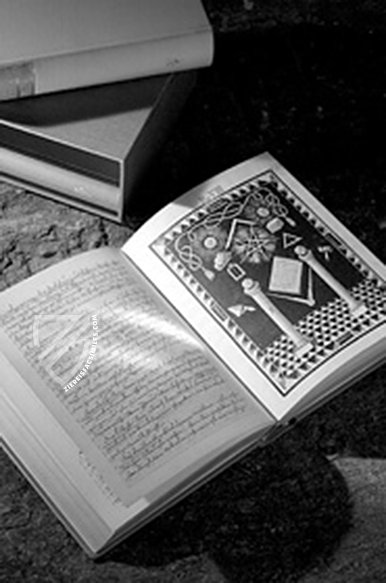 Akademische Druck- u. Verlagsanstalt (ADEVA)
– Graz, 1986
Limited Edition:
480 copies
Facsimile Editions
#1

Jahrhundert von Bruder (Joseph) Baurnjöpel im O(rient) in Wien

Limited Edition:

480 copies

Binding:

Leather, presented in a slipcase with the commentary volume

Commentary:

1 volume by Julius Fischer
Language: German


1 volume: Exact reproduction of the original document (extent, color and size)

Reproduction of the entire original document as detailed as possible (scope, format, colors). The binding may not correspond to the original or current document binding.
You might also be interested in: