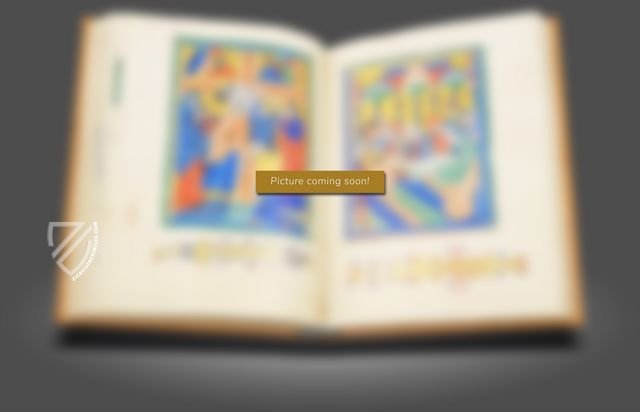 Lemberg Gospels
This Gospel book was produced in 1198/99 by the monk Grigor Skevratsi in Skevra Monastery

Commissioned by a priest named Stephanos, each Gospel is preceded by an Evangelist portrait and an incipit page

After first remerging ca. 1910, it once again went missing after World War II, finally resurfacing in 1985
Lemberg Gospels
Alternative Titles:
Lemberger Evangeliar
Das Lemberger Evangeliar
Skevra Evangeliar
Das Skevra Evangeliar
Short Description
This Gospel book is an incredible monument to early illumination in the Armenian Kingdom of Cilicia in modern southeast Turkey. Many Eastern Christian manuscripts were destroyed as the forces of Islam swept across the Middle East, most of which had been under the control of the Byzantine Empire, which makes this manuscript especially precious. After being lost for centuries, this rare 12th century specimen was first rediscovered in the 20th century and is further distinguished by its rich and varied décor
Lemberg Gospels
The Lemberg Gospels, also known as the Skevra Evangeliary, was produced in 1198/99 by the monk Grigor Skevratsi in Skevra Monastery at the behest of a priest named Stephanos. The work is distinguished by both the quality and quantity of the illumination adorning the Armenian text. The four Gospels are prefaced by the letter of Eusebius (ca. 260 – ca. 340) in which the canon tables he designed are described. The canon tables are adorned with intricate and highly refined architectures, birds, plants, and more. The Gospels are preceded by a full-page miniature of each Evangelist and an incipit page with highly-stylized letters and figures in the margins, sometimes in the form of medallion miniatures. The main body of the Gospel texts are similarly adorned with rich marginalia and the entire manuscript was created using parchment from Cyprus – a fascinating tour of Eastern Christianity in the Middle Ages.
A Turbulent History
It is believed to have spent most of its life in the Armenian Cathedral of Lemberg in modern Lviv Ukraine. After first remerging ca. 1910, it once again went missing after World War II before surfacing in the archives of Gnesen Cathedral in Poland. The codex was seized by Soviet forces in 1945/46 before being brought to Gnesen, Poland in 1985. The manuscript underwent restoration in Mainz's Gutenberg Museum in 1993 after being properly identified by Günther Prinzing (b. 1943), Professor of Byzantine Studies at the Universität Mainz and was subsequently brought to Warsaw in 1997.
Codicology
Alternative Titles

Lemberger Evangeliar




Das Lemberger Evangeliar




Skevra Evangeliar




Das Skevra Evangeliar

Style

Genre
1 available facsimile edition(s) of "Lemberg Gospels"
Skevra Evangeliar Facsimile
Skevra Evangeliar Facsimile
1 volume: Exact reproduction of the original document (extent, color and size)
Publisher

Bernardinum Wydawnictwo – Pelplin

Limited Edition

6 copies

More Information

Reproduction of the entire original document as detailed as possible (scope, format, colors). The binding may not correspond to the original or current document binding.
Matching Works
Leo Bible
Originally made for a court official: the oldest Byzantine picture Bible with the earliest depictions of saints in Christianity
Experience More
Matching Background Articles
Bibles

You would assume that Bibles were the most commonly produced medieval manuscript, right? Wrong. The sheer size of the...

Experience more

Gospel Books

Who were the original Fab Four? Matthew, Mark, Luke, and John. Luxury Gospel books are among the most precious...

Experience more