Laurentian Gospels
Description
We're currently adding this record to our database.
Please contact us if you need further information about this manuscript. Thanks!
Codicology
Alternative Titles

Laurenzianisches Evangeliar




I Vangeli della Laurenziana




Laurentian Tetraevangelion




Laurentian Evangeliar




Tétraévangile de la Laurentienne

Size / Format

424 pages / 20.0 × 15.8 cm

Date

Late 11th century

Epochs

Style

Genre

Script

Greek Minuscule

Illustrations

4 full-page miniatures, 4 ornamentally and gilded headings, 3 magnificently illuminated canon tables, 285 smaller narrative miniatures within the text

Content

Canon tables (incomplete), Eusebius' letter to Carpian, four Gospels

Previous Owners

Medici family
---
Available facsimile editions: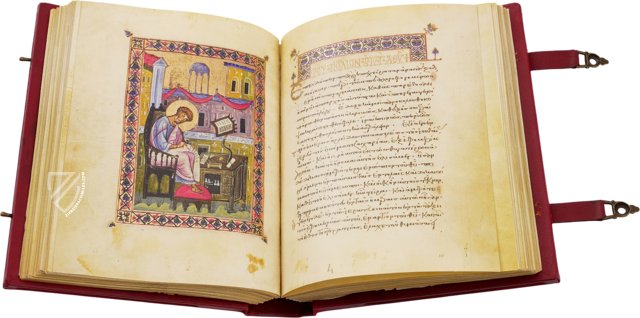 Istituto dell'Enciclopedia Italiana - Treccani
– Rome, 2020
Limited Edition:
399 copies
Facsimile Editions
#1

I Vangeli della Laurenziana

Limited Edition:

399 copies

Binding:

Dark red, embossed leather binding with four round fittings and two clasps

Commentary:

1 volume
Language: Italian

1 volume: Exact reproduction of the original document (extent, color and size)

Reproduction of the entire original document as detailed as possible (scope, format, colors). The binding may not correspond to the original or current document binding.