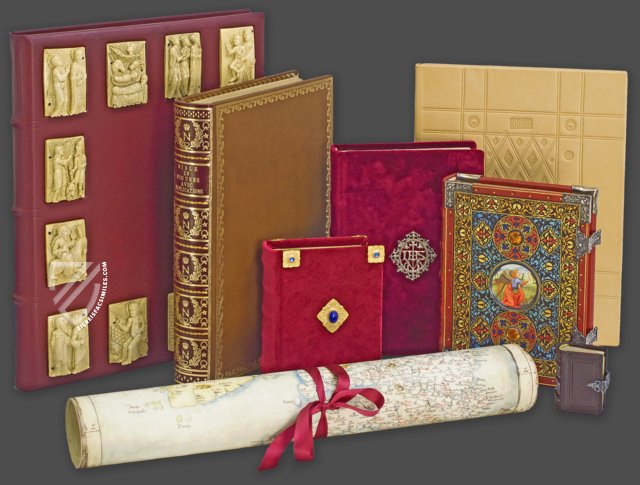 Rabbula Gospels
Alternative Titles:
Rabbula Evangeliar
Rabula Evangeliar
Rabula Gospels
Evangeliarii syriaci, vulgo Rabbulae
Short Description
Completed in 586, the Rabbula Gospels is simultaneously one of the finest Byzantine manuscripts produced in Asia as well as one of the earliest Christian manuscripts to be furnished with large miniatures, which are distinguished by their bright colors, dynamism, drama, and expressiveness. Elaborate floral and architectural motifs frame the miniatures, which include the oldest surviving depiction of the Crucifixion found in a manuscript and shows the contemporary Eastern form of the image. The Syriac manuscript was produced in the scriptorium of the Monastery of St. John of ZagbaIt in modern day Syria and is one of the few specimens to survive the destruction of countless Byzantine manuscripts and works of art during the Iconoclasm of the 8th and 9th centuries. This precious artifact is named after the scribe Rabbula, who signed his name in the manuscript and about whom nothing else in known. Parts of the manuscript were overpainted by restorers and miniatures from other works were added in the 15th and 16th centuries.
Codicology
Alternative Titles

Rabbula Evangeliar




Rabula Evangeliar




Rabula Gospels




Evangeliarii syriaci, vulgo Rabbulae

Size / Format

586 pages / 33.8 × 27.9 cm

Date

586

Epochs

Style

Genre

Script

Estrangela

Illustrations

8 full-page miniatures

Artist / School

Rabbula (scribe)
1 available facsimile edition(s) of "Rabbula Gospels"
The Rabbula Gospels Facsimile
The Rabbula Gospels Facsimile
1 volume: This facsimile is not complete.
Commentary

1 volume by Carlo Cecchelli, Giuseppe Furlani and Mario Salmi
Language: English

More Information

Reproduction of twelve pages (miniatures and four text pages) the original document as detailed as possible (scope, format, colors). The binding may not correspond to the original or current document binding.
Matching Works
Vienna Genesis
One of the oldest surviving biblical manuscripts: Greek text in silver ink and charming miniatures on purple-colored parchment
Experience More
Hymn to the Trinity
Impressive liturgical hymns in a fascinatingly illuminated leporello: a unique testimony to the artistic traditions of ancient Ethiopian Christianity
Experience More
Matching Background Articles