Life and Work of Saint Anthony the Abbot
Description
Life and Work of Saint Anthony the Abbot
The Life and Work of Saint Anthony the Abbot is an illuminated manuscript that was made in France between 1431 and 1437. It is concerned with the deeds and virtues of Anthony the Great, Christianity's first monk, and is decorated with over 200 miniatures. The valuable original codex was once part of the Medici family collection and is stored today in the Biblioteca Medicea Laurenziana.
Life and Work of Saint Anthony the Abbot
Jean Montchenu, Bishop of the diocese of Agen and Viviers in France, was a highly-educated man and a passionate book collector. Some of the masterpieces from his valuable collection of illuminated manuscripts can be found today in some of the most popular libraries worldwide. The manuscript of the the Life and Works of Anthony the Great is a particularly splendid specimen from the Montchenu Collection. The document concerning the acts and virtues of Anthony, the father of all monks, is adorned with 200 high quality miniatures.
Who was Anthony the Great?
Anthony the Great was an Egyptian Christian Monk, ascetic, and hermit. He is viewed as the founder of Christian monasticism and is considered to be the most famous monk of antiquity. Anthony lived as a hermit in complete solitude and without possessions of any kind. He is said to have lived within the meaning of a biblical verse in the Gospel of Matthew: "thou wilt be perfect, go and sell that thou hast, and give to the poor, and thou shalt have treasure in heaven: and come and follow me." His spiritual posture attracted many admirers and like-minded people who followed his example and who gave up their earthly possessions. The followers of Anthony founded communities, from which the first antique monasteries originated.
French Legends
The manuscript about St. Anthony was produced between 1431 and 1437 in the French village of Saint-Antoine-l'Abbaye. The place name is based on a legend from the Early Middle Ages. A Byzantine Emperor is said to have presented the relics of Anthony to a local nobleman by the name of Jocelin in the year 1070. He then gave the relics to a local church. Word got out that the remains of St. Anthony exerted a healing effect on all diseases and sufferings. Thus the church and the whole community of Saint-Antoine-l'Abbaye became a beloved pilgrimage site for Christians from around the world.
Monochrome Book Adornment
The touching life story of the monastic father Anthony is illustrated with 200 exciting miniatures. The images are consistently designed. The depictions show gentle, monochrome landscapes and vivid sceneries from everyday life at court in the idle Ages. One sees knights in armor who decide sword fights on horseback or at social events, where noblemen celebrated with music, food, and drink. The masterful codex was found for a long time in the possession of Pope Eugene IV and of the famous Renaissance principality of the Medici.
Codicology
Alternative Titles

Sant'Antonio Abate - la vita e le opere




Firenze Vita di S. Antonio Abbate




Antonius der Große - Leben und Werk

Size / Format

204 pages / 36.0 × 27.5 cm

Origin

Date

1431–1437

Epochs

Style

Genre

Language

Illustrations

200 monochrome or faintly colored miniatures

Artist / School

Author: Jean Macellard
Miniaturist: Unknown French artist

Previous Owners

Pope Eugene IV
Medici family
---
Available facsimile editions:
Detail Picture
Life and Work of Saint Anthony the Abbot
Seeking a Life of Poverty
Anthony was born in a wealthy landowning family in Lower Egypt and decided to unburden himself of his inheritance after his parents died when he was only 20. He gave away some of this family's lands to his neighbors while selling others and donating the funds to the poor. In doing so, he was following the words of Christ: "Jesus said to him, 'If you want to be perfect, go, sell what you have and give to the poor, and you will have treasure in heaven; and come, follow Me'." (Matt. 19:21)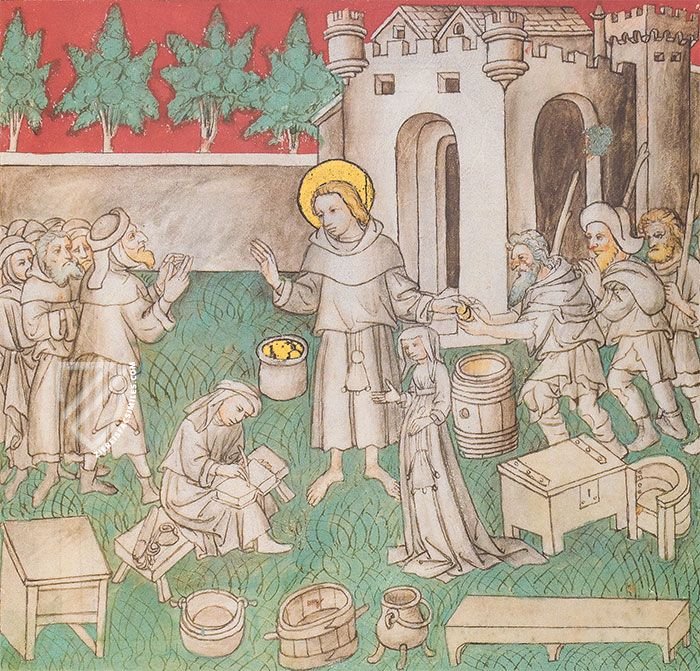 Facsimile Editions
#1

Sant'Antonio Abate - la vita e le opere

Limited Edition:

999 copies

Binding:

Blue silken velvet with gold and silver fittings, lapis lazuli stone on the cover center

Commentary:

1 volume (247 pages) by Claudia Cappelletti
Language: Italian

1 volume: Exact reproduction of the original document (extent, color and size)

23 carat fine gold on CartaPergamena
You might also be interested in:
Blog articles worth reading