Life of Charlemagne by Einhard
Description
Life of Charlemagne by Einhard
In close contact with Charlemagne (742–814): Einhard was sent from the Abbey of Fulda to the Court School of Charlemagne to perfect his outstanding intellectual abilities and technical talents. There he quickly gained access to the closest circle around the emperor himself due to his exceptional talent. From then on, he oversaw the construction of many buildings for him (even the Palatine Chapel at Aachen) and became Charlemagne's companion on all his travels. The perpetual friendship or perpetua amicitia that developed from this as well as his eyewitness perspective are cited by Einhard as reasons why he became the emperor's first biographer. In his lively account, Einhard combines his observations as a friend with material from imperial biographies. According to Suetonius' description of the imperial vitae in antiquity, Einhard's book is also the first historically oriented biographical work.
Life of Charlemagne by Einhard
Few literary works from the Middle Ages are still so well known today among those interested as Einhard's biography of Charlemagne. Written after 830, 2 decades after the death of the Kaiser, Vita Caroli Magni is the first historical period oriented biographical work since ancient times. As an advisor to the Kaiser as well as his master builder and teacher at the Hofschule, the author was an intimate friend of Charlemagne's who combined his own personal observations and experiences with exemplary behaviors and personality traits obtained from older sources, whereby the imperial biographies by Suetonius served as a role model. With his biography, Einhard draws not only a lively, human, occasionally natural as well as idealistic picture of the acts and personality of the most important ruler of the Middle Ages, he simultaneously creates, one of the most famous historical works realized in the highest artistic achievement reached during this epoch.
Codicology
Alternative Titles

Einhard: Vita Caroli Magni




Vita Karoli Magni

Size / Format

86 pages / 22.5 × 16.6 cm

Origin

Date

Second half of the 9th century

Epochs

Style

Language

Script

Carolingian

Artist / School

Einhard (author)
---
Available facsimile editions: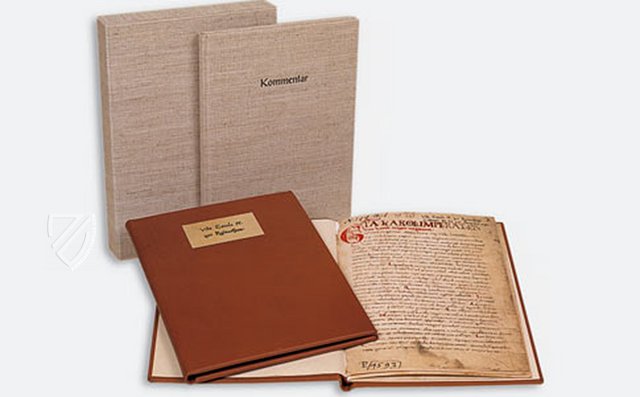 Akademische Druck- u. Verlagsanstalt (ADEVA)
– Graz, 1991
Limited Edition:
200 copies
Facsimile Editions
#1

Einhard: Vita Caroli Magni

Limited Edition:

200 copies

Commentary:

1 volume by Wolfgang Milde and Thomas Wurzel
Language: German


1 volume: This facsimile is not complete. 13 of the 43 folios are reporoduced.

Reproduction of the entire original document as detailed as possible (scope, format, colors). The binding may not correspond to the original or current document binding.