Livro de Horas de la Condessa de Bertiandos
Serie Azul 1813, cofre 34
Academia das Ciências de Lisboa (Lisbon, Portugal)
Description
Livro de Horas de la Condessa de Bertiandos
Written ca. 1515-1530 in Latin, the Livro de Horas de la Condessa de Bertiandos was made for the Infante Duarte, son of Manuel I of Portugal, as a gift for his marriage to Isabel de Braganza. The text is written in two columns in an elegant Gothic script, which was then adorned by no less than 2,066 illuminations by the great master Antonio de Holanda. The art is distinguished by great attention to detail, excellent chromatic richness, and a naturalistic style with a Flemish influence. The manuscript is extremely important for the zoological information it offers. The illuminations represent lay motifs, especially flora and fauna (insects, fish, game animals, domestic animals, imaginary ...), in addition to the usual scenes from the Gospels, borders, and initials found in a book of hours. Ana de Bragança, Countess of Bertiandos, after whom the manuscript is named, donated the splendid masterpiece to the Academia das Ciencias de Lisboa in 1933.
Livro de Horas de la Condessa de Bertiandos
This manuscript was created for Duarte, Duke of Guimarães (1515-40), on the occasion of his nuptials with Isabel de Braganza in 1537. He was the tenth child of King Manuel I of Portugal (1469-1521) and the ninth for his second wife, María de Aragón (1482-1517), who was the sister of his first wife, Isabel de Aragón (1470-98). Although Duarte's life was short, his spectacular book of hours is one of the most magnificent works of late medieval book art: its 236 pages are filled with 2,066 illuminations. It is the work of Antonio de Holanda (ca. 1480-1557), one of the leading miniaturists in 16th century Portugal about whom little is known other than he was from Holland, possibly trained by the great Alexander Bening (d. 1519) and thus brought the refinement of Netherlandish art with him to Portugal.
A Gorgeous Glimpse of the 16th century
This rich image program means that the work is pregnant with information on the customs, clothing, and details from everyday life in 16th century Iberia along with an endless number of flowers, fruits, insects, fish, wild game, domestic animals, trumpets and other musical instruments, boats, ladders, farming and nautical instruments, and hybrid forms. Religious iconography like the Holy Shroud is mixed in with these secular themes. Holanda introduced new techniques for lighting a scene and allowed the action to unfold before the eyes of the beholder. The exquisiteness and breadth of the monochromatic range leaves medieval limits behind. Finally, art was a family business and Antonio was the father of Francisco de Holanda, a court painter for King John III (1502-57), essayist, architect, and historian considered to be one of the most important figures of the Portuguese Renaissance.
Codicology
Size / Format

236 pages / 33.2 × 24.0 cm

Origin

Date

1515–1530

Epochs

Style

Genre

Language

Script

Gothic Textura Rotunda

Illustrations

2066 illuminations

Artist / School

António de Holanda (illuminator)
Alexander Bening (illuminator)
---
Available facsimile editions: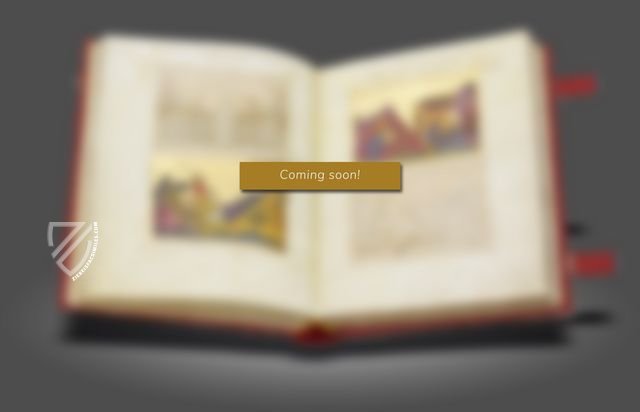 Xuntanza Editorial
– A Coruña, 2004
Limited Edition:
999 copies
Facsimile Editions
#1

Livro de Horas de la Condessa de Bertiandos

Limited Edition:

999 copies

Binding:

Gold tooled red leather

Commentary:

1 volume
Language: Spanish

1 volume: Exact reproduction of the original document (extent, color and size)

Reproduction of the entire original document as detailed as possible (scope, format, colors). The binding may not correspond to the original or current document binding.
You might also be interested in: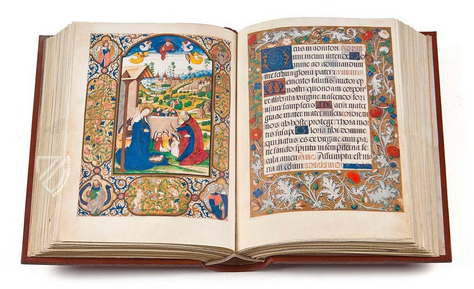 Zúñiga Book of Hours
Spain – 15th century
Completed by order of Juan de Zúñiga, the last master of the Order of Alcántara: the prayerbook of his great-grandfather is a splendid union of Spanish, French, and Flemish elements
Experience More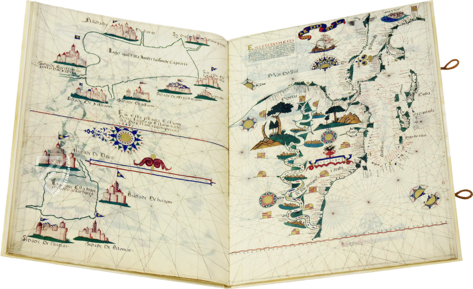 Atlas de Lázaro Luis
Portugal – 1563
A view of the earth and the starry sky in 1563: the atlas of the Portuguese cartographer Lázaro Luis with a world view of the 16th century full of color and life
Experience More
Blog articles worth reading