Meditationes
Description
This work simultaneously constitutes a late medieval best-seller, a historical milestone in the history of printing, and a fascinating work of art. The first book printed in Italy was the work of a German who belonged to the first generation of printers that was trained in the use of Gutenberg's invention and spread it across Europe. Space was left for woodcuts, which were added in a separate stage, and initials, which were hand painted according to the client's wishes. All these factors combine to make this a rare and highly coveted transitional work from the genesis of moveable typeset printing.
Meditationes
A true milestone of the Italian Renaissance: the first illustrated printed book from Italy. Carlos Romero de Lecea has pointed out of this was "not the most well-known nor the most important work (of its author), but the most sought after by bibliophiles of all times", referring to this first edition, which was a genuine 15th century best-seller. Its author was no less than Juan de Torquemada (1388-1468) a Spanish cardinal and abbot of the Monastery of Subiaco. His Meditations were published in Rome on the 31st of December 1467 by the German printer Ulrich Han (1425–79).
The Dawn of Italian Printing
The printing press of Johannes Gutenberg (ca. 1400-68) had only recently been brought to Italy by Arnold Pannartz (d. ca. 1476) and Konrad Sweynheim (d. 1477), specifically to Subiaco Abbey, which was administered by Juan de Torquemada, the patron of this printed work. The printer, Ulrich Han, used a form of hybrid script that blended Gothic and Roman letters and like many incunabula (pre-1501 printed books) left blank spaces open for an illuminator to add customized historiated initials. These appear alongside 31 colored woodcuts, which reproduce the now-lost paintings of the Church of Santa Maria sopra Minerva.
The Meditations of a Spanish Cardinal
Born in Valladolid, Juan de Torquemada (1388–1468) was a Dominican cleric, defender of Jewish conversos, and the most articulate papal apologist of the 15th century who should not be confused with his infamous nephew, the Grand Inquisitor Tomás de Torquemada. It has long been speculated that his family had Jewish roots but no evidence of this has ever been found in the historical record. Torquemada quickly distinguished himself after joining the Dominican Order at a young age and attended the Council of Constance in 1415 as part of the Order's delegation before continuing his studies at the University of Paris, where he received a doctorate in theology in 1423.
He remained in Paris to teach for a few years before returning to Valladolid before moving to Toledo and continued to contribute to the contemporary discussion of theology at the Council of Basel, during which time he was awarded a cardinal's hat for the first time in 1439, and the Council of Florence. After undertaking papal missions in France and Germany, he finally settled into life at the Roman curia for the rest of his life. While there, he participated in four papal elections, continued to defend papal primacy, advocated for a Crusade against the Turks, and wrote numerous treatises, including his Meditationes, seu Contemplationes devotissimae.
Codicology
Alternative Titles

Meditaciones

Size / Format

80 pages / 31.0 × 21.5 cm

Origin

Date

December 31st, 1467

Epochs

Style

Genre

Language

Illustrations

31 prints on the life of Christ, decorative initials

Artist / School

Juan de Torquemada (Verfasser)
Ulrich Han (Drucker)
---
Available facsimile editions:
Facsimile Editions
#1

Meditationes

Limited Edition:

3160 copies

Binding:

Binding of parchment on wooden cover Cloth-lined presentation case with gold engraved leather spine

Commentary:

1 volume by Isabel Moyano Andrés
Language: Spanish

1 volume: Exact reproduction of the original document (extent, color and size)

Reproduction of the entire original document as detailed as possible (scope, format, colors). The binding may not correspond to the original or current document binding.

Facsimile Copy Available!

Price Category: €
(under 1,000€)
You might also be interested in: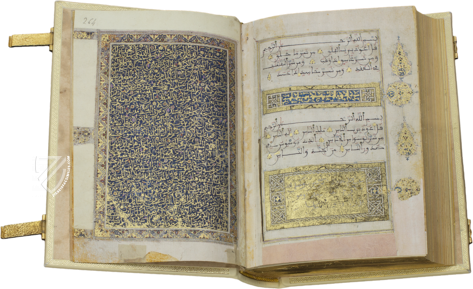 Koran of Muley Zaidan
Mosque of the Al-Badi Palace, Marrakech (Morocco) – 1599
A masterpiece of Islamic illumination for Sultan Muley Zaidan: an extraordinary Moroccan manuscript from El Escorial
Experience More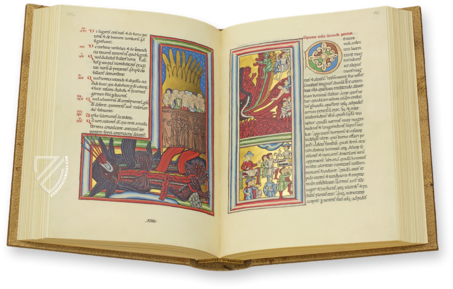 Liber scivias
Monastery of Rupertsberg (Germany) – Ca. 1175 The lost original manuscript was copied by hand between 1927 and 1933 by nuns in Abbey of St. Hildegard
Lost in World War II: one of the main works by the famous abbess and visionary Hildegard von Bingen with her theological-cosmological findings
Experience More
Blog articles worth reading