Omelia sobre lo psalm "de profundis"
Description
Omelia sobre lo psalm "de profundis"
This remarkable literary codex simultaneously demonstrates the influence of the Italian Renaissance in Spain while also presenting the first woodcut in the history of Spanish printing.
Omelia sobre lo psalm "de profundis"
A monument of Spanish book printing: the first Spanish woodcut, which originated in Valencia and depicts the Virgin of the Rosary flanked by two of the most important figures of the medieval church: a lily-wielding St. Dominic (1170–1221) and a book-wielding St. Thomas Aquinas (1225–74), while Pope Benedict III (d. 858) and a knight girt with a sword kneel at her feet – all four figures surrounding the Holy Virgin hold rosaries in their hands. This woodcut adorns a devout work in the style of an allegorical romance by Jeroni Fuster, partly in verse, which was printed in an elegant Gothic script. It was published by the Valencian printing house of Lambert Palmart (b. 1440) in 1490 and, according to M. de Riquer, was influenced by the Divine Comedy by Dante Alighieri (ca. 1265–1321). This incunabulum, a printed book predating 1501, is a fine testament to the genesis period of Spanish printing.
Codicology
Size / Format

24 pages / 23.5 × 15.0 cm

Origin

Date

1490

Epochs

Style

Genre

Language

Illustrations

Woodcut of the Virgin Mary, flanked by St. Dominic and Thomas Aquinas

Content

Allegorical romance

Artist / School

Jeroni Fuster (author)
Lambert Palmart (printer)
---
Available facsimile editions: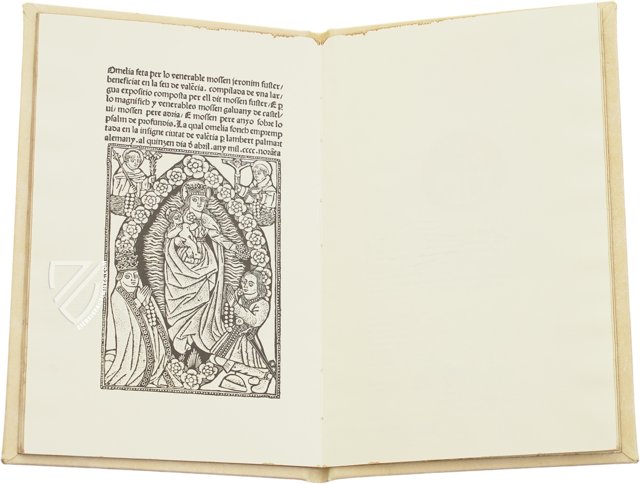 Vicent Garcia Editores
– Valencia, 1992
Limited Edition:
3160 copies
Single Page
Omelia sobre lo psalm "de profundis"
Madonna and Child
Crowned as Queen of Heaven, the Virgin Mary holds the baby Jesus as she stands in a mandorla – an almond-shaped aureola – filled with rays of light and lined with roses. Both figures also hold flowers in their hands. Pope Benedict III, crowned with the papal tiara, and a knight girded with a sword are kneeling in the foreground with rosary beads hanging from their hands, which are folded in prayer.
St. Dominic appears in the upper left corner holding his signature cross-staff and lilies while Thomas Aquinas holds a book and crucifix. Like the kneeling figures below, both the founder of the Dominican Order and the famous theologian hold rosaries in their hands. Dominic in particular is credited with spreading the Rosary and Marian devotion.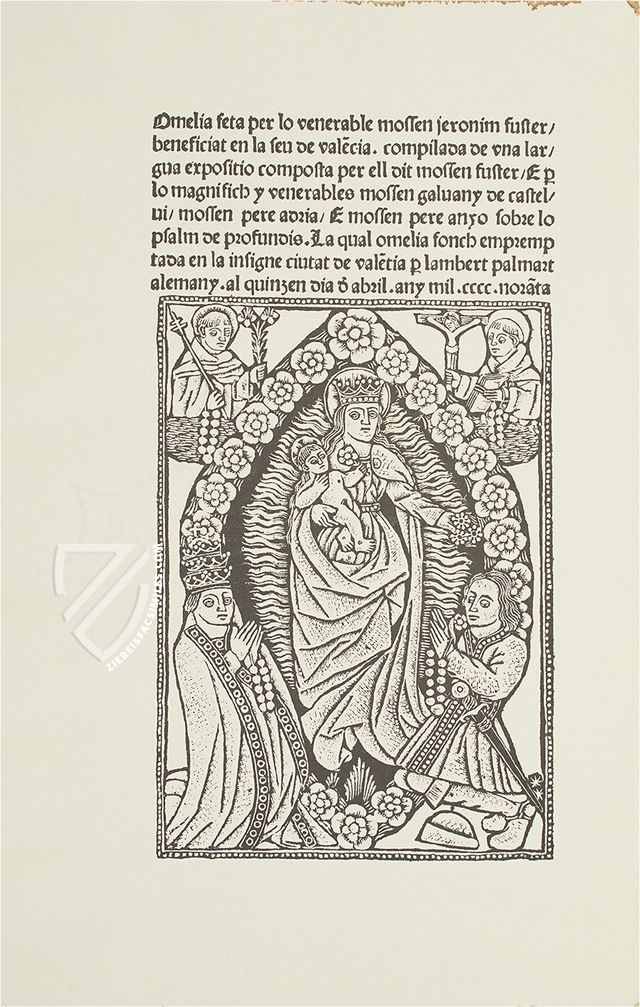 Facsimile Editions
#1

Omelia sobre lo psalm "de profundis"

Limited Edition:

3160 copies

Binding:

Parchment on wooden board. The facsimile edition comes in a cloth-lined presentation case with gold engraved leather spine.

Commentary:

1 volume by Antoni Ferrando Francés
Language: Spanish

1 volume: Exact reproduction of the original document (extent, color and size)

Reproduction of the entire original document as detailed as possible (scope, format, colors). The binding may not correspond to the original or current document binding. The facsimile edition was printed on special laid paper.
You might also be interested in:
Blog articles worth reading