Omelia sobre lo psalm del "Miserere mei Deus"
BH CF /4 (3)
Biblioteca Histórica de la Universidad de València (Valencia, Spain)
Description
Omelia sobre lo psalm del "Miserere mei Deus"
Narcís Vinyoles (between 1442 and 1447 – 1517) was a Spanish poet, lawyer, and politician from Valencia. He was married to Brianda de Santángel, niece of the banker Luis de Santángel, financier of Christopher Columbus' voyages. King Ferdinand II of Aragon (1452-1516) ennobled Vinyoles in recognition of his talents as a judge. Although a native speaker of the Catalan/Valencian dialect, Vinyoles preferred Castilian, was also fluent in Latin and the Tuscan dialect of Italian, and published works in all four language. Vinyoles co-authored works such as Obres o trobes en laors de la Verge Maria, Lo proces de les olives, and Scachs d'amor – the first document with the modern rules of chess that also uses the game as an allegory for love. The text at hand is a commentary on Psalm 51, known as the Miserere in Latin, written in prose and verse by Vinyoles and published in 1499. This incunabulum or early printed book is adorned by a lovely frontispiece consisting of a woodcut depicting King David as a late medieval knight kneeling in prayer before God in Heaven as well as decorative initials.
Codicology
Size / Format

40 pages / 25.0 × 18.0 cm

Origin

Date

1499

Epochs

Style

Language

Script

Gothic

Illustrations

Full-page woodcut of King David kneeling before God in heaven

Content

Liturgical poem

Artist / School

Narcis Vinyoles (author)
Nicolau Spindeler (printer)
---
Available facsimile editions: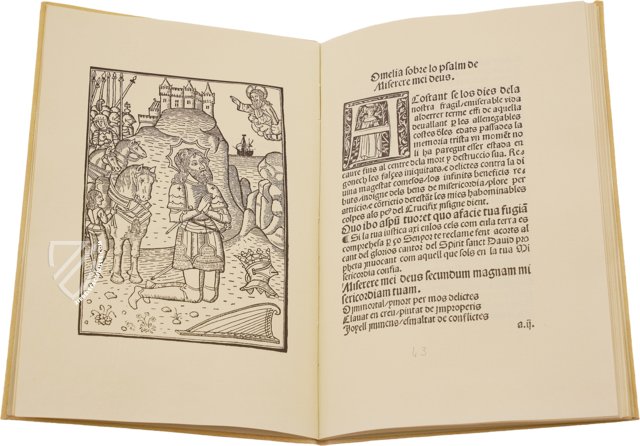 Vicent Garcia Editores
– Valencia, 1992
Limited Edition:
3160 copies
Detail Picture
Omelia sobre lo psalm del "Miserere mei Deus"
Historiated "A" Initial
The first page of text appearing opposite the full-page woodcut of King David features a historiated initial depicting a male figure, most likely the author, Narcís Vinyoles, who was a 15th century poet, lawyer and politician from Valencia, Spain. He stands on a checkerboard floor that establishes a sense of depth and space behind the "A" dressed in a floor-length robe and his head is adorned by a halo. Floral tendrils fill the margins and the background.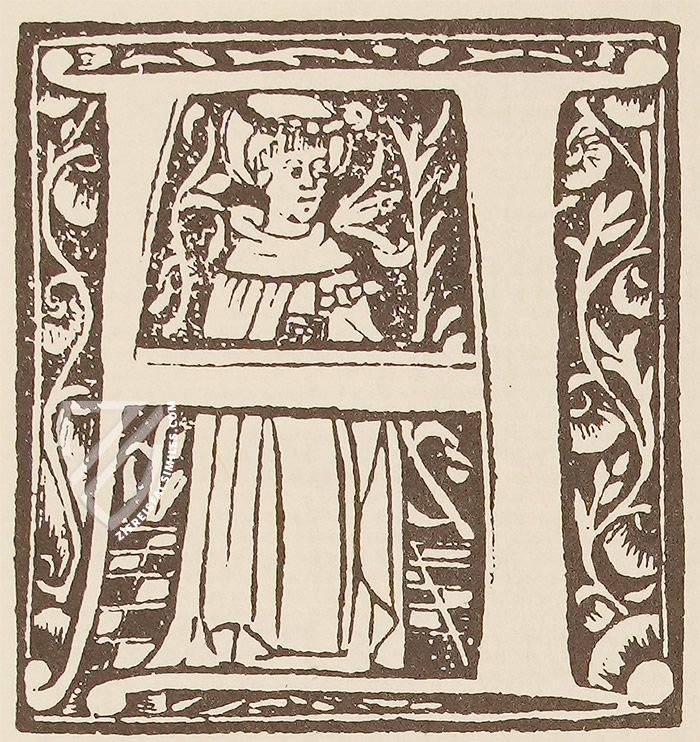 Single Page
Omelia sobre lo psalm del "Miserere mei Deus"
King David
Dressed in a late medieval suit of armor with sword and dagger, King David kneels in prayer with a seven-pointed halo adorning his head. He has placed his crowned helmet on the ground alongside his harp, an allusion to the Psalms he supposedly wrote. Jesus appears in the sky above holding the globus cruciger and making the sign of the benediction.
A squire stands in the background holding the reigns of the King's horse as his army waits next to a castle on a hill and a distant sailing ship. One of the figures in his army has an open-faced helmet and holds a scroll. He is most likely Uriah, wife of Bathsheba, whom David has impregnated and is now trying to cover his crime by placing her husband in the front line where he will be killed.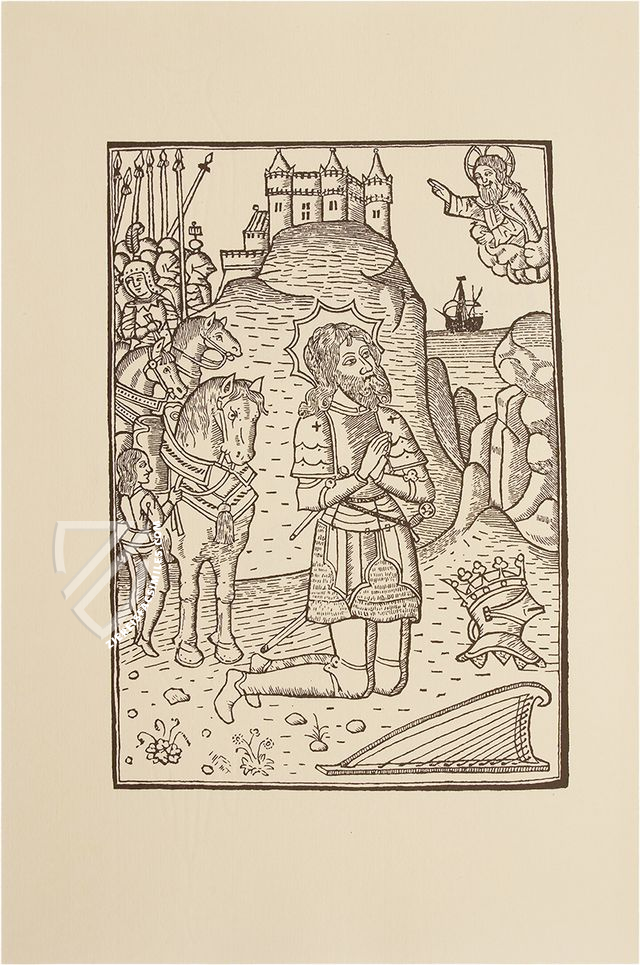 Facsimile Editions
#1

Omelia sobre lo psalm del "Miserere mei Deus"

Limited Edition:

3160 copies

Binding:

The parchment bound facsimile, printed on special laid paper, comes in a linen covered case with gold embossed leather spine.

Commentary:

1 volume by Antoni Ferrando Francés
Language: Spanish

1 volume: Exact reproduction of the original document (extent, color and size)

Reproduction of the entire original document as detailed as possible (scope, format, colors). The binding may not correspond to the original or current document binding.

Facsimile Copy Available!

Price Category: €
(under 1,000€)
You might also be interested in:
Blog articles worth reading