Obra a Llaors del Benaventurat lo Senyor Sent Cristofol
Description
Obra a Llaors del Benaventurat lo Senyor Sent Cristofol
This is the only surviving copy of a codex that has been highly coveted by bibliophiles for centuries. The work of fifteen poets from a Valencian poetry fair in August of 1488 is presented with splendid initials and other décor.
Obra a Llaors del Benaventurat lo Senyor Sent Cristofol
This incunabula, an early printed book predating 1501, was published in the Valencian print shop of Pedro Trincher on February 3rd, 1498 and is stored today in the Biblioteca Nacional de España under the shelf mark Inc. 1471. Acquired from a Parisian auction in 1891, it represents the only surviving copy of the work and this coveted codex has been owned by a long line of bibliophiles. In August of 1488, a poetry fair was held in Valencia, a record of which was produced a decade later. This codex contains the work of fifteen poets, one of them anonymous, in neatly printed Gothic text with initials and various decorative elements. The title page is a woodcut with a mandorla containing the Virgin of Montserrat, the overleaf has an image of St. Christopher, and an image of Christ Crucified comes at the end.
Codicology
Size / Format

108 pages / 20.0 × 14.0 cm

Origin

Date

February 3, 1498

Epochs

Style

Language

Script

Gothic

Illustrations

Woodcuts and adorned initials

Content

Party religious poems by fifteen different poets

Artist / School

Lluís Roís (author)
Pedro Trincher (printer)

Previous Owners

Croft
White Knights
Herber's
Thorpe
Salvá
Count of Benahavs
Ricardo Heredia
Livermore
---
Available facsimile editions: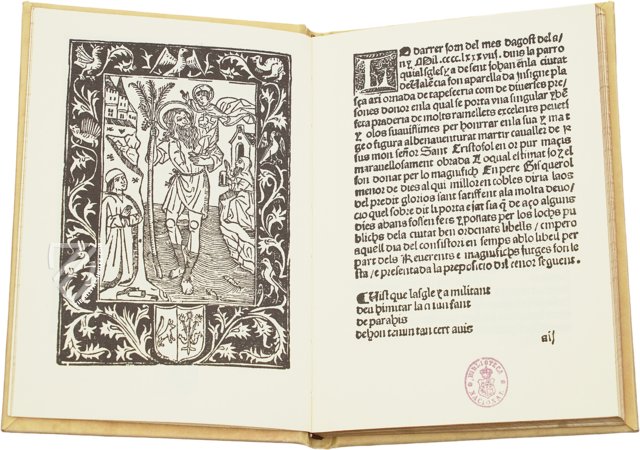 Vicent Garcia Editores
– Valencia, 1997
Limited Edition:
3160 copies
Detail Picture
Obra a Llaors del Benaventurat lo Senyor Sent Cristofol
Madonna and Child
The title page includes a mandorla or almond-shaped aureola featuring the Virgin Mary, who is dressed in sumptuous flowing robes and crowned as Queen of Heaven, holding a naked baby Jesus among a mountainous landscape featuring two crosses. The image, modelled on the Virgin of Montserrat, is flanked by two acanthus leaves. The details of this woodcut are unfortunately obscured by too much ink, e.g. the eyes of both figures are too large and dark, giving them an ominous look.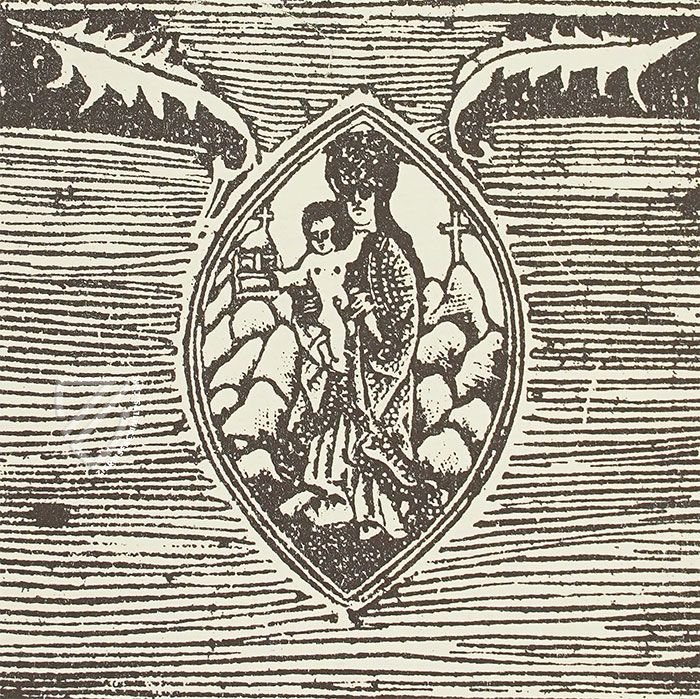 Single Page
Obra a Llaors del Benaventurat lo Senyor Sent Cristofol
Saint Christopher
According to legend, Saint Christopher carried an unknown child on his back across a river before the child revealed himself as Christ. He has since been regarded as the patron saint of travelers who often carry images of him. Instead of the archetypal composition of the saint crossing a river from left to right, he is depicted here walking toward the viewer.
Halos adorn the heads of both saint and child, who is dressed in a flowing cape and holds a globus cruciger while making the sign of the benediction. A beggar stands on the right bank and a praying man on the left. This fine woodcut is presented in a splendid vegetal and zoomorphic frame featuring rabbits, songbirds, falcons, dragons, and a coat of arms with a squirrel and three roses.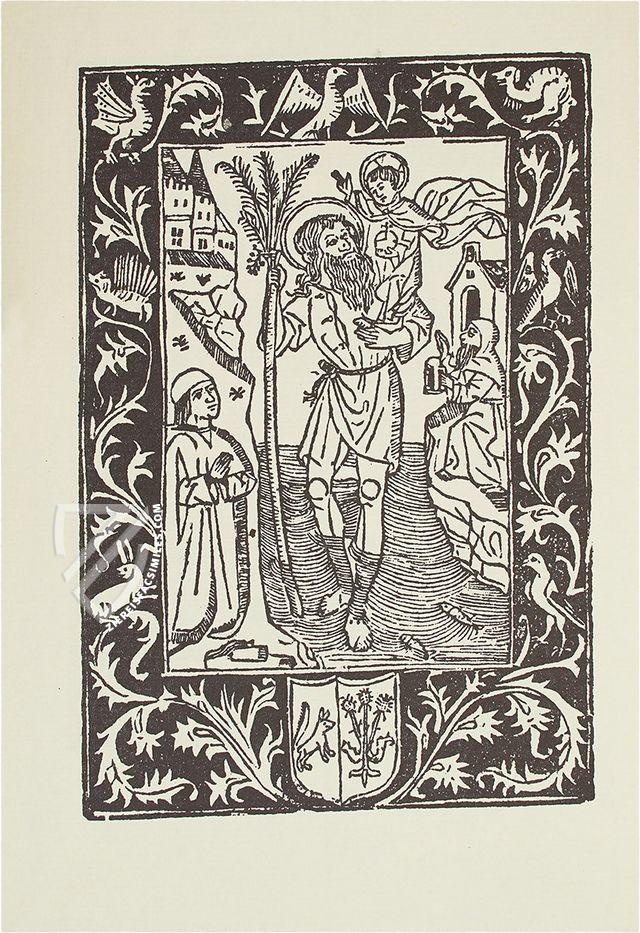 You might also be interested in:
Blog articles worth reading