Prisse d'Avennes - Arte araba al Cairo
Description
Prisse d'Avennes - Arte araba al Cairo
The Frenchman Prisse d'Avennes is considered to be the trailblazer of orientalism and the most famous Egyptologist of the 19th century. He visualizes the fascinating world of old Cairo for the beholder in his impressive magnum opus L'art arabe. 137 lithographs, often in luminous colors, present Arab palaces, mosques, and minarets, artful Koran ornamentation, patterns for cloth and rugs, and many more exotic things.
Prisse d'Avennes - Arte araba al Cairo
During his countless travels through Arab world, Émelie Prisse d'Avennes (1807–1879) became one of the best experts on these cultures during his lifetime. His life reads like an exotic adventure novel. He undertook his first journey to Palestine and Egypt as a 19-year-old. He was active in Egypt as an engineer in the service of the Ottoman Viceroy inter alia. Furthermore, Prisse d'Avennes converted to Islam and visited the holy cities of Mecca and Medina as well as many other sites. His long sojourn – during which he travelled throughout the entire Arab world – offered him the opportunity for research into ancient sites. Prisse d'Avennes became an avid admirer of this Arab culture that has in many ways been lost.
Founder of Orientalism
He also transmitted his passion for Egyptology and everything Arab in his homeland. He was famous for the deciphering of hieroglyphics inter alia. Prisse d'Avennes additionally collected Egyptian works of art. He disseminated the fruits of his research in countless publications, e.g. regarding individual papyrus manuscripts or the language, dress, and culture of Egpyt. He worked inter alia on the conception of two world exhibitions and thereby helped with the blossoming of the orientalist style in the 19th century.
A Splendid Illustrated Book
The culture of ancient Egypt also forms the focus of one of his primary works: a three-volume, large-format summary edition with the title L'Art arabe d'après les monuments du Kaire. This work is **lavishly furnished with 137 impressive color lithographs on a total of 200 sheets. It was compiled in the years 1869–77 and can be considered to be the essence of decades-long research expeditions. Prisse d'Avennes recorded Arab culture in all its facets for posterity along with monuments that are destroyed today. In L'art arabe he dealt with inter alia artfully constructed ornaments of Islamic art executed in luminous colors, e.g. Koran pages, patterns for cloth and rugs. He additionally shows Arab palaces, mosques and minarets, often in scenic depictions with figural scenery, and marvelous architectural ornamentation. This splendid volume on Arabian art made Prisse d'Avennes one of the founders of Islamic art history!
Codicology
Type

Size / Format

3 volumes - 432 pages / 62.0 × 48.0 cm

Origin

Date

Before 1877

Epochs

Style

Genre

Illustrations

200 plates

Artist / School

Prisse d'Avennes (1807–1879)
---
Available facsimile editions: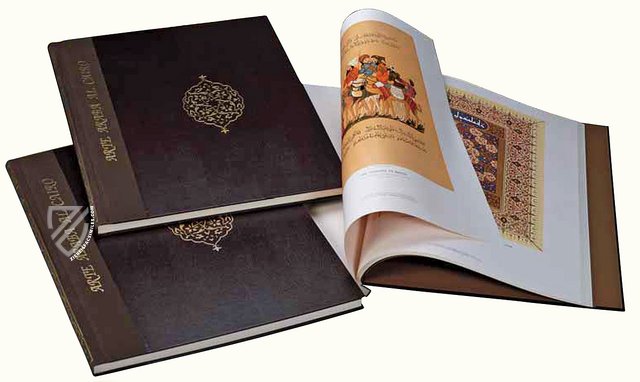 Giunti Editore
– Florence, 1991
Limited Edition:
998 copies
Facsimile Editions
#1

Prisse d'Avennes - "Arte araba al Cairo"

Limited Edition:

998 copies

Binding:

Buckram and leather with gold stam ping on the front-boards and spines.

1 volume: Exact reproduction of the original document (extent, color and size)

Reproduction of the entire original document as detailed as possible (scope, format, colors). The binding may not correspond to the original or current document binding.