Map of Toledo by José Arroyo Palomenque
Description
Map of Toledo by José Arroyo Palomenque
The central meaning of Toledo for the history of Spain up to the 16th century and beyond is widely known. This impressive map from the year 1720, made by José Arroyo Palomenque, is a testimonial to the outstanding political, historical, and cultural status of the city. It is a gorgeous panorama of early-18th century Toledo is recognizable to modern observers and every detail of the maze of ancient streets lined with building built in various historical styles is depicted with loving detail. A legend at the bottom of the map provides additional information is flanked by two Indians, two cherubs, and four lions. Two move cherubs hold aloft Toledo's coat of arms and blow trumpets as they fly above the city.
Map of Toledo by José Arroyo Palomenque
Two angels with fanfares bear the city's coat of arms centered above the map: Toledo, immortalized in a banderole. Stretching out underneath it is a wonderful panorama of the significant Spanish city, which played a large role in Spanish history over the centuries. Toledo was the capital of the Kingdom of Spain until the mid–16th century – the kings reigned over the city from the Alcazar enthroned above it. To this day, the city is the seat of the powerful archbishop and the highest cleric of the Catholic Church in Spain.
The Former Capitol in the 18th Century
José Arroyo Palomenque, a master builder from Toledo, recorded the image of his famous home city at the beginning of the 18th century in an elaborately designed map. This fascinating historical panorama depicts every detail of the city – which has largely preserved its original appearance up to today – in the finest detail and additionally boasts gorgeously colorful and figurative décor.
Bridges, Churches, and Palaces
The city is presented with monumental edifices and a maze of medieval streets – as seen from the south – between the Rìo Tajo in the foreground and framed by the hilly landscape in the background. Aside from the cathedral, the seat of the archbishop and the royal palace, numerous churches, synagogues, monasteries, hospitals, and bridges. Similarly, such special locations such as the Casa de comedias or the fire pits of La Vega, where the judgements of the Inquisition were carried out, were not left out.
The Gorgeous Illumination
This detailed and extremely appealing depiction of Toledo is one of the oldest and most accurate visions of the city. A wonderfully arranged directory of the most important monuments depicted is found in the lower part of the over 60 x 50 cm map. Furnished with numbers in the map, it naturally begins with the cathedral, archbishop's palace, and the king's seat of Alcazar. This directory is gorgeously designed, flanked by two exotically-dressed figures, floral ornamentation, angels, and additional figurative depictions on the lower margin of the map.
Codicology
Alternative Titles

Karte von Toledo von José Arroyo Palomenque




Plano de Toledo de José Arroyo Palomeque

Type

Date

Ca. 1720

Epochs

Style

Genre
---
Available facsimile editions:
Facsimile Editions
#1

Plano de Toledo de José Arroyo Palomeque

Limited Edition:

995 copies

Commentary:

1 volume
Language: Spanish

1 volume: Exact reproduction of the original document (extent, color and size)

Reproduction of the entire original document as detailed as possible (scope, format, colors). The binding may not correspond to the original or current document binding.

Facsimile Copy Available!

Price Category: €
(under 1,000€)
You might also be interested in: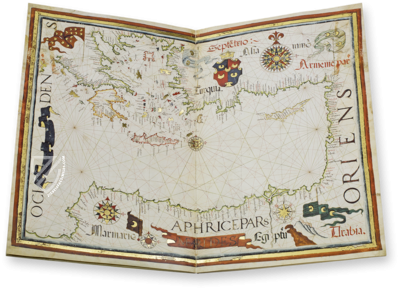 Diego Homen's Atlas 1561
Venice (Italy) – 1561
Diego Homem's pioneering work in the field of cartography: the beautifully ornamented mapping of sea routes, oceans, and regions of the world as an example of the inexorable advance of science
Experience More

Blog articles worth reading