Rodes Bible
Description
This manuscript represents one half of a two-volume Bible created ca. 1202 in the Monastery of Santa Maria de Ripoll. It is a fantastic artifact of Catalonian illumination containing 300+ miniatures altogether created by a team of talented artists lead by the monk Guifré de Ripoll. Some scenes are depicted in primary colors, while others are uncolored and reveal the hand of a skilled yet anonymous master. This master's realistic depictions of both humans and animals as well as musical instruments and domestic objects offer the reader a wonderful glimpse into everyday life in Catalonia at the turn of the 13th century.
Rodes Bible
Stored under the shelf ms. lat. 6 in the Bibliothèque Nationale de France, the so-called *Rodes Bible * is one of two complete codices, in addition to a fragment, produced by the monks of the Monastery of Santa Maria de Ripoll. This was an important center of Catalonian culture under the direction of Abbot Oliba. The Bibles were completed sometime ca. 1020 and contain 300+ miniatures. A groups of artists created these works, considered the most splendidly decorated European Bibles of the 10th and 11th centuries and important artifacts of Catalan miniature. The monk Guifré de Ripoll may have been the "team leader", and used primary colors and imparted the scenes he illustrated with a sense of movement and dynamism. There is another anonymous artist associated with the work, who can be distinguished by his perfectionism, proportions, parallelism, and symmetry. His realistic schematization of figures both animal and human is surprisingly regular, as is his depiction of musical instruments and domestic objects. None of his scenes are colored, exposing his pen strokes for a glimpse into his creative process.
Codicology
Alternative Titles

Biblia Sancti Petri Rodensis




Bibbia di Sant Pere de Rodes




Rodes Bibel




Les Bíblies de Ripoll




Ripoll Bible

Origin

Date

Mid-11th century – late 11th century

Style

Genre

Language

Illustrations

300 miniatures

Artist / School

Byzantine and Carolingian archetypes
---
Available facsimile editions: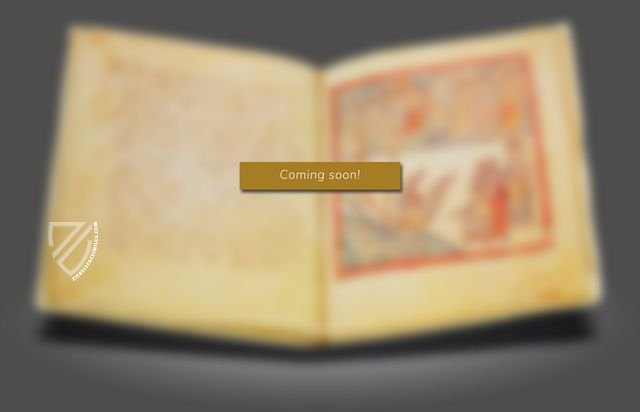 Biblioteca Apostolica Vaticana (Vaticanstadt, Vaticanstadt)
– Vatican City, 2010
Limited Edition:
200 copies
Facsimile Editions
#1

Les Bíblies de Ripoll

Limited Edition:

200 copies

Commentary:

1 volume by Anscario M. Mundó
Languages: Catalan, abstracts in English, French, German, Italian, and Spanish

The commentary volume discusses not only the Rodes Bible but also the Ripoll Bible, since both manuscripts were produced in the same scriptorium.

1 volume: Exact reproduction of the original document (extent, color and size)

Reproduction of the entire original document as detailed as possible (scope, format, colors). The binding may not correspond to the original or current document binding.
You might also be interested in: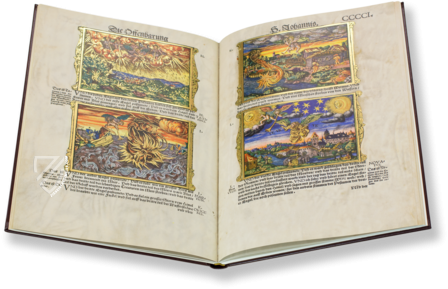 Zerbster Prunkbibel - Cranach's Bible
Wittenberg (Germany) – 1541
Printed in 1541 by the "Bible printer" Hans Lufft in Wittenberg, today preserved in the city archives of Zerbst: The Apocalypse translated by Martin Luther and grandly illuminated with 26 hand-colored woodcuts by Lucas Cranach
Experience More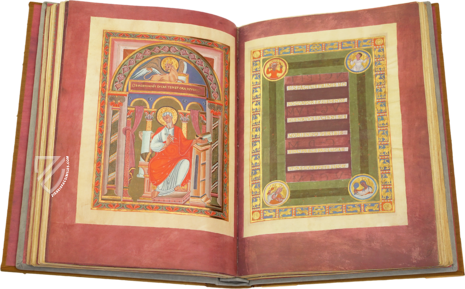 Codex Aureus of Echternach
Echternach Abbey (Luxembourg) – 1020–1050
Made by order of Theophanus, written entirely in gold, and adorned with a breathtaking magnificent binding: arguably the most splendid and beautiful manuscript of all time, created in the famous scriptorium of Echternach
Experience More
Blog articles worth reading