Ripoll Bible
Description
This manuscript represents one half of a two-volume Bible created ca. 1202 in the Monastery of Santa Maria de Ripoll. It is a fantastic artifact of Catalonian illumination containing 300+ miniatures altogether created by a team of talented artists lead by the monk Guifré de Ripoll. Some scenes are depicted in primary colors, while others are uncolored and reveal the hand of a skilled yet anonymous master.
Ripoll Bible
Stored under the shelf mark ms. lat. 5729 in the Biblioteca Apostolica Vaticana, the so-called Ripoll Bible is one of two complete codices, in addition to a fragment, produced by the monks of the Monastery of Santa Maria de Ripoll. This was an important center of Catalonian culture under the direction of the Bishop of Oliba. The Bibles were completed sometime ca. 1020 and contain 300+ miniatures. A groups of artists created these works, considered the most splendidly decorated European Bibles of the 10th and 11th centuries and important artifacts of Catalan miniature. The monk Guifré de Ripoll may have been the "team leader", and used primary colors and imparted the scenes he illustrated with a sense of movement and dynamism. There is another anonymous artist associated with the work, who can be distinguished by his perfectionism, proportions, parallelism, and symmetry. His realistic schematization of figures both animal and human is surprisingly regular, as is his depiction of musical instruments and domestic objects. None of his scenes are colored, exposing his pen strokes for a glimpse into his creative process.
Codicology
Alternative Titles

Les Bíblies de Ripoll




Bibbia di Ripoll




Ripoll Bibel




Farfa Bible

Size / Format

930 pages / 55.0 × 37.0 cm

Origin

Date

1015–1020

Epochs

Style

Genre

Language

Script

Carolingian minuscule

Illustrations

32 full-page narrative cycles in the Old and New Testament; 24 minor miniatures; 12 historiated and zoomorphic initials; numerous smaller decorated initials and display script at the beginning of each chapter

Content

Old and New Testaments and more than 200 additional texts, such as those of Jerome and Isidore

Patron

Abbot Oliba

Artist / School

Gualterus (scribe)
Byzantine influence
---
Available facsimile editions: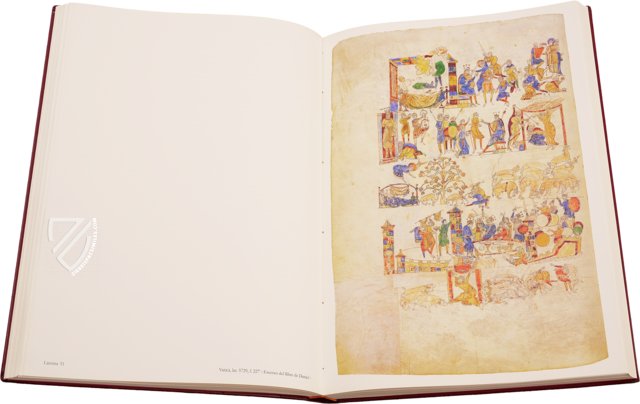 Biblioteca Apostolica Vaticana (Vaticanstadt, Vaticanstadt)
– Vatican City, 2002
Limited Edition:
850 copies
Detail Picture
Ripoll Bible
The Fall of Man
Divided into three registers, Adam and Eve, having been deceived by the serpent, eat fruit from the tree of the knowledge of good and evil; they are then confronted by God, who clothes and expels them from Paradise. Finally, God places a cherub with a red halo and sword at the east of the Garden of Eden to guard the tree of life. For reasons unknown, the artist depicted God wearing different colored robes in each register and Eve is alternatively portrayed with and without a red headband.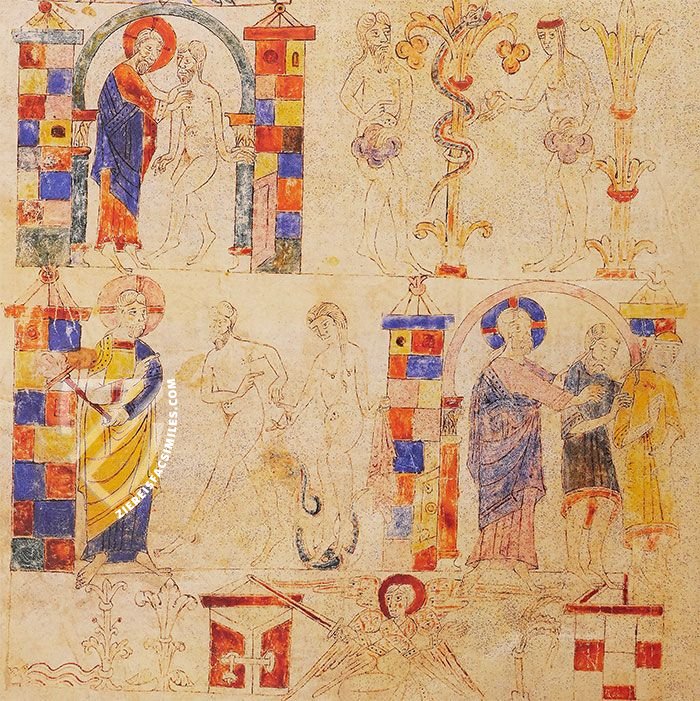 Single Page
Ripoll Bible
Jacob's Ladder
The dream of Jacob, patriarch of the Israelites, is generally interpreted as symbolizing the obligations and inheritance of God's chosen people, although this is debated. In Christian theology, it symbolizes the perpetual intercourse between Heaven and Earth, which is visually represented by three angels climbing up and down the ladder.
On this page, the ladder leads directly to a Byzantine-style image of Christ Pantocrator, a half-length depiction of Christ holding the New Testament and making the sign of benediction as a mild but stern, all-powerful judge of humanity. This is unusual in Western Christian art, where the equivalent image of Christ in Majesty is a full-length depiction of Christ seated on a throne as ruler of the world.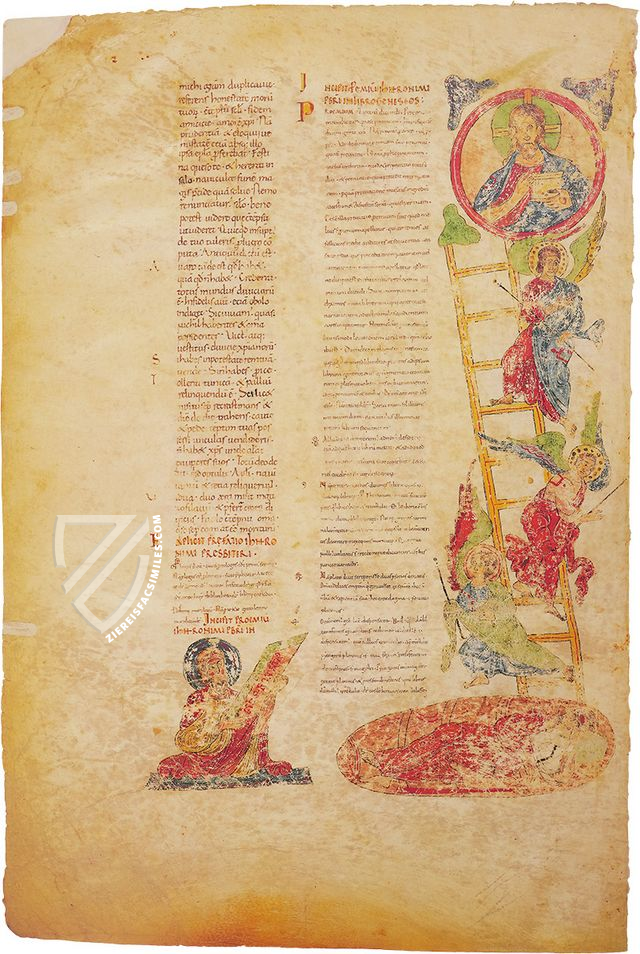 Facsimile Editions
#1

Les Bíblies de Ripoll

Limited Edition:

850 copies

Commentary:

1 volume by Anscario M. Mundó
Languages: Catalan, abstracts in English, French, German, Italian, and Spanish

The commentary volume discusses not only the Ripoll Bible but also the Rodes Bible, since both manuscripts were produced in the same scriptorium.

1 volume: Exact reproduction of the original document (extent, color and size)

Reproduction of the entire original document as detailed as possible (scope, format, colors). The binding may not correspond to the original or current document binding.
You might also be interested in: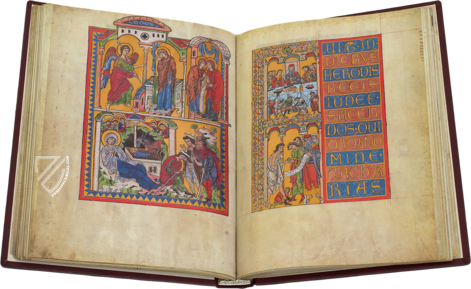 Goslar Gospels
Goslar (Germany) – Ca. 1240
Romanesque, Gothic and Byzantine elements in a masterpiece of calligraphy and illumination: a splendid gospel book of stylistic pluralism in the 13th century, adorned with magnificent miniatures
Experience More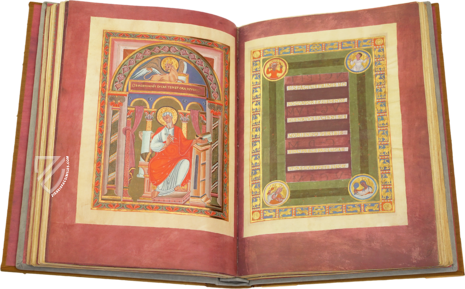 Codex Aureus of Echternach
Echternach Abbey (Luxembourg) – 1020–1050
Made by order of Theophanus, written entirely in gold, and adorned with a breathtaking magnificent binding: arguably the most splendid and beautiful manuscript of all time, created in the famous scriptorium of Echternach
Experience More
Blog articles worth reading