Thomas Murner - M. A. Sabellici Hystory von anbeschaffener welt
Description
Thomas Murner - M. A. Sabellici Hystory von anbeschaffener welt
Thomas Murner was a poet, translator, and satirist from Alsace who entered the Franciscan Order in 1490 before he began travelling extensively in 1495. His travels, during which he was occupied with teaching and preaching, took him to France, Switzerland, Poland, and Italy. He was named poet laureate by Emperor Maximilian I in 1505 and came to England at the invitation of King Henry VIII in 1523. The 70+ surviving works by Murner reveal not only his diverse interests but also his biting satire, which was aimed at corruption and the Reformation, Martin Luther in particular. He was also a skilled and prolific translator who was capable of not only translating from Latin but Hebrew as well. Murner's translation of the famous universal history written by Sabellicus was a late work and was never printed. It has been partially preserved in a manuscript with 343 illustrations in Murner's own hand, which has been made available for the first time as a facsimile edition.
Thomas Murner – M. A. Sabellici Hystory von anbeschaffener welt
Enneades sive Rhapsodia historiarum is the most famous work by the Venetian historian, professor, and curator of the Biblioteca Marciana Marcus Antonius Coccius Sabellicus (1436–1506). He worked on his 92-volume universal history, the first humanistic work of its kind, between 1498 and 1504. The popular text underwent various translations and publications, including this unpublished German translation from an Alsatian manuscript dated to 1534/35. It was written and illustrated by Thomas Murner (1475 – ca. 1537) and may represent the last work to originate from his hand. Originally consisting of ten volumes, three have survived: two are stored in the Baden State Library in Karlsruhe, Germany, while the third is in the renowned Humanist Library of Sélestat, France. 344 miniatures created by Murner as templates for woodcuts also survive. All three volumes are presented together in this facsimile edition and are adorned by 344 miniatures created as templates for woodcuts.
The Life of a Controversial Theologian
Although a prolific writer and translator known for his ruthless satirical wit, Thomas Murner was first and foremost a Franciscan monk and opponent of the Reformation. Murner's superiors recognized his intelligence and sent him to study at universities across Europe. Armed with numerous degrees in the liberal arts and theology as well as a doctorate of both civil and church law, Murner was passionate and diligent, but his sharp tongue and pen made enemies for him wherever he went. This may have been part of the reason why he was so well travelled – he quickly wore out his welcome because of his contentious nature and even had the nickname Murnar, a play on his name meaning "foolish cat".
Nonetheless, his genius continued to be recognized including being crowned poet laureate in Vienna by the future Holy Roman Emperor Maximilian I (1459–1519) in 1505. Murner came to England during the summer of 1523 at the invitation of King Henry VIII (1491–1547) and while there he attracted the attention of the famous English humanist Thomas More (1478–1535). Murner returned to Strasbourg with £100 and a letter to the city magistrates from the English King, who felt he was an important orthodox influence there. However, the Reformation in Strasbourg was too much for Murner, who moved to Switzerland before spending the final years of his life as the priest of Oberehnheim.
Codicology
Alternative Titles

Thomas Murner - M. A. Sabellici Hystory von anbeschaffener Welt. Übersetzung der Enneades des Marcus Antonius Sabellicus

Type

Size / Format

1,308 pages / 33.0 × 21.0 cm

Origin

Date

1534/35

Epochs

Style

Language

Illustrations

343 illustrative drawings, which were to serve as models for woodcuts

Content

Thomas Murner's German Translation of the Universal History by Sabellicus

Artist / School

Thomas Murner (scribe and illuminator)
Detail Picture
Thomas Murner - M. A. Sabellici Hystory von anbeschaffener welt
King of Rome
This medallion miniature, which takes up nearly half a page, appears in a section concerning the ancient Kings of Rome, especially the Tarquinii. Depicted here as a contemporary monarch with a beard, which the Romans would have considered to be barbaric until it was popularized by the Emperor Hadrian and became associated with Hellenic Greece, the crowned King holds a scepter in one hand and a globus cruciger in the other, all typical signs of rulership. He is sitting with his legs crossed and is dressed in tights and a padded doublet.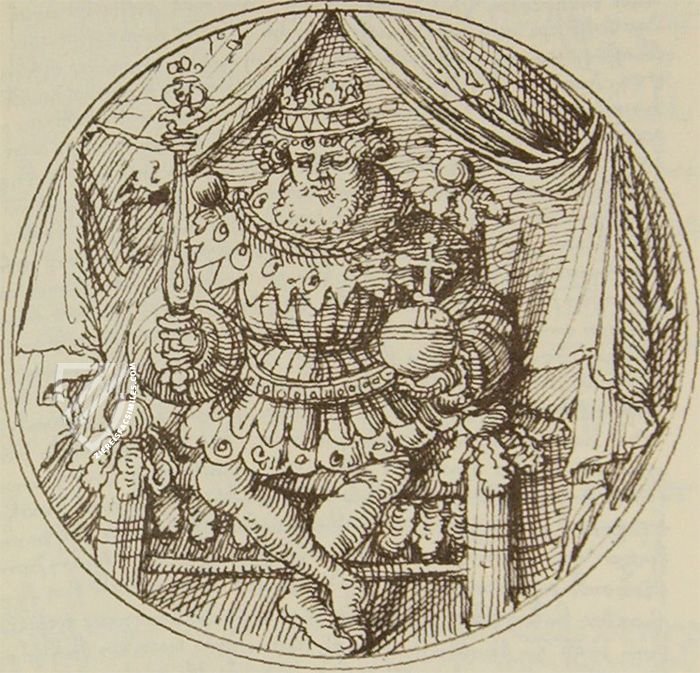 Single Page
Thomas Murner - M. A. Sabellici Hystory von anbeschaffener welt
Smithy
A detailed look into a blacksmith's workshop: the well-dressed smith stands in front of his forge and works a pair of bellows by moving a handle up and down. Behind him stands the anvil with a hammer resting on it while tongs and various other tools litter can be seen around the workshop. The overall design is excellent and makes expert use of perspective to realistically depict the interior space that opens up to the outdoors.
The entrance to the building is guarded by a nude winged female figure on a statue: she is crowned and holds a spear in her right hand and a Grecian shield in her left, she may be intended to be a personification of victory. It is obvious that this miniature, like the rest in the manuscript, was designed so that it could be easily converted into a woodcut, especially considering the use of many lines for shading.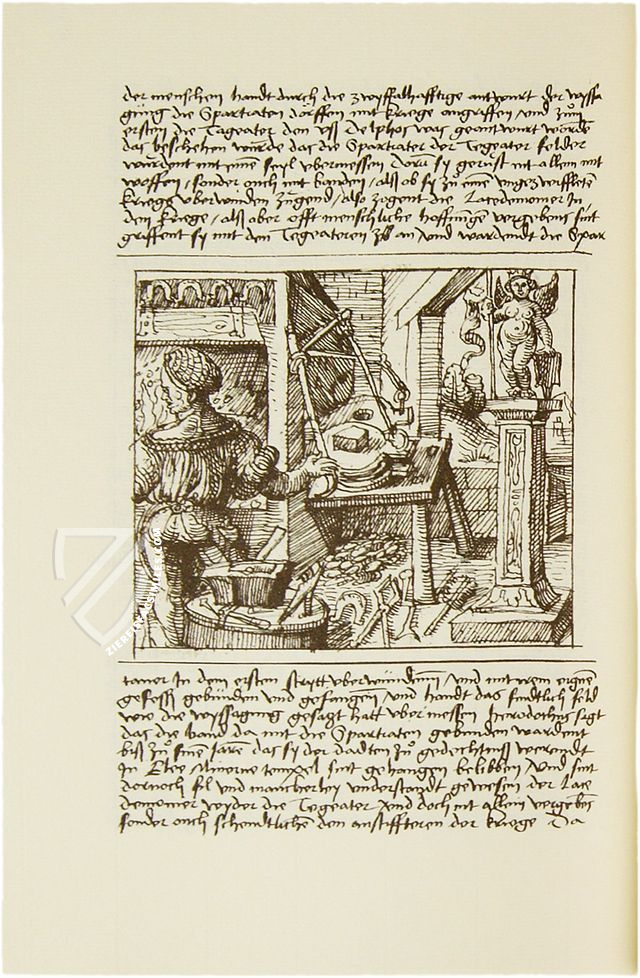 Facsimile Editions
#1

Thomas Murner - M. A. Sabellici Hystory von anbeschaffener Welt. Übersetzung der Enneades des Marcus Antonius Sabellicus

Commentary:

1 volume by Hedwig Heger and Gerhard Stamm
Language: German

1 volume: Exact reproduction of the original document (extent, color and size)

Facsimile in 3 volumes