Travels of Sir John Mandeville
Description
Travels of Sir John Mandeville
This popular medieval travelogue lets the reader know from the beginning what is in stock for them: "Whoever wanted to know many things about the world should buy this book and will know things which will frighten him". Originally appearing in the 14th century, The Travels of Sir John Mandeville continued to enjoy widespread popularity for centuries, as is attested to by this 16th century Spanish print. The travelogue takes the reader on a journey into the Holy Land and beyond into the furthermost and most exotic realms of the world as it was then known.
The Travels of Sir John Mandeville
The only thing more mysterious than all the wonders described in this travelogue is the identity of its author. All we know is that Jean de Mandeville (ca. 1300–1372) was English, extraordinarily cultured, probably studied at a university, and undertook travels throughout Europe and beyond that lasted a quarter-century. The Travels of Sir John Mandeville was widely circulated during the Middle Ages and was one of the most read works in Europe from the mid–14th to the 16th centuries, along with Marco Polo's Book of Wonders and the A Pilgrimage to the Holy Land by Bernhard von Breidenbach (ca. 1440–97), works which were influenced by Mandeville. Christopher Columbus (1451–1506) was not only acquainted with the work – he had a copy of it in his library.
A Medieval Bestseller
The extraordinary impact of The Travels of Sir John Mandeville is manifested in the large number of handwritten copies, translations and prints produced in the 15th and 16th centuries, continuing to spark the readers' interest even after the geographical discoveries made in the late 15th century. The Mandeville text appeared in numerous incunabula, the first generation of printed books: Lyon and Milan in 1480, Augsburg in 1482, Strasbourg in 1484, Florence in 1492, Antwerp in 1494, and Venice in 1534. This Spanish edition from 1524 is based on an Aragonese translation that dates back to 1380.
The Influential Spanish Translation
The Spanish and Catalan translations of the text would be widely disseminated in the 15th and 16th centuries, thanks largely to great activity by Spanish printers during this period. It was first printed in Valencia: the first and third editions were made in Jorge Costilla's workshop in 1521 and 1531, respectively. The second edition at hand was printed on October 13th, 1524 by Juan Navarro and the fourth edition is from 1540. The specimen at hand was acquired by the National Library of Spain in 1900.
---
Available facsimile editions:
Vicent Garcia Editores
– Valencia, 2002
Limited Edition:
3160 copies
Facsimile Editions
#1

Libro de las Maravillas del Mundo

Limited Edition:

3160 copies

1 volume: Exact reproduction of the original document (extent, color and size)

Reproduction of the entire original document as detailed as possible (scope, format, colors). The binding may not correspond to the original or current document binding.
You might also be interested in: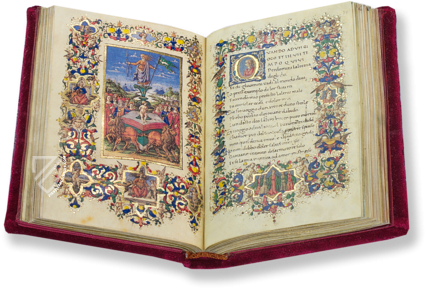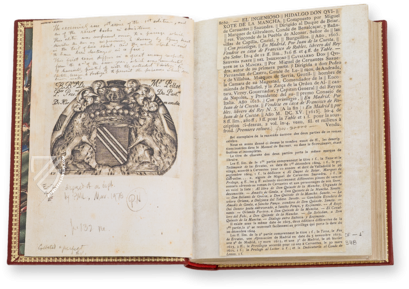 Don Quixote de la Mancha
The first edition of Miguel de Cervante's worldwide success: one of the most important works in world literature and a milestone in Spanish literary history
Experience More
Blog articles worth reading