Concerto for Violoncello and Orchestra B minor op. 104 by Antonin Dvorák
Description
Concerto for Violoncello and Orchestra B minor op. 104 by Antonin Dvorák
This rare artifact of Czech nationalism was composed in New York City and premiered in London in 1896. It is the work of composer Antonín Leopold Dvořák, who collaborated with his friend Hanuš Wihan, the most talented cellist of the period. Dvořák managed to create one of the finest compositions for the cello, which is also a fine example of collaboration between composer and musician.
Concerto for Violoncello and Orchestra B minor op. 104 by Antonin Dvořák
Antonín Leopold Dvořák (1841–1904) was one of the first Czech composers to achieve worldwide recognition. He incorporated elements of Moravian and Bohemian folk music into his compositions to create a national Czech musical style. The Concerto for Violoncello and Orchestra B minor op. 104 is one of Dvořák's last compositions, created while he worked as the director of the National Conservatory of Music in New York City from 1892 to 1895. It is one of the most highly regarded works in all of cello concerti. Oddly, Dvořák was not particularly fond of the cello as a solo instrument, believing that it did not possess the proper range since only its middle pitch was refined saying "up there it mumbles and down there it rumbles". It is thus surprising that he successfully created such a beloved concerto for the cello. Dvořák originally wrote it for his friend Hanuš Wihan (1855–1920), considered the greatest cellist of his time, although his commitment with the Czech String Quartet meant that the concerto was first performed by English cellist Leo Stern (1862–1904) for its 1896 premiere in London. Nonetheless, Wihan would not only perform the work, but was actually collaborated in its composition, which is evident in the original manuscript at hand. It is accompanied by the composer's adaptation for piano. This original score is a testament to the collaborative relationship between composer and virtuoso performer.
Codicology
Alternative Titles

Violinkonzert und Orchester B minor op. 104 von Antonio Dvorák

Type

Date

1894–1895

Epochs

Style

Genre

Artist / School

Antonin Dvorák
---
Available facsimile editions:
Facsimile Editions
#1

Concerto for Violoncello and Orchestra B minor op. 104

Commentary:

1 volume by Jan Smaczny and Jan Dehner
Languages: Czech, English, German

1 volume: This facsimile is not complete.

Reproduction of the entire original document as detailed as possible (scope, format, colors). The pages are presented on a larger white background. The binding may not correspond to the original or current document binding.
You might also be interested in: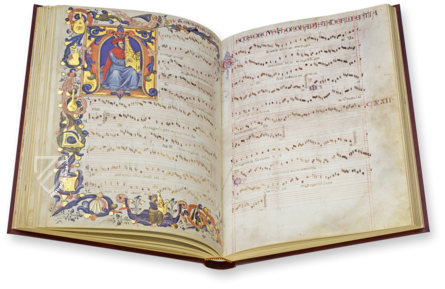 Squarcialupi Codex
Monastery of Santa Maria degli Angeli, Florence (Italy) – 1410–1420
The secular music of the Florentine Trecento collected in a magnificent manuscript: 352 works by 14 famous Italian composers presented in gold-adorned Renaissance portraits
Experience More
Blog articles worth reading