El Pelegrino dela Vida Humana
Description
El Pelegrino dela Vida Humana
This is a fascinating work representing the international intellectual exchange that was occurring during the Renaissance – it is an allegorical text written in Spanish by a French author and printed by a German. The work was intended to offer comfort to the faithful in the face of the trials and tribulations of life in the Late Middle Ages, but takes on the familiar literary archetype of a dream.
El Pelegrino dela Vida Humana
During the Middle Ages, allegory was probably the most popular literary device. Such works originated during Late Antiquity, regained popularity during the 12th century, and served the crucial purpose of synthesizing the worldviews of pagan antiquity and contemporary Christianity. Allegorical figures represented, often explicitly, ideas, feelings, attitudes, virtues, or vices that are explored in the text. This French incunabulum (an early printed book predating 1501), was printed in Tours by Henricus Mayer in 1490, and features 44 fine woodcuts adorning the Spanish text. In this story, an allegorical pilgrim encounters Reason, Nature, God's Grace, Penitence, Charity, Idleness, Anger and many other characters. The author, a French Cistercian named Guillaume de Deguileville (1295 – ca. 1358), refers to the story as a dream, which he hopes will encourage all pilgrims to look to their own path toward the promise of God's reward. Therefore, life itself is the pilgrimage and we are all pilgrims. Such a message of hope, stressing the intransigence of this life and the temporary nature of the sufferings in it, had tremendous appeal to medieval Europeans, for whom the danger of death by disease, hunger, accident, or violence was far higher than it is today.
Codicology
Alternative Titles

Der Pilger des Lebens

Size / Format

216 pages / 27.2 × 20.0 cm

Origin

Date

1490

Epochs

Style

Genre

Language

Illustrations

printer's watermark at the end

Artist / School

Guillaume de Digudeville (author)
Vicente Mazuelo (translator)
Henricus Mayer (printer)
---
Available facsimile editions: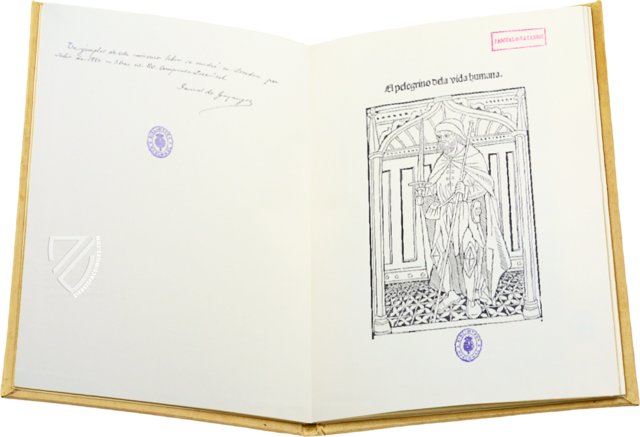 Vicent Garcia Editores
– Valencia, 2003
Limited Edition:
3160 copies
Facsimile Editions
#1

El Pelegrino dela Vida Humana

Limited Edition:

3160 copies

Binding:

Binding of parchment on wooden cover

1 volume: Exact reproduction of the original document (extent, color and size)

Reproduction of the entire original document as detailed as possible (scope, format, colors). The binding may not correspond to the original or current document binding.

Facsimile Copy Available!

Price Category: €
(under 1,000€)
You might also be interested in: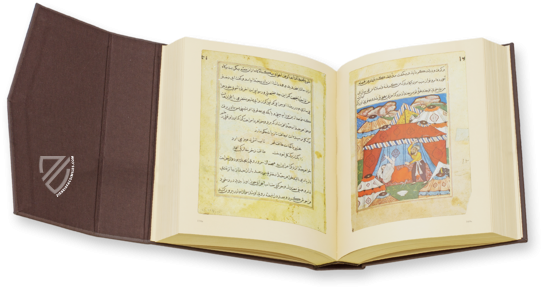 Tuti-Nama
India – 1560–1568
How a parrot keeps a young lady from committing adultery: moralizing texts and risqué miniatures from the Mughal period
Experience More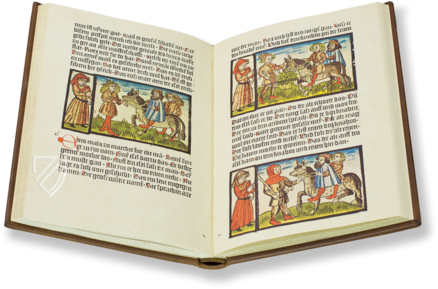 Boner: The Gemstone
Bamberg (Germany) – 1461
Boner's famous collection of fables: the first book in German printed with movable type and the first printed work illustrated with woodcuts
Experience More
Blog articles worth reading