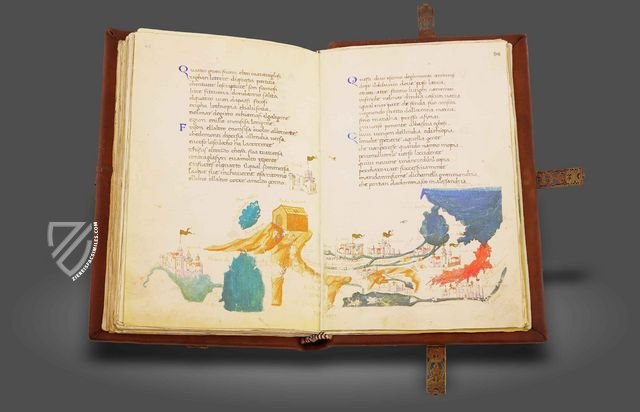 Il Fior di Virtù + Waldseemüller map
Florence (Italy) — 1470–1480; 1507
Two of the most important works of the European Gothic and Renaissance combined into one codex

The famous 1507 map on which the term "America" first appears was a benchmark of cartography

The "Flowers of Virtue" is a collection of texts for moral edification and meditation from 1310–1325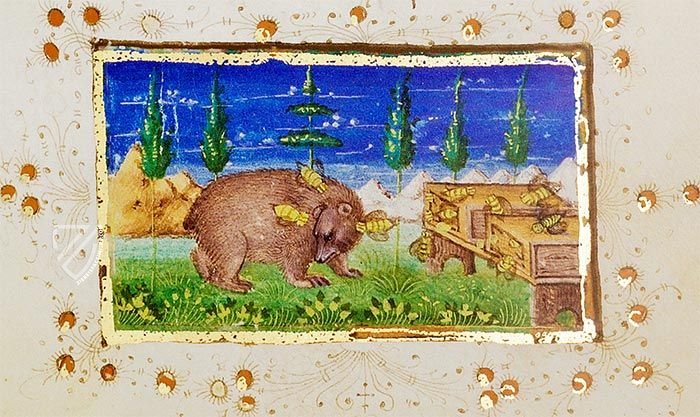 Il Fior di Virtù + Waldseemüller map
Alternative Titles:
Universalis Cosmographia
Amerigo Vespucci map
Waldseemüller-Karte + Il Fior di Virtù
Short Description
The Il Fior di Virtù codex and the accompanying Waldseemüller Map combine two of the most important works of the European Gothic and Renaissance. The Il Fior di Virtù goes back to a text from the 13th century and was reworked between 1470 and 1480 by gifted scribes from Florence. The famous map by Martin Waldseemüller, on which the term "America" was first recorded, was added ca. 1507.
Il Fior di Virtù + Waldseemüller Map
The work Il Fior di Virtù is a collection of dictums about virtues and vices with examples and parables from antique and medieval literature. The work, which is attributed to various authors, goes back to the 13th century in its original form. In the exciting new edition of the historical manuscript, the medieval text is combined with the famous atlas by Martin Waldseemüller. Two literary and geographic masterworks were combined here in one outstanding codex.
The Origin of Il Fior di Virtù
The flowers of virtue, called Il Fior di Virtù in the original Italian, is a collection of texts for moral edification and meditation, which was written between 1310 and 1325. Each chapter of the work concerns itself with a virtue or a vice that is elucidated through philosophical opinions and important Bible verses. A few of the most gifted Italian writers of the Middle Ages are said to have taken part in the work, among them Cherubinus de Spoleto, Tommaso Gozzadino, Tommaso Leoni, Francesco Sachetti, and Giovanni Antonio Traversagni. The widely-read manuscript was translated into numerous European languages and today is an important part of the literary history of the Middle Ages.
Waldseemüller's Map
Martin Waldseemüller was a German cartographer during the Renaissance. He constructed the first world map whereon the land masses to the west were named "America" after Amerigo Vespucci. Waldseemüller was a true pioneer in the field of cartography. The significance of his famous for the scholarship and world view of that time was enormous. At first met with disapproval in conservative circles, it was soon adopted by scholars and similarly minded people. It was the benchmark that every other cartographer had to measure up to. The high-quality map is furnished with gorgeous colors and thrilling embellishments in the present codex.
Codicology
Alternative Titles

Universalis Cosmographia




Amerigo Vespucci map




Waldseemüller-Karte + Il Fior di Virtù

Size / Format

1 map consiting of 12 sheets; 226 pages / 23.0 × 16.0 cm 233.0 × 128.0 cm

Origin

Date

1470–1480; 1507

Epochs

Style

Language

Artist / School

Author: Leonardo di Piero Dati (1360–1425)
Miniaturist: Mariano del Buono (1433–1504)
Martin Waldseemüller (1470–1519)
1 available facsimile edition(s) of "Il Fior di Virtù + Waldseemüller map"
Il Fior di Virtù Facsimile
Il Fior di Virtù Facsimile
1 volume: Exact reproduction of the original document (extent, color and size)
Publisher

ArtCodex – Modena, 2015

Commentary

1 volume by Giovanna Lazzi
Language: Italian

More Information

Reproduction of the entire original document as detailed as possible (scope, format, colors). The binding may not correspond to the original or current document binding.
Matching Background Articles