Vallard Atlas
Description
The Vallard Atlas was produced in 1547 by a French cartographer. Nicolas Vallard, a geographer for the cartography school of Dieppe, was the first owner of the atlas. The work is adorned with 15 maps of high-quality, artistic design, which appear like wall paintings and belong among the most beautiful maps of the European Renaissance. Today the codex is housed in the Huntington Library in the United States of America.
Vallard Atlas
The most important geographical sea charts of the Middle Ages unequivocally came from the Portuguese school of cartography. These sea charts were also called 'portolans' and were reproduced across Europe and were used as the basis for new maps. Another stronghold of cartography was the Dieppe school in France. Some of Europe's most important handwritten maps arose between 1540 and 1570 in the French city of Dieppe. The Vallard Atlas is one of these splendid specimens. The work contains 15 gorgeous, elaborately designed sea charts on vellum.
The Cartography of Dieppe
The French charts, which were produced in Dieppe, were largely based off of the findings of Portuguese geographers. They contain several particularly attractive characteristics. The large-format charts are true works of art, which were intended to be mounted on a wall or to be outstretched on a large table. Alongside the newest geographic facts and information, they contain marginal notes and illustrations from the realm of mythology. The Vallard Atlas is furnished with breathtaking landscapes in exciting, vivid colors, it shows the geographic features and the inhabitants of every land on Earth. The atlas is one of the most beautiful cartographic products of the European Renaissance.
The History of the Atlas
The history of the Vallard Atlas is exceptionally well documented due to the handwritten notes in the codex. Nicolas Vallard, a famous cartographer of the Dieppe school, was probably not the author of the work, but he was certainly the first owner of the valuable codex. In the year 1816, the collection of charts was sold by Charles Maurice de Talleyrand-Périgord, the Prince of Bénévent to the English art collector Robert Triphook. The work found itself in the collection of Sir Thomas Philipps in 1849, who exhibited it in his famous library. In 1924, Henry E. Huntington acquired the atlas for his library in California, where it is found to this day.
Codicology
Alternative Titles

Atlas Vallard




Atlante Vallard




Vallard-Atlas

Type

Size / Format

68 pages / 48.0 × 37.0 cm

Date

1547

Epochs

Style

Genre

Illustrations

15 two-page nautical charts

Artist / School

Nicolas Vallard de Dieppe

Previous Owners

Charles Maurice de Talleyrand-Périgord
Robert Triphook
Henry Bohn
David Steward Ker
Sir Thomas Phillipps
Henry E. Huntington
A. S. W. Rosenbach
---
Available facsimile editions:
Detail Picture
Vallard Atlas
India and Sri Lanka
Aside from exaggerating coastal features like river estuaries, this map of the Indian Subcontinent is fairly accurate if undersized once you realize that north is at the bottom of the page. It is a wonderful example of Portuguese cartography during this period, including scenes more decorative than factual. A procession of men is carrying another man on a litter with a baton of some kind, denoting his status as a leader. His servants have decorative golden bands around their arms and legs.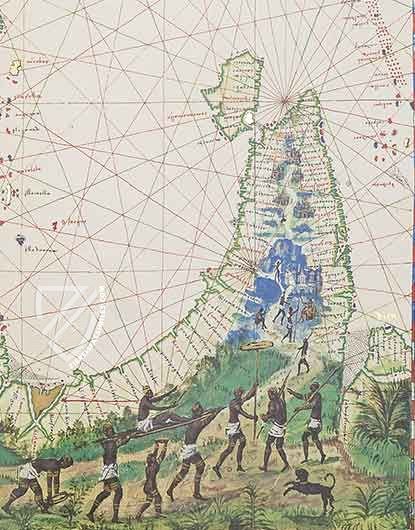 Single Page
Vallard Atlas
Java la Grande
This south oriented depicts an island claimed by Marco Polo to be the largest in the world, which he called La grande isle de Java. It was referred to by cartographers in successive centuries as Terra Java or Greater Java in English, implying that it was a relative of the Indonesian island of Sumatra, called Java Minor, but its existence remained contested.
A highly controversial theory arose in the 19th century that this was in fact a depiction of Australia's eastern coastline originating from Portuguese expeditions from between 1521 and 1524. If true, it would mean that Australia was discovered 220 years earlier than Captain Cook. Nonetheless, it is a wonderful blend of a map and a sweeping, exotic landscape scene with fanciful marginal miniatures.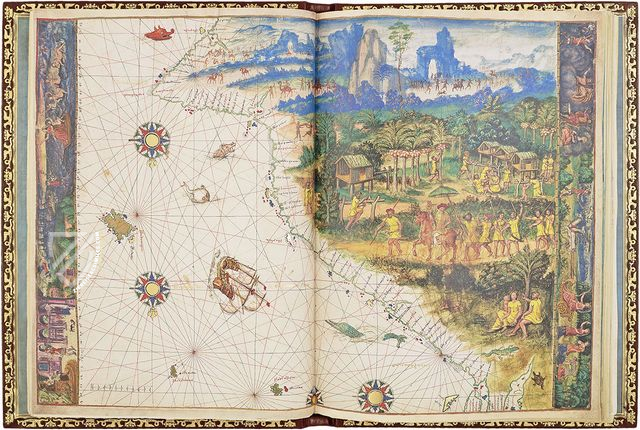 Facsimile Editions
#1

Atlas Vallard

Limited Edition:

987 copies

Binding:

Red leather binding (c. 1805) with gold decoration in slipcase

Commentary:

1 volume by Aníbal Cavaco Silva, Luís Filipe F. R. Thomaz, Dennis Reinhartz and Carlos Miranda García-Tejedor
Language: Spanish

1 volume: Exact reproduction of the original document (extent, color and size)

Terra Java [east coast of Australia?] La Java [north coast of Australia?, East Indies and part of Asia] Terra Java [west coast of Australia?] [Arabian Sea, Red Sea, and Persian Gulf] [Southern Africa and southwest Indian Ocean] [Atlantic Ocean with the coast of Africa and Brazil] [Northwest Africa] [Europe and northern Africa] [North America and Canada, east coast] [West Indies, Mexico, Central America and northern South America] [Northeastern South America] [Southeastern South America and Straits of Magellan] [Western Europe and northwestern Africa] [Adriatic Sea] [Aegean Sea]. Contents of commentary: Preface / Anibal Cavaco Silve From the editor to the reader / Manuel Moleiro Introduction / Luis Filipe F.R. Thomaz The Dieppe school and its maps in their time / Dennis Reinhartz The Vallard Atlas and sixteenth century knowledge of Australia / Luis Filipe F.R. Thomaz The maps of the Vallard Atlas / Luis Filipe F.R. Thomaz, Dennis Reinhartz The mythological narrative in the margins of the Vallard Atlas / Carlos Miranda Garcia-Tejedor Appendix / Luis Filipe F.R. Thomaz Notes Bibliography.
You might also be interested in: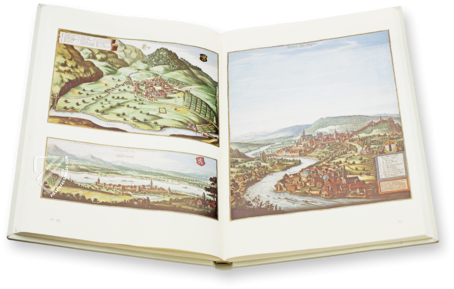 Atlas of Prince Eugene
Amsterdam (Netherlands) – 1662–1678
Switzerland in the 17th century with modern-looking urban panoramas: accurate maps and detailed cityscapes from the estate of the influential Prince Eugene of Savoy
Experience More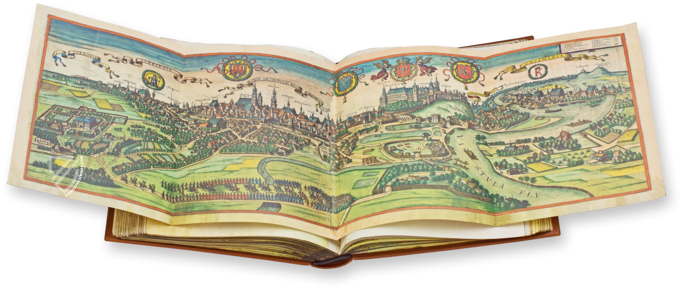 Civitates Orbis Terrarum
Cologne (Germany) – 1572–1617
Regarded today as an invaluable source of history and architecture before the destruction of the Thirty Years' War: the mammoth work by Georg Braun and Frans Hogenberg with 600 beautiful, realistic, and detailed cityscapes from all over the world
Experience More
Blog articles worth reading