Jewel Book of Duchess Anna of Bavaria
Description
Jewel Book of Duchess Anna of Bavaria
This manuscript consists of a magnificently illuminated inventory of the jewelry owned by the Duke and Duchess of Bavaria. In 1552, the Munich-born artist Hans Mielich received a commission from Duke Albert V for the creation of 110 full-page miniatures showing off the highlights of their magnificent collection including 108 miniatures of 71 agraffes, pendants, applications, necklaces, neck bands, and a mounted bezoar (a small bag attached the belt used for holding a bouquet of flowers) as well as a miniature of the ducal couple playing chess and another of their combined coat of arms. Some jewels owned by Duke William IV and Duchess Jakobea von Baden are also included in the manuscript. The jewels are presented in their original size, sometimes from both front and back, with cartouches and other variously designed backgrounds. Completed ca. 1555, these incredibly detailed and realistic miniatures are a testament to Mielich's skill as an artist as well as the refined taste in jewellry of Duke Albert and Duchess Anna.
Codicology
Alternative Titles

Kleinodienbuch der Herzogin Anna von Bayern

Size / Format

138 pp. / 15.4 x 20.7 cm

Origin

Date

1552-1555

Epochs

Style

Illustrations

110 full page miniatures

Content

Presentation of the jewelry of Archduchess Anna of Austria and her husband, Duke Albert V of Bavaria

Patron

Albert V, Duke of Bavaria

Artist / School

Hans Mielich

Previous Owners

Ducchess Anna of Bavaria
King Ludwig I of Bavaria
---
Available facsimile editions:
Detail Picture
Jewel Book of the Duchess Anna of Bavaria
Pendant
This figural pendant is a fine example of the elaborate and intricate jewelry in Duchess Anna's collection. It consists of a square cut sapphire, emerald, and ruby arranged in a triangle with a large pearl hanging off the bottom, which is attached to a porcelain animal head with long ears. Two porcelain human figures recline on either side of the large jewels and look up at the head of a cherub flanked by two wings. They are resting on a bed of golden foliage and small green beads.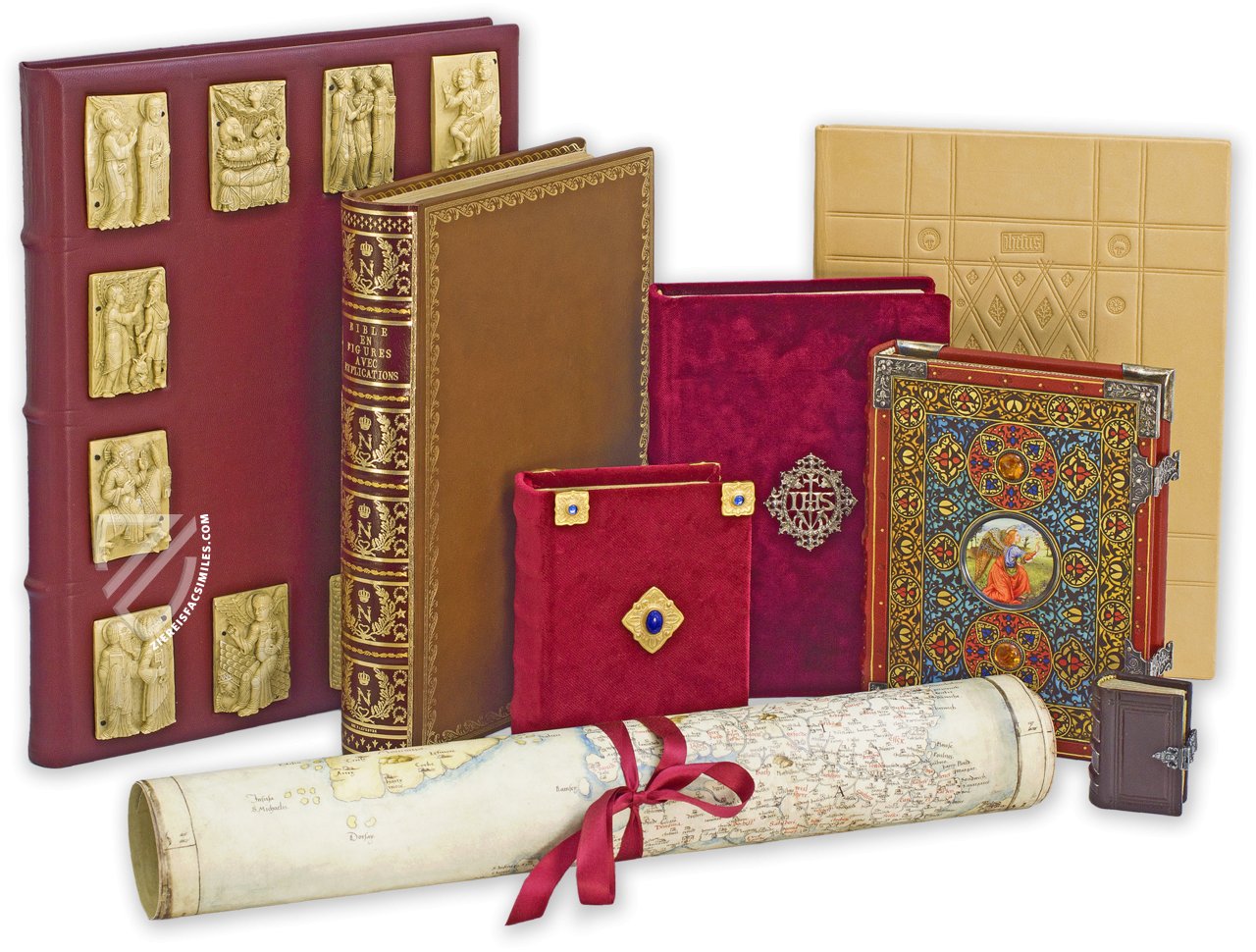 Single Page
Jewel Book of the Duchess Anna of Bavaria
Anna and Albrecht Playing Chess
Following the splendid frontispiece of the manuscript with the Wittelsbach's and Hapsburg's coats of arms, this masterfully designed full-page miniature in a classically styled architectural frame crowned with a half figure of God the Father depicts the Duke and Duchess of Bavaria playing chess. It is dated 1552 and signed by the artist at the bottom: HANS MUELICH FECIT or "made by Hans Muelich".
Albrecht is dressed as a knight of the Order of the Golden Fleece while Anna has her hair curled and wears it up under a cap with a lace coif. Six court councilors, two ladies in waiting, and two lapdogs observe the game. Some of the figures look directly out at the beholder and all have detailed, individual faces that are probably accurate portraits.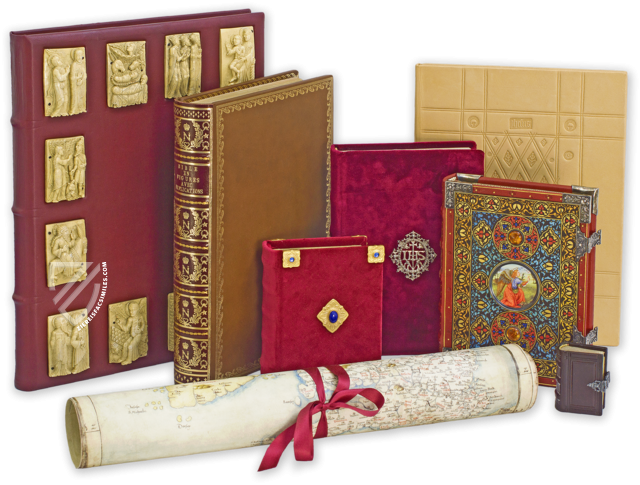 Facsimile Editions
#1

Kleinodienbuch der Herzogin Anna von Bayern

Limited Edition:

499 copies

Binding:

Brown leather binding with rich genuine gold embossing and two gilded brass clasps

Commentary:

1 volume by Kurt Löcher and others
language: German

1 volume: Exact reproduction of the original document (extent, color and size)

Reproduction of of the entire original document as detailed as possible (scope, format, colors). The binding may not correspond to the original or current document binding. 2 parts in 1 volume.