Libro de las grandezas y cosas memorables de España
Description
Libro de las grandezas y cosas memorables de España
The Spanish polymath Pedro de Medina gave a book to the printer in 1549 that told of the great events and heroic sagas of the history of Spain. The Libro de las grandezas y cosas memorables de España belongs among the most important historical sources concerning Spain in the Late Middle Ages. High-quality printed graphics illustrate the fantastic description. Having said that, the work not only contain fabulous legends, it simultaneously represent a scientifically verifiable compilation of geographic facts.
Libro de las grandezas y cosas memorables de España
The great deeds and memorable events of Spanish history are recorded in a codex that was printed on August 8th, 1549. Since then, this work has belonged among the most important books of Spanish literary history. The events portrayed by the author Pedro de Medina are illustrated Splendid printed graphics. This unbelievably precious codex is the first historical and geographical universal representation of Spain. De Medina's legendary descriptions inform us about the history of a country that is one of Europe's most beloved holiday destinations today.
The Scholar Pedro de Medina
Pedro de Medina was born ca. 1493 in the Spanish city of Seville. He is considered to be the most famous and talented mathematician, geographer, cartographer, astronomer, historian, and polygraph of the Spanish Renaissance. The true polymath attained great fame through his popular 1545 work on navigation. His treatise possessed inestimable importance for navigation and geography as a whole. The genius de Medina's accomplishments brought him into the highest levels of Spain's politics. During his lifetime, he was active as an advisory member in the most important administrative authority in Spain and Portugal, namely the Casa da India.
An Inestimably Valuable Source
The Libro de las grandezas y cosas memorables de España is considered today to be first travel guide to imperial Spain. Pedro de Medina's intention was not to write a new history of Spain, like famous authors – Lucius Marineus Siculus and Diego de Valera inter alia – had already done before him. On the contrary, he precisely summarized the research of his predecessors. Additionally, he described his own discoveries on the peninsula and evaluated them. He reported on cities, holy sites, monuments, land formations, and natural phenomena. Equally so, he portrayed wondrous and heroic deeds, which occurred in the places described and were attributed to God or important Spaniards. The work not only remained a compilation of fantastic legends, but at the same time, represented one of the most important historical sources about Spanish culture and its population up the 16th century.
Codicology
Size / Format

416 pages / 31.0 × 22.0 cm

Origin

Date

August 8th, 1549

Epochs

Style

Language

Script

Gothic script

Illustrations

Colored title page. More woodcuts and engraved initials in the text

Content

Descriptive linking of major events and heroic sagas from Spanish history with their associated cities, sites and sanctuaries

Artist / School

Pedro de Medina (author)
Dino de Robertis (printer)
---
Available facsimile editions: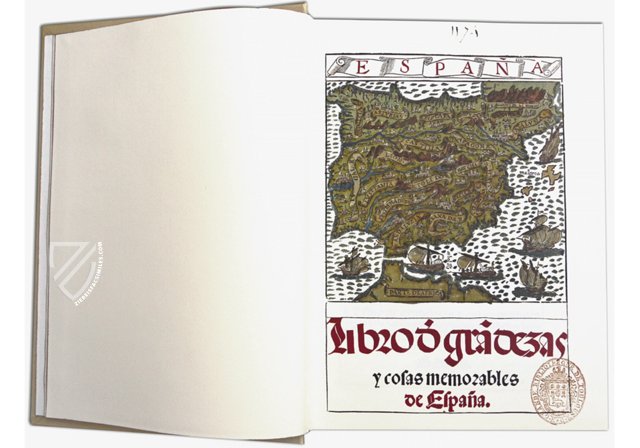 Vicent Garcia Editores
– Valencia, 2011
Limited Edition:
3160 copies
Facsimile Editions
#1

Libro de las grandezas y cosas memorables de España

Limited Edition:

3160 copies

Binding:

Parchment on wooden board. Presentation dust jacket cloth lined with gold engraved leather spine containing facsimile.

Commentary:

1 volume
Language: Spanish

1 volume: Exact reproduction of the original document (extent, color and size)

Numbered by notary and signed by the printer-publisher. Specially made laid paper. All folios are cut according to the original.
You might also be interested in:
Blog articles worth reading