Vita Sancti Liudgeri
Description
In Alcuin (ca. 735–804), St. Liudger had the greatest scholar of his day as his teacher, and in Charlemagne (747–814), the most powerful man as his master. Not surprisingly, his story is told in one of the oldest medieval saints' vitae. Born in 742 to an already Christian Frisian noble family, Liudger would become a missionary in body and soul after studying with Alcuin in York and a lengthy stay at Montecassino. He founded Werden Abbey and another in Helmstedt before eventually becoming the first Bishop of Münster. The history of Westphalia cannot be told without him. At the end of the 11th century, Werden monks related the Liudgeri Vita, which had already been written ca. 850, in Ottonian splendor with miniatures adorned with gold and silver. It is the only illustrated description of the life of St. Liudger and, with its pictorial composition and the pathos of the figures, is in the tradition of late Ottonian illumination.
Vita Sancti Liudgeri
Dating from the end of the 11th century, the Vita Sancti Liudgeri constitutes one of the most fascinating manuscripts of the late Ottonian period. Around this time, several monks of Werden abbey produced this richly illustrated biography of Saint Liudger who had been active in the service of Charlemagne. 23 miniatures on gold and silver grounds are dispersed over 68 pages, impressively reviving the era of Charlemagne and his conversion of the Saxons. This Vita is the only illustrated description of Saint Liudger's life and is among the world's oldest surviving manuscripts of a saint's biography. A highly important document of medieval history, culture and religion, the book provides an account of the exemplary life and wonders of Liudger. Both the composition of the paintings, the forceful expression of their figures, the colors, as well as numerous details allow us to ascribe the manuscript to the tradition of late Ottonian illumination.
The Legend of Saint Liudger
Saint Liudger was born near Utrecht ca. 742. He attended theology courses in the cathedral school of York where he was taught by Alcuin, who became Charlemagne's counsellor. Liudger was a missionary with heart and soul. His first missions led him to Friesland. Around 790, Charlemagne appointed Liudger head of the mission in East Friesland. In 791, he sailed to Helgoland from where he was expelled in 792 during a rebellion. In the same year, Charlemagne entrusted him with the mission in western Saxony. In 793, Liudger founded a monastery in the settlement of Mimigernaford which was later to become today's city of Münster. After its elevation to an Episcopal see, Liudger was ordained its first bishop in 805. He went on to founded a Benedictine monastery at Werden in 799. Saint Liudger died in 809 in Billerbeck and was brought back to Werden where his body rests today.
Codicology
Size / Format

68 pages / 30.0 × 12.5 cm

Origin

Date

Before 1100

Epochs

Style

Genre

Language

Illustrations

23 miniatures
---
Available facsimile editions: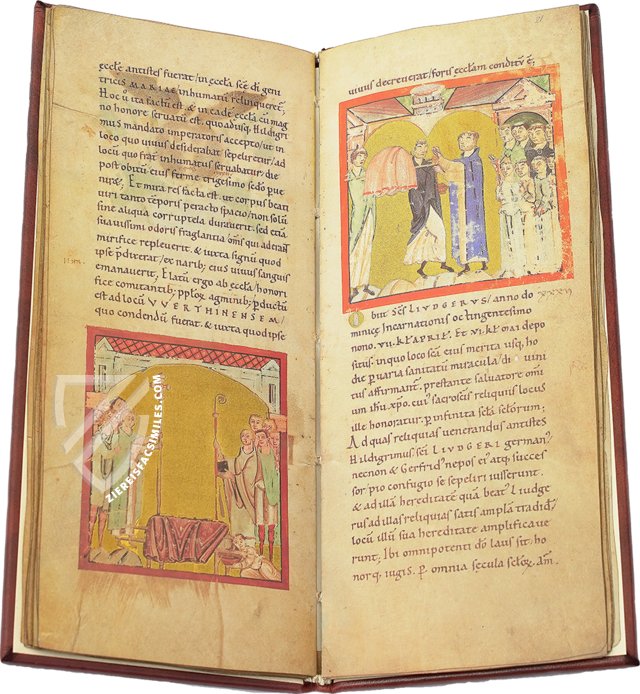 Akademische Druck- u. Verlagsanstalt (ADEVA)
– Graz, 1993
Limited Edition:
450 copies
Detail Picture
Vita Sancti Liudgeri
Charlemagne Grants Liudger the Brabant Monastery of Lothusa
In 787, Charlemagne appointed Liudger as the leader for missionary activities in central Friesland and as part of this entrusted him with the leadership and ownership of the Petrus Monastery at Lothusa (Leuze). Charlemagne is enthroned with a golden crown, a green halo, and holds a scepter as he hands the charter for the monastery to Liudger, who has a blue halo. Both Liudger and Charlemagne are depicted wearing red togas, but the Emperor's toga is secured with a golden brooch.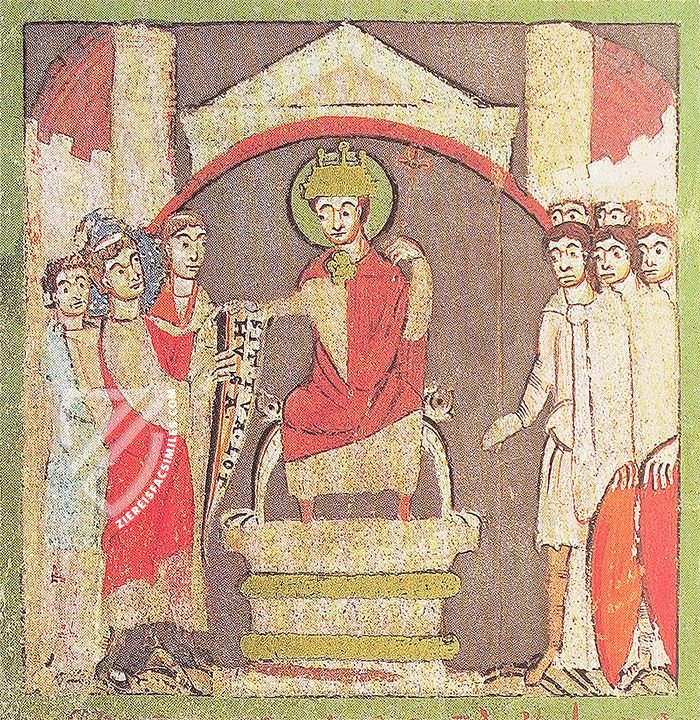 Facsimile Editions
#1

Die Vita Sancti Liudgeri

Limited Edition:

450 copies

Binding:

Leather with blind embossing

Commentary:

1 volume by Eckhard Freise
Language: German

1 volume: Exact reproduction of the original document (extent, color and size)

All folios are cut according to the original.
You might also be interested in: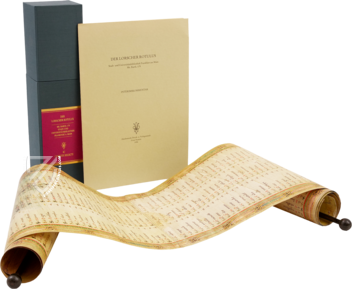 Lorsch Rotulus
Lorsch (Germany) – Third quarter of the 9th century / Middle of 11th century
Probably commissioned by Louis the German and the pride of the city of Frankfurt today: the only surviving scroll of the Carolingian period with the names of over 500 saints
Experience More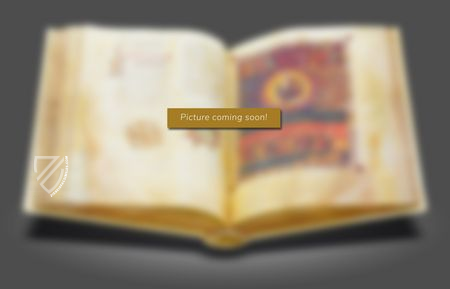 Medical and Herbal Miscellany
England or France – Ca. 1190–1200
Ancient knowledge about the healing properties of plants and animals in Romanesque images: A medical compilation manuscript with over 200 gold-decorated, stylized illustrations
Experience More
Blog articles worth reading