Sancti Bonifacii Epistolae
Description
Sancti Bonifacii Epistolae
The Sancti Bonifacii Epistolae is a collected volume featuring the correspondence of St. Boniface, St. Lullus, and others. This manuscript from the Austrian National Library in Vienna is an excellent research and teaching tool. The reason for this is that it possesses an immediacy that other manuscripts lack because many of the letters contained therein were directly copied from the originals in the episcopal archives in Mainz.
Sancti Bonifacii Epistolae
Manuscript 751 of the Austrian National Library in Vienna, also known as the Sancti Bonifacii Epistolae, is a composite volume consisting of four unrelated parts. Scholars will rejoice at now having at their disposal the facsimile edition of the first part (ff. 1–77) dating from the mid-ninth century and containing a large section of the correspondence of St. Boniface and St. Lullus** (35 letters of Boniface and 12 addressed to him; 16 letters of Lullus and 24 addressed to him) together with other letters by several of their contemporaries. Many of these copies can be shown to have been made directly from the originals which were preserved in the episcopal archives in Mainz. The facsimile edition is of a high quality and almost gives the illusion of having the actual manuscript in hand.
An Important Research Tool
In his short introduction Dr. Franz Unterkircher, the editor, deals successively with the latter history of the manuscript (pp. 9–12), description and physical composition (pp. 13–15), script (pp. 17–21), contents (pp. 23–26), cryptography (pp. 27–29). He ends (pp. 31–35) with a concordance which lists all the letters in the order in which they appear in the manuscript with cross references to the editions of Serarius and of the M.G.H. (the italics used in the section show that the manuscript is our unique source for over 60 of the texts it contains). The present edition is sure to be of great use both to the historian and paleographer and it provides an ideal tool for introducing students to the delights and problems of medieval text studies.
Codicology
Alternative Titles

Vienna Boniface Codex




Wiener Bonifazius-Codex




Sancti Bonifacii Epistolae

Size / Format

154 pages / 30.0 × 19.5 cm

Origin

Date

1st half of the 9th century

Epochs

Style

Genre

Language

Previous Owners

Library of the Cologne cathedral
Kasper von Niedbruck
George Cassander
Vienna Imperial Library
Nicolaus Serarius
---
Available facsimile editions:
Facsimile Editions
#1

Sancti Bonifacii epistolae

Commentary:

1 volume (38 pages) by Franz Unterkircher
Language: German

1 volume: Exact reproduction of the original document (extent, color and size)

Reproduction of the entire original document as detailed as possible (scope, format, colors). The binding may not correspond to the original or current document binding.
You might also be interested in: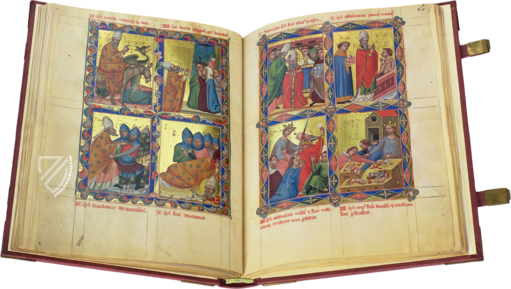 Legenda Aurea - Anjou Legendarium
Hungary – Ca. 1330–1340
Intended as a picture book for the son of the Hungarian king: a masterpiece with golden miniatures of the Trecento based on Jacobus de Voragine's famous tale of the saints
Experience More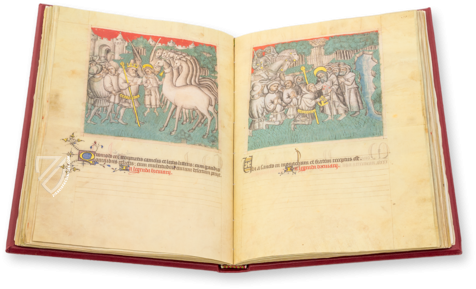 Blog articles worth reading